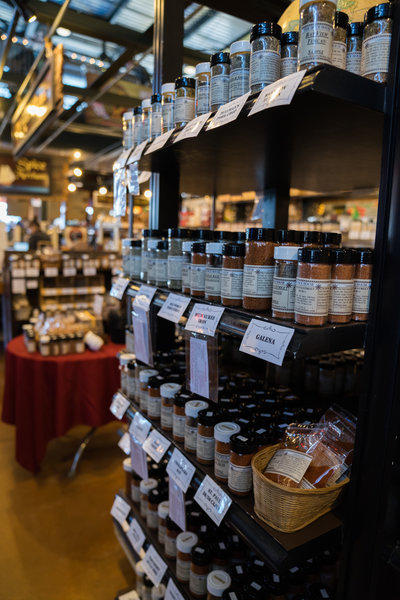 Spicy food is alive and well on Milwaukee's South Side. Check out these five hot spots for a little extra heat.
Tucked away in a small strip mall about 10 minutes from Marquette is Kim's Thai Restaurant. Kim's Thai is operated by head chef and owner Kim Paneboune and her family.
This small dine-in restaurant serves a wide array of authentic Thai food deriving from recipes passed down through the family. Each dish is made with care and the intent to provide a high caliber of taste and spice.
Paneboune says the most popular dishes she serves are her curries, fried rice, pad thai and stir-fry. Her dishes are known for their spice, which Paneboune describes on a numbered scale. She says she can tell what level of spice a customer can handle by just looking at them.
"Our spice range (goes from) one to 10," Paneboune says. "We like a good eight, but with curries we don't go over a three or four. It's totally up to the customer. We have some regulars who come in and enjoy a 10. But we like to tell customers to start low and go higher."
Paneboune and her daughter say they are very happy serving their customers in their current location. Kim's Thai was originally located inside a grocery store, and the family has enjoyed expanding to its own dine-in restaurant.
Recently passed to a new set of owners and chefs, The Palomino Bar is dedicated to serving excellently spiced, authentic Southern-style cuisine.
Derek Peterson, head chef and co-owner of the Palomino Bar, says when he and co-owner Eric Dispro took over the bar about five years ago, they had to overhaul the menu to make everything authentic Southern food that didn't arrive pre-packaged.
Peterson says their most popular dish at the restaurant is their spiciest dish. Prepared with the Palomino Bar's unique combination of spices, the hot fried chicken sandwich is in high demand among the bar's regulars.
The sandwich is carefully prepared from prime, Amish-raised chickens and rubbed with spices a few days in advance of being served.
"It's a combination of serrano peppers, jalapenos and we throw some habaneros in there as well," Peterson says. "And we just add some vinegars and hot sauces that we like. … Our food is not overly hot by any means. If you like spicy food, it's good. If not, we definitely have other good things on the menu."
Peterson hopes the neighborhood and customers will give the restaurant a second chance with its newly authentic menu and carefully prepared cuisine.
Crafty Cow and Hot Head Fried Chicken
Owned and operated by head chef Devin Eichler and his father Dave, the Crafty Cow and Hot Head Fried Chicken is a combined burger and wing joint known for its creative twists on the age-old dive-bar classics.
As head chef, Devin says he is constantly adding new items to the menu and coming up with new combinations for his burgers and fried chicken. These unique dishes include burgers with peanut butter or bacon and a dish that combines nachos and cheese curds.
The most popular fried chicken style, Devin says, is the Nashville hot.
"The chicken and breading balance out (the spice), but you are gonna break a sweat while you're eating it," he explains.
Also popular is their 414 fire, which features sauce that incorporates ghost chili powder.
Devin says he prepares 40 gallons of hot sauce per week solely for the fried chicken.
The joint burger and fried chicken bar has recently begun printing menus in-house, something that Devin says allows much more freedom for him and his staff to change the menus get creative and keep up with current food trends.
Now with four locations throughout the south side of Milwaukee, El Rey started as a grocery store in 1978. It is primarily known for its tamales, but has many other spicy options to choose from.
Founded by Mexican immigrants Ernesto and Heriberto Villarreal, the store was originally established to bring authentic Mexican products to the immigrant population in Milwaukee. As immigrant communities changed, El Rey's products adapted to cater to a wider Hispanic population, adding foods and flavors from Central and South America and the Caribbean.
El Rey's four locations not only serve as authentic grocery stores, but also a spot for community events and for educational groups to experience Hispanic culture. Three of the locations additionally sell food at a small cafe known as Taco Loco Taqueria.
El Rey has different types of salsa ranging from mild to very hot, and specializes in traditional red and green salsas. Some of El Rey's spicy specialties include tacos a la San Diego, with chipotle cream sauce, or tacos de tinga, seasoned with chipotle adobo. For those looking for a more direct approach, try the chile relleno, a poblano pepper filled with cheese and fried in an egg batter and topped with salsa ranchera.
Located in the heart of downtown Milwaukee in the Historic Third Ward, The Spice House opened in 1992. The Spice House sells nearly any spice, seasoning or pepper one could possibly imagine.
Its website lists over 300 different spices, ranging from more tame spices like paprika or cayenne to hotter flavors such as teri-teri blend or vulcan's fire salt. This store is sure to have more than enough to leave someone's mouth burning.