Kanisha Williams has been taking care of people her entire life.
Her mother dealt with a number of illnesses that made it hard for her to take care of their family while Williams grew up in Milwaukee. Williams made breakfast, lunch and dinner for her two younger brothers and her sister. Some days, she didn't eat to make sure they had enough food.
Now, Williams takes care of her 2-year-old son — a job she will have to handle by herself until her husband returns from serving overseas with the U.S. Army.
Williams is an emergency room nurse at Froedtert Hospital in Wauwatosa. She works 10-hour shifts, six hours working in teams and four hours working in triage: an emergency room department treating patients in the most urgent need of care.
During triage, Williams and her coworkers are the first faces a patient sees before they are admitted to the hospital. Among the many faces, Williams' is worth noting.
Williams is one of two black female emergency room nurses at Froedtert; until recently, she was the only black female emergency room nurse.
According to the Bureau of Labor Statistics,  women account for 78.5 percent of all health care positions. Despite this, black women account for only two percent of all active physicians, according to the Association of American Medical Colleges. A 2003 study by the Bureau of Labor Statistics showed that only 12 percent of all registered nurses, the largest health care occupation at the time, were black or Hispanic. Registered nurses were overwhelmingly female in 2003. Since that time, the Bureau of Labor Statistics reported that 19.2 percent of all registered nurses were black or Hispanic in 2017; the occupation has also grown to employ 2.9 million.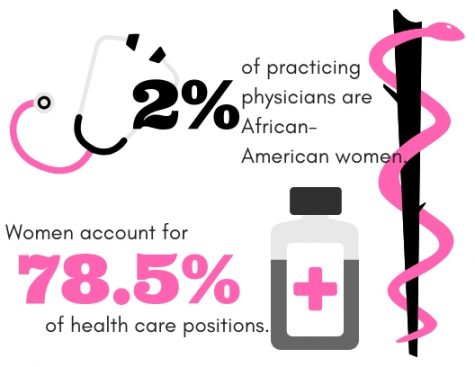 Representation for women of color in health care can have a tremendous effect on the care that members of their prospective communities receive. Williams said she has noticed community distrust for health care institutions and visible relief when she enters a room.
"Some people just don't go because they don't trust hospitals," Williams said. "I can easily relate better to them (and) break it down so they can understand it."
Angelique Harris, director of the Center for Gender Studies at Marquette, said women of color are not only underrepresented as doctors and nurses, but also in other facets of the health industry, such as hospital administrators and health insurance providers.
"People forget that there's only so much that a doctor can do," Harris said. "To facilitate change, all of these positions must be involved."
Rhiannon Torres, a sophomore in the College of Nursing, said underrepresentation is not just determined racially, but also through socioeconomic determinants, which are social factors that may affect someone's care. Questions about social determinants have now become standard on Medical College Admissions Tests, prompting nursing and pre-med programs to develop courses regarding the subject.
"My first year of nursing school, we did talk a lot about cultural competence," Torres said. "Sometimes it's just hard to translate that from your first year of nursing while you're going into things like skills testing and clinicals."
Cultural barriers come in many forms. Harris said she remembers researching obesity in black women in 2015 with a team of mostly white doctors and how that created a disconnect between them and the subjects of the study.  The main cause of the disconnect was the white doctors and black patients involved in the study had different cultural ideas of ideal body types. The patients wanted healthier results, such as lower blood pressure and cholesterol, but did not want to lose weight.
Language barriers may also be a factor. For instance, 73 percent of Hispanics surveyed in the 2015 census said they spoke a language other than English at home.
Different communities face different health conditions as well: John Henryism is a condition which can cause higher hypertension rates, and it is specifically associated with stressors for black men. Sojourner Syndrome is a similar condition among black women that can cause a variety of health complications, such as early contractions in pregnant women.
Socioeconomic disparities in education can also affect the relationship between doctor and patient. Torres said sometimes patients might feel intimidated by a doctor they perceive to be smarter than them.
"It makes it really difficult for you to even want to ask questions," Torres said. " … You're just going to take your prescription and leave the doctor's office and not know what you're going to do for your kid, for your elderly parents, things like that."
Jennifer John, a senior in the College of Health Sciences, said in order to bridge the gap between patient and physician, doctors should take the time to understand their patients.
"Everyone needs to be their own advocate," John said. "I'm a true believer that any health care practitioner is just a tool. We intuitively know our own bodies, so they are helping us understand what we're feeling, what our symptoms are, what we're feeling. They're not just there to spew out diagnoses."
Harris said many women are discouraged from formal medical training because of the time involved. Due to societal structures, the perceived responsibility of raising a family makes it difficult to commit to extra years of schooling.
"If you can remove yourself from society for up to 10 years (to pursue medical education), what does that say about you?" Harris said. "What does that say about your class background?"
Harris said one of the ways to address this lack of representation is through programs designed specifically to educate and involve women of color in the health care field.
Marquette will be losing a program designed to provide more opportunities for students at the end of the academic year.  Since 1981, the Health Careers Opportunity Program has aided disadvantaged students in health-based education at Marquette. Associate Director Kimberly Harris said HCOP did not receive the federal funding grant necessary to sustain the program. This was not a university decision, but a decision by the Bureau of Health Workforce, the distributors of the grant.
"You have to compete in order to get the grant," Harris said. "We submitted our grant this year (and) scored fairly high, but unfortunately (we) did not receive the grant."
The grant was worth more than $600,000. HCOP worked to increase diversity and educate students on how to provide care for underserved communities. According to its website, HCOP graduated more than 1,000 health professionals in its 37-year span.  It ran outreach programs for public school systems in Milwaukee and Chicago in addition to its work within the programs at Marquette.
"This is a big hit to the College of Health Sciences," Harris said.
If alternative funding is not found, the program will have to wait five years, the full length of the grant, to apply again.
Williams said she believes school systems are not providing adequate resources for students; in her own experience, she had to seek out many opportunities that her school did not make her aware of, including scholarships and programs that many students don't have background knowledge of. For instance, Williams said she went to school with people who did not know you could receive student loans. She said that she would "wholeheartedly participate" in getting young women and girls together to show them the opportunities available to them.
"We need to show them there are people of color in that profession who don't work in a nursing home," Williams said. "You don't have to limit yourself."
Williams said she is hopeful once young women see what women of color are capable of, they can begin to take a step forward. She recalled a time when a nursing student doing clinicals at Froedtert asked, "Do you remember me?" The student went on to tell the story of Williams taking care of her in the ER and how her care that day inspired her to be a nurse.
"I almost cried that day," Williams said. "Doing what I wanted to do and being what I wanted to be makes it that much sweeter."