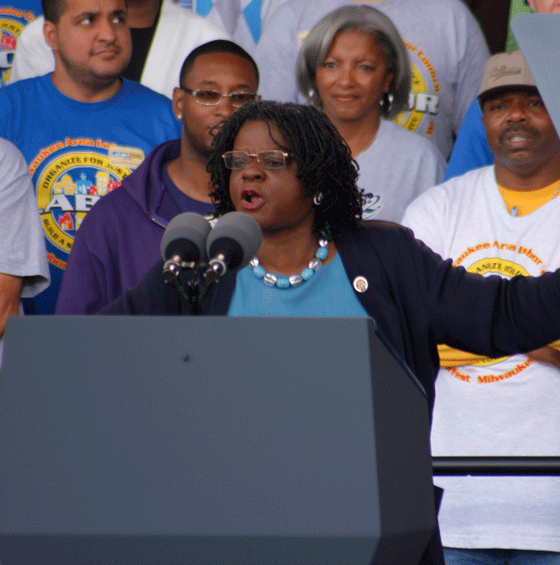 Incumbent Democratic Rep. Gwen Moore won the U.S. House seat for District 4 of Wisconsin with 73.7 percent of the votes in Tuesday's midterm elections.
Moore ran against Republican challenger Tim Rogers and Independent Robert R. Raymond. Moore was first elected in 2004, which made her the first African-American congresswoman from Wisconsin.
Students at Marquette vote in districts 190, 191, 192 and 194, which Moore represents in Congress.
"I think her win is pretty unsurprising," Kateri Busiek, a senior in the College of Arts & Sciences, said. "I think she is very much loved by her district, and her competition really wasn't that threatening to her."
Busiek was an intern last semester in Moore's office in Washington D.C. through Marquette University's Les Aspin Center for Government.
Moore is a member of the House Committee on Financial Services. In 2016, Moore was chosen to be the caucus whip of the Congressional Black Caucus, and she is an advocate for both women's and civil rights. From 2011 to 2013, Moore served as the Democratic Co-Chair of the Congressional Women's Caucus. 
She is an outspoken supporter of low-wage workers and works to improve economic and employment conditions, according to her website.
Former President Barack Obama endorsed Moore at a Democratic rally Oct. 26 at North Division High School in Milwaukee.
In the rest of the Wisconsin's eight districts, three Democratic representatives were elected and five Republican representatives were elected. The results are as follows:
District 1 Republican Bryan Steil won by 54.74 percent of votes to replace Paul Ryan's seat
District 2 Democratic Incumbent Mark Pocan won unopposed
District 3 Democratic Incumbent Ron Kind won by 57.93 percent of votes
District 5 Republican Incumbent Jim Sensenbrenner won by 62.64 percent of votes
District 6 Republican Incumbent Glenn Grothman won by 55.79 percent of votes
District 7 Republican Incumbent Sean Duffy won by 59.92 percent of votes
District 8 Republican Incumbent Mike Gallagher won by 65.64 percent of votes