A system that began as two-man horse carriages has evolved into 400 clean diesel buses that residents use every day. The Milwaukee County Transit System has connected the city for over 155 years.
With over 50 lines, MCTS is the largest transit agency in Milwaukee. One can hop on a bus to go to the Brewers' game, head down to the lake or the Third Ward, or cruise around the Milwaukee suburbs. For $2.25, around 150,000 residents, students and families use the system daily to get to work, school and explore Milwaukee's many attractions.
The Blue Line is one of the many bus lines MCTS has. It runs from West Allis to Menomonee Falls, making curves along the way and showcasing the sights. From cafes to farmers markets to museums, the Blue Line is a fun way to learn about the city and discover some hidden gems as well as traditional tourist traps in Milwaukee.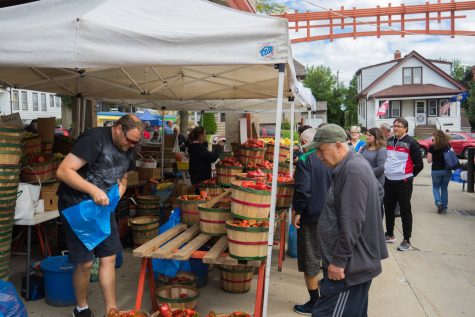 Photo by Jordan Johnson
First stop: West Allis Farmers Market
Located at 6501 W. National Ave., the West Allis Farmers Market runs from the first Saturday in May to the Saturday after Thanksgiving. The early season brings asparagus and radishes, followed by raspberries and later on corn and zucchini.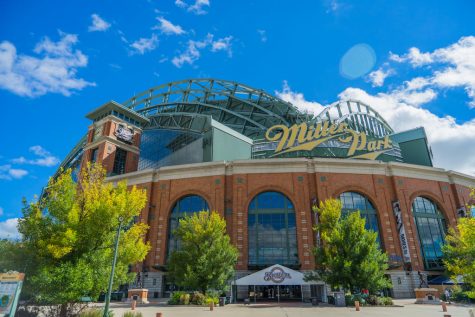 Photo by Jordan Johnson
Second stop: Miller Park
One of the largest construction projects in Wisconsin history, Miller Park was built in 1996 with a movable roof that can be open or closed due to weather. Less than a 15-minute walk from the Blue Line stop, fans crowd Milwaukee buses to support the Brewers multiple times a week from March to October.
Photo by Jordan Johnson
Third Stop: Anodyne
You may have sipped Anodyne coffee at different restaurants and cafes throughout the city. Anodyne opened its doors in 1999, and serves wine and beer along with its specialty coffee drinks. There are also live concerts and talks throughout the week that the public can attend. Marked by its signature name on the side of a warehouse-type building in Walker's Point, it seems to be the perfect study spot with its calm vibe and comfy chairs. 
Photo by Jordan Johnson
Fourth Stop: Purple Door Ice Cream
Purple Door is owned by Lauren and Steve Schultz. According to their website, Laura told Steve about how she shared her dream of someday wanting to open an ice cream store on their first date. In April 2011, Lauren's dream came true when the ice cream joint opened its doors. Today, the store is known for its interesting flavors such as balsamic vinegar and tomato. Perfect for a sweet cone during the summer months, or a snack after studying, Purple Door is open year round. 
Photo by Jordan Johnson
Fifth Stop: Fondy Farmers Market
The Fondy Farmers Market works to connect the greater Milwaukee area to fresh food and plots of land to support local farmers. The market was founded to give people living in the North Side of Milwaukee's food deserts access to healthy produce. Marked by its rustic structure, the market attracts people from across the city. In addition, more than $67,000 SNAP benefits were redeemed at the market in 2016.
Photo by Jordan Johnson
Sixth Stop: Wisconsin Black Historical Society
The Wisconsin Black Historical Society is located at N. 27th and W. Center Streets. The institution opened its doors in 1987, and this nonprofit is dedicated to preserving and furthering the African-American history of Wisconsin, as well as creating a brighter future after a grief-filled past. The historical society has developed programming to educate the community through lectures, financial workshops and movie series. 
Photo by Jordan Johnson
Seventh Stop: National Cafe
In the heart of the Walker's Point neighborhood, National Cafe uses fresh, locally sourced ingredients for its homemade specials. The cafe carries stuffed French toast, baguette sandwiches and a full range of specialty coffee drinks. The small cafe is located at the corner of 9th and National, and is marked by its light blue trim and mural on the side of the building. 
Photo by Jordan Johnson
Eighth Stop: Asian International Market
Milwaukee's renowned family-owned Asian grocery store, the Asian International Market is located in Milwaukee's Silver City neighborhood. The market carries a full range of fresh vegetables, sauces, fruits, noodles, as well as traditional cookware and household goods. Community members can stop by the market to pick up traditional food or specialty items, as well as explore new delicacies.