Make the MAC
Hang on for a minute...we're trying to find some more stories you might like.
Move over, "mac and nugs" night. One Wisconsin-exclusive franchise does it better.
Macaroni and Cheese Shop, affectionately known as MACS, has six locations across the dairy state, with one a mere 15 minutes from campus. And you guessed it; they serve indescribable cheesy dishes.
31 entree items fill MACS' regular menu, and 21 are skillets brimming over with mac 'n cheese. While a traditional macaroni dish spearheads the roundup, every other meal is a creative, culinary concoction. Taco Mac, Philly Mac, Veggie Mac, Hangover Mac and Buffalo Chicken Mac are just a few standout dishes.
We created our own version of the Buffalo Chicken Mac so you can make one of our favorites at home.
Ingredients
1 cup macaroni noodles
1/4 cup butter
1/4 cup all-purpose flour
1/2 tsp salt
Pepper (to taste)
2 cups milk
1 cup provolone  cheese
1 cup mozzarella cheese
Hot sauce
Chicken
Blue cheese crumbles
Directions
Boil macaroni noodles until tender
Grill chicken while macaroni cooks
Drain macaroni
Heat saucepan on low
Melt butter on saucepan
Stir in flour, salt and pepper
Slowly pour in milk as you continue to stir
Add provolone and mozzarella cheese
Pour mixture onto macaroni and mix
Add hot sauce to taste
Cut up chicken and add to pasta mixture
Garnish with blue cheese crumbles

About the Writer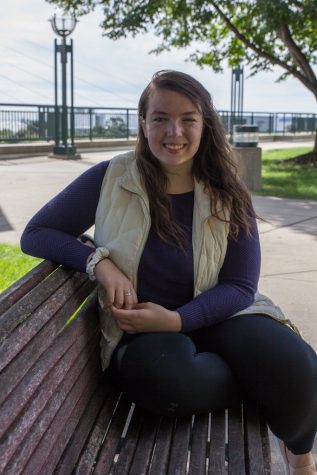 Aly Prouty, Managing Editor of the Marquette Journal
Aly Prouty is a senior from the Washington D.C. area, studying journalism and dance. She was previously the executive editor for the news and arts &...