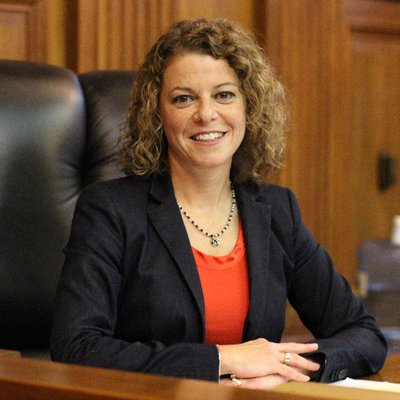 Liberal candidate Rebecca Dallet won a 10-year term on the Wisconsin Supreme Court against Republican-backed candidate Michael Screnock in the April 3 election.
Dallet, a Milwaukee County Circuit judge, received nearly 56 percent of the vote while Screnock, a Sauk County Circuit judge, received about 44 percent. The state-wide turnout rate is yet to be determined.
"We've not only won this race tonight. We've lifted up the issues that matter, and that put us on firm ground for the future," Dallet said in her victory speech. "I ran with two things in mind: We need to restore independence to the judiciary, and we have to put Wisconsin values front and center."
Marquette's central campus falls within voting ward 191, which had a turnout of 7.63 percent. Out of the 917 registered voters, 70 showed up to the polls. This ward is bound by Wisconsin Avenue and Wells Street on the north and south and by 14th and 21st Streets on the east and west.
Wards 192 and 194, which encompass campus apartments such as Campus Town East, West, Kensington and Renee Row, had a 20.88 percent turnout rate collectively. Ward 190 includes Schroeder Hall, Cobeen and Carpenter, and it had a turnout rate of 12 percent.
The past seven Supreme Court spring elections averaged a 21.5 percent turnout rate, according to the Associated Press. This is less than half of the voter turnout for the past four midterm elections. For this election, the city of Madison was on pace for a 50 percent turnout rate by 11 a.m.
The state Supreme Court had a conservative majority of 5-2 before Dallet's victory. The seat became vacant after conservative justice Michael Gableman retired from the bench after one term. After Dallet's election, the conservative majority shifted to 4-3.
While the race for state Supreme Court is officially intended to be nonpartisan, the candidates shifted away from this traditional approach. Dallet denounced President Donald Trump's behavior and received an endorsement from Joe Biden, former Democratic vice president. Screnock was appointed by Republican Gov. Scott Walker and received an endorsement from the National Rifle Association.
"Special interests are definitely having an impact and it's on both sides of the aisle," Dallet said in her victory speech. "That's why I've pledged. I will recuse myself if any of those special interests that supported me appear before me."
During the race, Dallet raised over $1 million, and Screnock gathered about $800,000, according to an estimate by the Wisconsin Democracy Campaign. Approximately $2.2 million was additionally spent by political groups during the race.
"Even in the age of big money politics, campaigns are still first and foremost about people," Dallet said in her victory speech. "The people on this campaign worked hard and they gave their all."
Democratic enthusiasm has been apparent in recent Wisconsin politics. In an early March university law school poll, more Democrats than Republicans expressed that they are very enthusiastic about voting in this year's elections, with 64 percent and 54 percent respectively.
Another victory for Wisconsin Democrats came in January. Democratic nominee Patty Schachtner won a special election for a 10th District Senate seat over her Republican opponent. Trump won the rural district in the 2016 presidential race.
"Winning is good, but I'm really proud of the way we won. We can hold our heads high. We consistently stood up for what is right, and we effectively made our case to the voters," Dallet said in her victory speech. "People are engaged. They are hungry for change."