MUPD works to prevent excessive drinking by underage students
The majority of Marquette University Police Department's recent logs have been drug and alcohol-related offenses, which has raised concern from the department.
Preventing excessive drinking by underage students is a priority for MUPD, interim chief Jeff Kranz said. To do so, MUPD is continuing to pursue educational efforts on campus.
Kranz said MUPD's efforts focus more on excessive drinking rather than underage drinking.
"Because they're underage, they are kind of rookies to the drinking and they don't know their limitations," Kranz said. "They tend to overuse and then they become vulnerable to the predators that are in society."
Judith McMullen, a professor of law who researched underage drinking, said there is a substantial amount of binge drinking that occurs among college-age students.
More than one-third of full-time college students aged 18-22 engaged in binge drinking in the last month, according to a May 2016 report by the Substance Abuse and Mental Health Services Administration.
"There are some people that argue that making drinking illegal encourages binge drinking because when people are sneaking it, they're more likely to drink it faster and more stealthily before they get caught," McMullen said.
Joyce Wolburg, associate dean of the College of Communication who also researched underage drinking, said some students purposely engage in excessive drinking.
"There are numbers of students who, their idea of fun, their idea of a night out is really to drink to the point that they've blacked out," Wolburg said.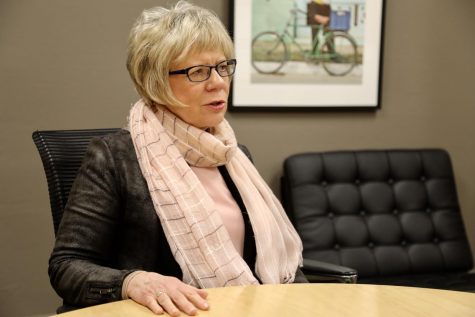 Photo by Helen Dudley
McMullen said MUPD's strategy of focusing primarily on excessive drinking is efficient.
"Police departments don't have the resources to (combat all underage drinking), and I would argue that's a waste of police resources," McMullen said. "If you focus more on excessive drinking, you can at least argue that that helps prevent some of the crimes that tend to be alcohol-related."
To combat the safety concerns associated with high-risk drinking, Lt. Jill Weisensel said MUPD's crime prevention division works to educate students. She said the department tries to issue warnings rather than citations in certain situations to teach students valuable lessons.
"One of my officers can educate about (the law by saying), 'Hey, it's against the law to walk against traffic. You could get hit. It's a safety issue. By the way, here's how much it costs because you had an open cup, which is also against the law. Are you aware?'" Weisensel said.
MUPD also does outreach programs with student groups, offers Red Watch Band training on the risks of excessive intoxication, utilizes social media to spread messages and hosts beer goggle events in the Alumni Memorial Union.
Wolburg said excessive drinking can evoke a sense of camaraderie among students.
"Once you get in an environment and other people are drinking, there's a natural tendency to want to bond with those people and to be doing what they're doing," she said.
Students' perceptions of the law can also contribute to their drinking habits, Wolburg said.
"The unfair drinking age (of 21) becomes a justification of why it's really okay. (Students say), 'We're not really breaking a rule that makes any sense … so why would we even have to try to obey it?'" she said.
Excessive drinking lowers students' inhibitions and causes them to participate in acts like vandalism, fighting and littering, Weisensel said.
"Marquette students are such great students and when they are using alcohol to that extent – the high-risk drinking – they're not themselves," she said. "They do things that they normally would never do … They're destroying their community."
McMullen said the link between excessive drinking and disorderly conduct makes sense.
"Alcohol reduces inhibitions and if you're drinking really to excess, it's going to reduce your inhibitions more, and so your behavior is going to become more problematic," she said.
Kranz said MUPD wants to prevent students from being taken advantage of.
"We want people to have fun, but be reasonable about it, and keep yourself safe," Kranz said. "It's just that criminals in society are always looking for victims and they're looking for victims that are easy targets."
Wisconsin's drinking culture facilitates excessive drinking by college students, McMullen said.
"Alcohol is available everywhere. Excessive drinking is tolerated in all age groups and I think that does send a troubling message," she said. "Having other options that don't involve drinking I think can make a difference."
Wolburg said Wisconsin's drinking culture directly impacts Marquette students.
"I think college students come here and there is that background that Marquette is a school within that (drinking) environment," she said.
Excessive drinking and the culture surrounding it can make it difficult for students to make informed decisions, McMullen said.
"I don't think alcohol in itself is evil," McMullen said. "I think a lot of it is giving a good example to people."
MUPD's ability to respond to high-risk drinking situations has improved since becoming a police department in 2015, Weisensel said.
"Now we have more tools available to us," she said.
If students are cooperative and honest when approached by MUPD, the department has the ability to withhold a citation and solely refer them to the student conduct board, Weisensel said.
Kranz said it is important to him to prevent the victimization of students.
"It's a college campus and we get that," he said. "For a lot of students, this is their first time away from home, so they're kind of exploring the world and we get that – you just have to do it safely."
Leave a Comment