Car crashes into students' house
A car crashed into students' house on 21st and W. Michigan Streets Sunday between 7:30 and 8 p.m.
Two females not affiliated with Marquette were in the car. One of them was practicing driving in a parking lot adjacent to the house.
"The driver attempted to brake but mistakenly pressed the gas pedal, crashing into a duplex," university spokesperson Brian Dorrington said in an email.
Stephanie Hornik, a senior in the College of Health Sciences and resident of the house, said she heard a loud engine and screeching outside. She said she thought a crash was bound to happen, but she thought the car was on the street, not the lot next to her house.
"All of the sudden I heard a bang outside, and our house shook," Hornik said. "(My roommates and I) were like, 'What just happened?' The whole front of the car, like the bottom half, was just destroyed."
Hornik called the Marquette University Police Department shortly after she realized what happened, but they said they were already on their way.
There is a dent on the western side of the house and interior damage to the bottom half of the duplex. Camille Lang, a senior in the College of Arts & Sciences and duplex resident, said a wall is caved in over a staircase and the plaster in the stairwell is dislodged. There was a closet where the car hit the house, and the plaster in that closet and its adjacent room also fell off. Lang said everything in the closet appears to be shifted.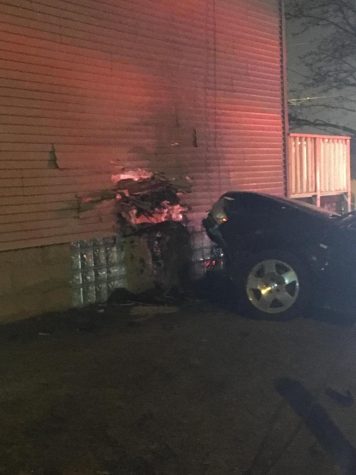 Lang said the structural damages have yet to be determined. Tomorrow she will meet with her landlord, who sent a maintenance person to the house to take pictures of the damage.
An MUPD officer also went to the house Monday to assess further damage and found a structural beam had moved. Tenants were advised not to use the staircase it supported.
None of the students who live in the duplex were injured, but Clare Danielson, a senior in the College of Arts & Sciences and duplex tenant, said the driver was injured.
"I (went) running out because the (car) window was so smashed. I was like, 'There's got to be someone who's hurt or something,'" Danielson said. "One girl's face was completely full of blood. She had a pretty big gash on her forehead."
Danielson took the girls inside the house to help clean her face and give her bandages. 
"The driver was treated at a local hospital for minor injuries," Dorrington said in an email.
Leave a Comment