BIG EAST notes: Conference play begins Wednesday night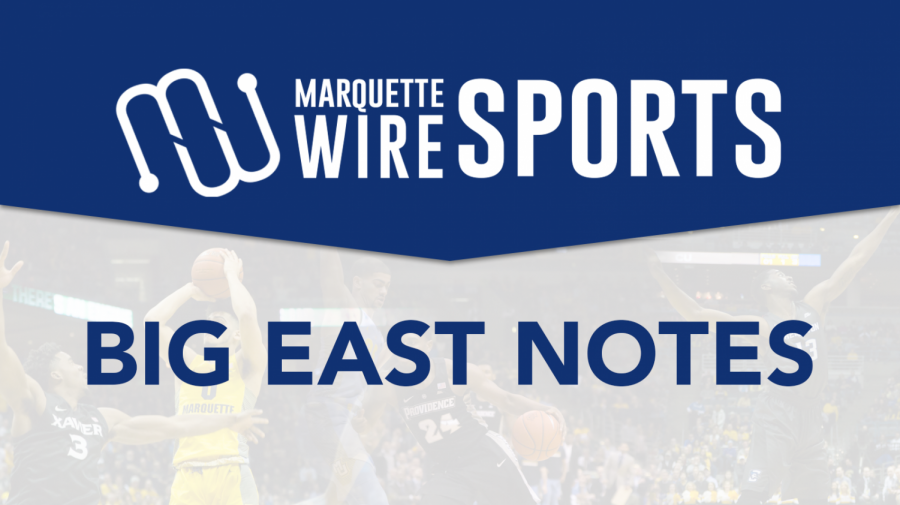 With BIG EAST action opening Wednesday night, here is each team's outlook entering the start of the conference season:
Villanova Wildcats (12-0, 0-0)
After Wednesday's game against DePaul, Villanova will play the two teams that gave the Wildcats their three losses — Marquette and Butler.
But as Villanova seeks revenge, there will be another weapon: depth.
Villanova head coach Jay Wright uses five different players on at least 20 percent of possessions, a significant improvement from three players above the 20 percent plateau last year.
This has already paid dividends in big games. In its only game against a ranked team this season, an 88-72 victory against then-No. 11 Gonzaga, Villanova relied on junior Mikal Bridges for a team-high 28 points. However, freshman Omari Spellman, junior Phil Booth and junior Jalen Brunson each finished with at least 10 points on 55 percent shooting or better.
Villanova head coach Jay Wright said Spellman along with fellow freshmen Jermaine Samuels and Dhamir Cosby-Roundtree will play a large part in testing that depth in the first few games of league play.
"If you add those three (first-year players) to our experienced five, that's where we can make the most improvement," Wright said. "That will be a good test for them."
Seton Hall Pirates (11-2, 0-0)
About a month ago, senior guard Khadeen Carrington struggled shooting the ball despite a steady flow of assists and turnovers.
"The biggest message I've had for (Khadeen) … even when he wasn't shooting the ball great was to look at all the positives he was doing," Seton Hall head coach Kevin Willard said. "His steals were up, his assists were up, his turnover ratio was way up, his free throw percentage was way up."
Since then, Carrington has been one of Willard's most consistent weapons. After his 0-for-4 shooting night against Vanderbilt Nov. 24, Carrington has scored 10 or more points in his last seven games.
The rest of the team responded to the increased production from the starting point guard. The Pirates have gone 4-0 since Nov. 24 in games where Carrington shoots at least 40 percent from the field.
"The team is playing good because our point guard is playing good," Willard said. "And he's our point guard … Once he realized that he was doing a lot of good things, it took a lot of pressure off him trying to make shots all the time."
Georgetown Hoyas (10-1, 0-0)
In a league full of promising, smaller guards, head coach Patrick Ewing takes a different approach to his lineup: the Hoyas' top four scorers are all 6-foot-6 or taller.
"They are a tough opponent," Butler head coach LaVall Jordan said of the Hoyas. "They have length and size at every position."
Four of the team's top five contributors in possessions used are 6-foot-6 or taller, per KenPom, a prominent college basketball analytics site.  The team's size poses a significant challenge for smaller teams in the BIG EAST.
"You can't really simulate that in practice because we don't have that type of length," Jordan said. "So you have to do the best you can to prepare for them."
Ewing makes his BIG EAST coaching debut Wednesday against Butler. KenPom does not project a win for the Hoyas in conference play until Jan. 24.
"You have to manage expectations," Ewing said. "At the end of the day, I still believe we have a rich, bright future in front of us."
Providence Friars (9-4, 0-0)
The Friars entered the 2017-'18 season with high expectations, finishing fourth in the BIG EAST preseason poll and landing a pair of second team nominations.
Injuries to a pair of guards have added an extra obstacle for Providence head coach Ed Cooley in his seventh year at the helm of the program. Senior Kyron Cartwright missed last Thursday's game against Sacred Heart and sophomore Alpha Diallo has missed three of the Friars' last four games.
"Having all those guys in and out of the lineup with injuries, it definitely gets some development for the younger guys," Cooley said. "But the consistency and continuity of the group has definitely been hampered."
Cooley said the season-ending abdominal injury to Emmitt Holt, the team's "spiritual leader," is especially troubling.
"He just has that 'it' personality that permeates with the rest of the group," Cooley said. "So we just have to look for somebody to replace that."
Providence opens BIG EAST play on a two-game road trip, visiting St. John's Thursday and Creighton Saturday.
St. John's Red Storm (10-2, 0-0)
St. John's has quickly developed an identity to differentiate itself in the BIG EAST: defense. Per KenPom, the Red Storm's defense is 11th in the country in efficiency and a close second in the BIG EAST behind Villanova.
"It definitely looks like they've bought into a defensive personality," Providence head coach Ed Cooley said. "You definitely have to use the extra pass because they definitely do a great job guarding the rim."
Sophomore guard Shamorie Ponds has been one of the best scorers in the conference so far but also has a few defensive accolades. He is 43rd in the country in steal percentage, stealing the ball on 4.01 percent of defensive possessions.
St. John's head coach Chris Mullin also has the benefit of a couple versatile wings in sophomore Justin Simon and junior Marvin Clark.
"Clark and Simon give them such versatility both offensively and defensively," Cooley said. "They are able to guard multiple positions."
Cooley and the Friars play St. John's Thursday for the Red Storm's BIG EAST home opener.
Creighton Blue Jays (10-2, 0-0)
If there's one team that has consistently punched above its predicted weight class this season, it would be the Creighton Blue Jays.
Picked to finish fifth in the league's preseason poll, the Jays have looked like a top-tier BIG EAST team, notching impressive victories against Northwestern and UCLA, both of which were ranked at the time.
The key to Creighton's success has been a turbocharged offense that ranks 22nd by KenPom in tempo.
"You can't come down (on offense) and take quick shots," said Seton Hall coach Kevin Willard, whose team plays Creighton Thursday. "They'll get in a rhythm where they can just get out and run."
Creighton has gotten more contributions from its newcomers than expected, especially Ty-Shon Alexander. The freshman from Charlotte, North Carolina, was supposed to be a wing player before an injury to starter Kaleb Joseph necessitated a move to point guard.
"He performed really well, so we left him there," Creighton head coach Doug McDermott said of Alexander. "Between Ty-Shon and Davion Mintz, they have 62 assists versus 30 turnovers … they're doing a good job moving the basketball."
DePaul Blue Demons (7-5, 0-0)
The DePaul Blue Demons challenged themselves in non-conference play, scheduling five opponents from high-major conferences and taking on three of them away from home.
"Our non-league schedule has probably been as difficult as I've been around not just here, but in all my years," said DePaul head coach Dave Leitao.
Although DePaul lost all five games, the results were closer than the winless record would suggest. The Blue Demons took Oregon to overtime in Portland, lost to Northwestern by two points and were within a possession of No. 2 Michigan State at halftime.
"We grew and I think we learned more about each other," Leitao said. "As a result, that means moving forward … we'll present a better version of ourselves."
Things don't get any easier for DePaul to open conference play. The Blue Demons host No. 1 Villanova at their new home, Wintrust Arena on Wednesday.
"Defensively, they consistently play three quarters of the court defense," Leitao said of Villanova. "They swarm to the basketball."
Marquette Golden Eagles (9-3, 0-0)
Marquette's non-conference play bore mixed results. There were positive results, like a definitive road victory over in-state rival Wisconsin, as well as setbacks including a dispiriting home loss to Georgia Dec. 2.
"I feel like we're an improving young team," head coach Steve Wojciechowski said. "We had some really good performances where we showed growth on both ends of the floor, and then other times where we were shown how much we still have room to improve."
The Golden Eagles will have to make massive leaps forward to compete with the No. 6 Xavier Musketeers in the conference opener Wednesday. Xavier has the sixth-most efficient offense in the country, per KenPom, while Marquette has the 146th-most efficient defense, which is one of the worst marks among high-Division I schools.
"Our defense will be tested to the highest level," Wojo said. "We need to be able to meet that challenge and finish possessions with rebounds."
Butler Bulldogs (10-3, 0-0)
Although Butler leans primarily on returning players Kelan Martin and Kamar Baldwin to pace the offense, it might be a different returner – sophomore forward Sean McDermott – that gives the Bulldogs a spark entering conference play.
McDermott suffered an ankle sprain Friday, Nov. 24 during Butler's win over Portland State and sat out the next four games. He returned Dec. 16 in the Bulldogs' loss to Purdue in the Crossroads Classic.
A semi-healthy McDermott is still Butler's best 3-point shooter, making 45.5 percent of his 3-pointers. Jordan also thinks McDermott is one of the team's better defenders.
"He's got length and athleticism, so he brings that to the table on the defensive side of the floor," Jordan said. "He's a great kid and he plays really hard."
Butler starts conference play in an unfamiliar territory: on the road against Georgetown. The Bulldogs only had one true road game in their non-conference schedule, a 79-65 loss to Maryland.
Xavier Musketeers (12-1, 0-0)
Marquette head coach Steve Wojciechowski made one thing clear from the start: his team has "nothing but respect" for Xavier.
"We played a few of the best teams in the U.S. already in Purdue and Wichita State, but I think Xavier is the best team we've played thus far," Wojo said.
The Musketeers have warranted those compliments with their play this season. Xavier has won 12 of their first 13 games and all but two of those wins were by double digits.
"They present problems on both ends of the floor," Wojo said. "That's why I think they're a team that can win a national championship."