Revamping Igniting Hope with service focus
When most at Marquette hear the name "Igniting Hope," they picture the ho-hum service project and anticlimactic tree lighting ceremony the Residence Hall Association held the past few years. Sure, it's got holiday spirit, but almost no one is going to build it into their packed schedules at the end of the year.
However, the event is set to change under new organization. Led by Paula Zdanowski, a junior in the College of Health Sciences and RHA's vice president of administration, the committee responsible for planning the event is looking to engage students in an entirely new and more intentional way with a brand new expanded service project.
"This year we want to do something different with service: We want to do it in our community," Zdanowski said. "In the past, (the event has) focused more on Toys for Tots, which is a fantastic organization, but, we think it can be hard for students to engage with. If it's more of a direct cause, we think that will be a wonderful experience."
Rather than merely giving donations, this year those involved with Igniting Hope's outreach program will take part in passing out food, clothing and other vital items to community members in need at tables located near bus stops on campus. The inspiration for this type of involvement, Zdanowski said, came from past events carried out by RHA members.
"I lived in Mashuda last year, and we did something called 'Saint Nick's Comfort at the Corner' where we gave out hot chocolate at a bus stop," Zdanowski said. "I remember that when I stood inside that bus stop and asked someone if they wanted a cup of hot chocolate, (and) I got to talk to them, it ignited hope within me."
Vinny Stoll, a freshman in the College of Business Administration, has been eager to integrate this kind of service into Igniting Hope. As a member of both RHA and service-based organization Campus Impact, he saw that the two groups could combine to do something truly great and asked to bring them together.
"Right at the beginning, we wanted to revamp Igniting Hope a lot, so we got Campus Impact to come in," Stoll said. "With (Campus Impact) involved, this event isn't just about RHA uniting all of the residence halls and Marquette students, but tie in the whole community."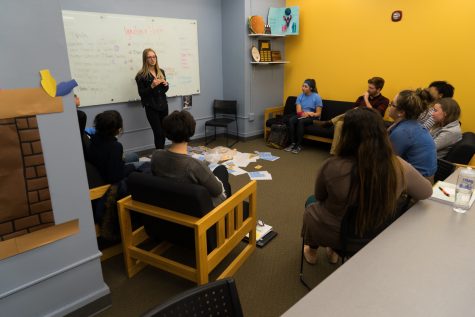 Campus and community-wide connections don't stop there. Dance Marathon, which raises funds and awareness for pediatric hospitals and the families of their patients, will be integrated into this year's event in several ways. In particular, a chosen "champ family" who is working through their child's illness will attend and speak at the tree lighting ceremony, saying a few words about their lives, hopes and the importance of service.
Nicole Sapio, a junior in the College of Arts & Sciences and current president of RHA, worked on Igniting Hope two years ago when Dance Marathon was not involved and is excited to see what this and the other additions will add to this year's event.
"The champ family is new this year because we usually just have a Jesuit priest light the tree and a performance by the liturgical choir," Sapio said. "It's definitely going to add something extra."
Overall, there is a lot of original material and an entirely new mindset in the works. Even advertising for the event was revamped.
"We've pushed marketing even more this year, (using) any source of marketing we could think of," Maya Mocarski, a sophomore in the College of Arts & Sciences, said. "We've designed posters for all the residence halls, made table tents and brew sleeves, sent out mail slips and also gone a bit digital by making a TV ad to run on the new TVs that have been put up on campus."
The minds behind Igniting Hope are aiming to make the event hard to miss, and with the outreach program and redesigned ceremony, it is hard to blame them. The reception, set to take place in the Alumni Memorial Union, will feature Marquette musical acts, a festive photo booth, hot chocolate and loads of free food.
With all the changes RHA has made to the service-based yet festivity-filled holiday event, Igniting Hope could prove to provide just that to anyone willing to join.
Leave a Comment