Professor leads harvest of first rice paddy in Wisconsin
Professor Michael Schlappi and his research team made history this fall when they harvested crops from the first production-style rice paddy in Wisconsin. Schlappi has spent six years researching rice.
With the Fondy Food Center and his student interns, Schlappi cultivated one acre at Mequon Nature Preserve in hopes of showing farmers that rice has a place in Wisconsin agriculture.
"Rice is a really important staple crop. It feeds more than half the world," Schlappi said. "What I would like to achieve is an awareness that domesticated rice can be grown in Wisconsin, in a cold climate."
Rice is a cold-sensitive crop, and Schlappi researches the genetics of cold tolerance. He went through hundreds of rice varieties, testing them in cold climates. Schlappi selected ten varieties that might be suitable for growing in Wisconsin. One variety, a promising Russian strain, was planted at the paddy.
Schlappi collaborated with the Fondy Food Center, an organization that encourages local agriculture. However, many of the rice harvesters come from far away.
Schlappi said 80 percent of Fondy farmers are Hmong refugees from Laos. Many fled Laos at the end of the Vietnam war, and they sometimes spent decades in Thailand refugee camps. For them, Schlappi's project is a nostalgic experience.
"In the 80s, Wisconsin and Minnesota accepted a lot of Hmong refugees, but this climate is completely different. They thought they lost a piece of history and culture, that they had to leave rice cultivation behind," Schlappi said. "It was very heartwarming and beautiful to see how, for them, it's emotional to see rice produced. Women had their garbs on and they took pictures in front of the paddy. It was a really neat experience."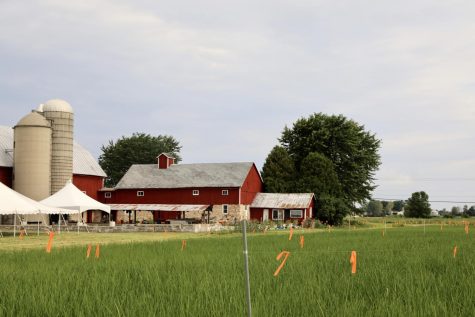 Schlappi's project was awarded money from Marquette's Strategic Innovation Fund in spring 2016, but he wants the project to eventually sustain itself through product revenue. He plans to sell the harvest next January at the Fondy Winter Farmer's Market located in the Milwaukee Domes. He is currently waiting on a certificate to sell the grain.
In the meantime, Schlappi's interns are working on business plans, market analysis and product design.
Intern Devon Hanley, a junior in the College of Communication, helped come up with the company's name, Red Stone Rice. It was titled as a tribute to both Marquette and the Mequon Nature Preserve.
According to the Wisconsin Historical Society, Pere Marquette named the Wisconsin River "Meskonsing," which can be translated to "Red Stone River." The red also refers to a red barn located at the preserve's agricultural fields.
While Hanley's work mostly consists of marketing and designing logos for the company, interns work in the lab and on the field as well.
Marchell Waight, a senior in the College of Arts & Sciences, has assisted graduate students in the lab for two years.
"This project is a good application of science in the real world," Waight said. "In science, people research all the time but don't always see the application."
Though the project is a breakthrough for rice harvesting in Wisconsin, not every aspect of the harvesting process was up to par.
Intern Andre Beaumont, a junior in the College of Arts & Sciences, was directly involved on the field. He said there was an abundance of problems such as planting too late and controlling water levels.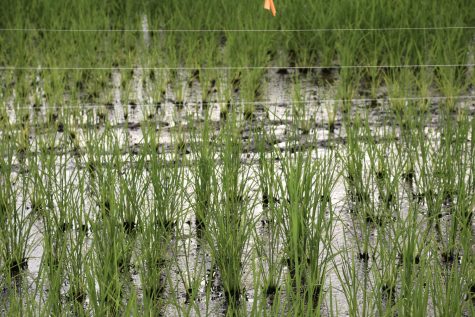 "I'm looking forward the most to trying again this coming summer," Beaumont said in an email. "We did not quite get the results we had all been hoping for, but we learned a lot from the process. It can only get better from here."
Despite the steep learning curve, Schlappi said it was rewarding to get the operation going.
"It was meaningful with the community outreach, and it was meaningful because we produced something that people can use: food," he said. "It's not glamorous, and you can never get rich with this work, but I think it's super important."