Marquette changes to rolling admissions, part of nationwide trend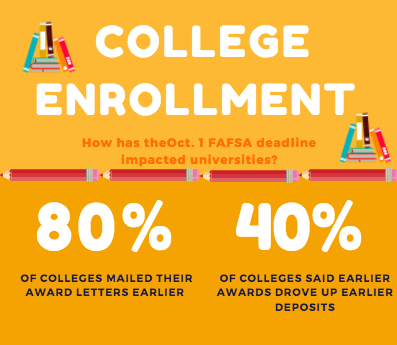 Marquette admissions now accepts applications on a rolling deadline because of the change in national FAFSA deadlines.
Prospective students can apply within a larger window of time and hear back within about three weeks after submitting their materials.
This is a change that John Baworowsky, Vice Provost of Enrollment Management, said "gives a huge advantage to the student."
One major factor of changing Marquette's admission deadline from Dec. 1 to rolling admission was the change in the FAFSA deadline, which is now available Oct. 1. The Dec. 1 deadline was not a problem in the past because the FAFSA form was not available until Jan 1, Baworowsky said.
"With the FAFSA available Oct. 1, schools that have rolling admissions (had) advantage over us because they (got) to send out acceptance letters and financial aid awards earlier," Baworowsky said.
With acceptance letters and financial aid packages sent earlier, Marquette has seen an increase in early deposits. This allows students to make their college decision much earlier in their senior year of high school. With more of these decisions out earlier, Marquette has moved up their accepted student days and on-campus events, allowing for students to get involved sooner.
Baworowsky also said there is not an increased chance of overbooking incoming classes, because the process is actually happening in "slow motion." Students are enrolling every week so if there ever came a point where certain programs filled up than others they can "pick a point and stop enrolling." He also explained that the admissions department is careful to not oversubscribe from certain demographics;  that way they can give everyone a fair chance at financial aid.
Tour guide Jane Lorenzi, a senior in the College of Arts & Sciences, said that rolling admissions "gives students who didn't have the resources to meet early deadlines to still apply to Marquette." She also said, "It just helps people all across the board and the quick turnaround process is really beneficial to students."
KJ Jaeger, a freshman in the College of Health Sciences, said that she preferred applying to schools that had rolling admission. Reflecting on her own college acceptance process, she said, "It was really nice to be able to hear back from schools early. I found out I got into college in September of my senior year and it felt so good to know I was going to college."
This is just the beginning of a larger financial aid reform movement, Baworowsky said. Allowing students and their families more time to consider and strategize tuition payments should be at forefront of universities priorities.
The enrollment management department recently received an appointment from the Assistant Secretary of Education to help with FAFSA reform in Washington D.C. Their proposal suggests the FAFSA forms should only be filled out once, while entering your freshmen year of college.
Baworowsky said the percentage of families whose incomes drastically varies from year to year is very small, so all the time and money it takes for students to fill out their FAFSA every year, for the federal government to process all of the information and for universities to then sort through every student's FAFSA can be used in more productive ways.
Marquette's decision to switch to rolling admission will allow students to make their decisions earlier, and give better flexibility and transparency in financial aid packages, Baworowsky said. He also said he thinks this  move will be part of a larger trend for schools across the country.