Heldt on cult icon status: "It's all really funny"
Matt Heldt first realized he was becoming a social media phenomenon when he saw an article from satirical news blog The Golden Seagull stating National Marquette Day had been renamed to National Matt Heldt Day.
"My parents shared the article on Facebook," Heldt said. "I had to go through it and tell them, 'Mom, that's fake news. It's a joke … it's not real.'"
That was also the first time Heldt heard anyone call him "The Milkman," although Marquette basketball fans on Twitter have come up with plenty of other monikers. One of the more popular depictions is a photo of Heldt's face photoshopped onto celebrity chef Gordon Ramsay's body with the caption, "Heldt's Kitchen."
Another Heldt meme from Jamey Schilling, a senior in the College of Business Administration, featured the 6-foot-11 junior dyed green and turned into "The Incredible Heldt." The caption states, "You won't like him when he's angry. Or maybe you would. He's a really pleasant guy."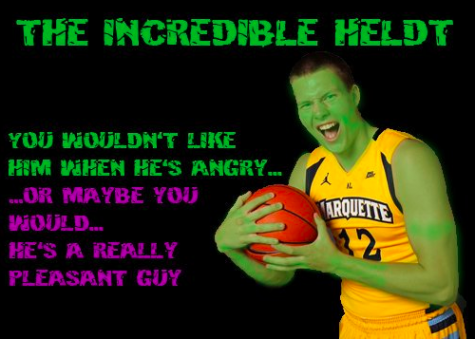 After recording his first career double-double against St. John's last season, fans chanted "MVP." During the subsequent post game interview, Heldt said "I wasn't expecting that, it was really an honor. Hopefully kids in my class don't start doing that when the teacher is trying to teach."
Marquette's love of Heldt may come from him being one of the most down-to-earth basketball players in recent university history; he blends a fiery, competitive personality on the court with an everyman friendliness. Even though the 6-foot-11 junior averaged only 13 minutes and 2.3 points per game last season, head coach Steve Wojciechowski talks about him almost like he is a favorite son.
"I'm not sure we have anybody on our team that is more of a team guy," Wojo said. "Matt's leadership is going to be really important to this team."
Wojo pointed to Heldt's mentoring of freshmen Jamal Cain and Theo John this offseason as an example of his leadership. Heldt was the only upperclassman on campus for several weeks last summer; he used that time to personally work out with the freshmen and give them tips on adjusting to college.
"I'm not sure I've ever seen an upperclassman extend a hand to make young guys feel more comfortable," Wojciechowski said. "He was awesome, and that's who Matt is."
Part of Heldt's offseason duties entailed helping out basketball players significantly younger than John and Cain. Heldt coached several sessions of Marquette's summer basketball camp. Many Marquette fans know this because of viral videos of him knocking down two half-court shots nearly a week apart. A visit from the ice cream truck was at stake each time.
He's willing to admit both shots weren't hit on the first attempt; the first week's shot took him two tries. "Both of them were lucky," Heldt said.
#mubb @HeldtMatt knocks down half court shot for second week, earning campers visit from ice cream truck. pic.twitter.com/zHT8tZBSq8

— MarquetteMBB (@MarquetteMBB) June 19, 2017
Although the half-court shots brought delicious ice cream and another round of celebratory Twitter memes, Heldt found the most satisfaction in coaching the kids.
"The kids look up to you, and you have a really good opportunity to be a role model," Heldt said. "(You can) kind of instill good effort, hard work, and a 'next play' mentality."
That essentially sums up the mindset behind Heldt's play on the court. He'll have his occasional standout performances – a double-double against St. John's in the BMO Harris Bradley Center last season comes to mind – but has only scored more than 10 points once in his career. Boxing out, drawing charges and battling for rebounds are much more in Heldt's domain than putting up eye-popping stats.
"I think (Heldt) will do whatever the team needs to be successful," Wojo said. "Matt's a good player and he understands what we're trying to do. (His) mind and heart are always in the right place and he continues to improve from a skills standpoint."
Although a player's impact on team chemistry is challenging to measure, it was easy to notice how teammates reacted to Heldt's presence during men's basketball media day. Once they were done with interviews, several basketball players took one of Marquette athletics photographer Maggie Bean's cameras and started snapping pictures. Heldt was right in the middle of many of the photos, happily posing with several teammates.
Sophomore Sam Hauser, one of Heldt's closest friends on the team, said Heldt is just that kind of person. "Very humble, very respectful kind guy," Hauser said. "He's always giving you confidence and he's always trying to help whenever he's needed. Overall, just a great human."
At least one prominent college basketball personality thinks Heldt could have more of an impact on the court this season. Jon Rothstein of CBS Sports put Heldt on his offseason list of five BIG EAST players primed for a breakout season.
While Heldt hopes to live up to that billing, he also acknowledged that it's all about the group. "All I care about is winning and the team," Heldt said. "That's my number one priority so whatever I have to do for us to win, whether that's taking more minutes, less minutes, more shots, less shots, I'm going to do that."
Leave a Comment