PROUTY: 'RENT' cast portrays powerful story of love, loss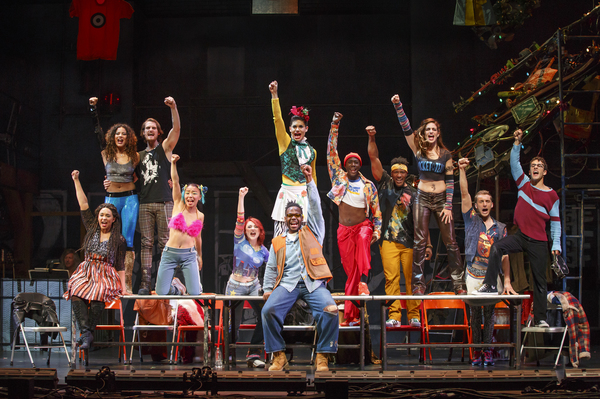 "RENT" begs the question: How do you measure a year? I'll be honest. Most of the time, like a lot of college students, I measure the year in cups of coffee.
It's easy to forget about the things that make life important and give it meaning. And "RENT," the '90s-era piece that is still extremely relevant in 2017, reminds audiences where their priorities should be.
"RENT" follows seven young artists in New York City in 1987. They face love, loss, sickness, poverty and the reality of being starving artists. Mark Cohen (Sammy Ferber), Roger Davis (Kaleb Wells), Mimi Marquez (Skyler Volpe), Tom Collins (Aaron Harrington), Angel (Aaron Alcaraz), Joanne Jefferson (Jasmine Easler) and Maureen Johnson (Lyndie Moe) make up the forefront of the show, and the seven stars were perfectly cast in their respective roles.
The musical opens with "Tune Up #1," and the cast does not stop singing for the duration of the show. While some of the larger production numbers were confusing and hard to understand, the plot itself was easy to follow. There was some yelling when there should have been solid emotions, which was amplified through the acoustics of the venue. But it's still a show full of talent and meaning.
Mark decides to film his friends' lives for one year. During that time, a depressed Roger falls in love with Mimi. Having lost one girlfriend to suicide, he cannot bear to watch her die from HIV so he continually pushes her away throughout the show. Meanwhile, Mark's ex, Maureen, is in a tumultuous relationship with Joanne. The two have trust issues because Maureen has cheated on both partners. Angel and Tom's relationship is by far the strongest and most emotionally steady, only to be hijacked when Angel dies of AIDS. His death, as well as the impending death of many in the group, force them to recenter their lives and live fully, and with love.
Each lead is gifted with impeccable vocals and incredible character development. The format of the show is able to give everyone a shining moment.
Volpe and Wells' voices were beautiful and connected in "Light My Candle." Moe had the audience roaring with laughter when she belted "Over the Moon." She was highlighted again in "Take Me or Leave Me."
The two that really hit home were Harrington and Alcaraz. The nature of Angel and Tom's relationship is sweet and caring. They're truly in love and show their tender hearts despite the fact that they know Angel's death is near. Alcaraz's simultaneous comedic element was needed in a show that tackles such serious issues. It was fun to watch him strut across the stage in neon pink and Santa suits. Yet his silent death was heartbreaking. Alcaraz created infinite dimensions to his character.
Harrington's voice carried throughout the room and he hit every note without fail. He is a vocal powerhouse and that made Tom a much stronger character than expected. Tom managed to stay grounded through trauma, and Harrington had me believing it was real.
Overall, "RENT" is a packed show, complete with Jonathan Larson's rock score, that makes one think.
"RENT" runs at the Marcus Center for the Performing Arts through Oct. 8.
Leave a Comment