Freshman runner Gill standing out from pack
Alex Gill, a freshman in the College of Engineering, joined the track and cross country teams at St. Thomas Aquinas High School in Lenexa, Kansas, and never stopped running.
First, he ran his way to five combined state titles in track and field and cross country. He then ran as part of the fastest distance medley relay in Kansas history. Finally, his running carried him all the way to Milwaukee.
"He actually reached out to me first, which is rare in recruiting," cross country head coach Mike Nelson said about Gill.
Nelson lived in Kansas for several years while working as a graduate assistant for Emporia State University, which is about an hour and a half drive away from Lenexa. He knew many of the top programs in the state, which made him a receptive audience for Gill's emails, asking to run for Marquette.
"He got back to me and would send updates every week," Gill said. "Then when I went on my visit, I could tell that he really cared about the athletes."
Gill also entered Marquette with connections to the city. "I have family members that live in Milwaukee, so it's like my home away from home," Gill said.
There's an even stronger family connection to running for Gill: his father, Mike, competed in track and field and cross country at the University of Kansas.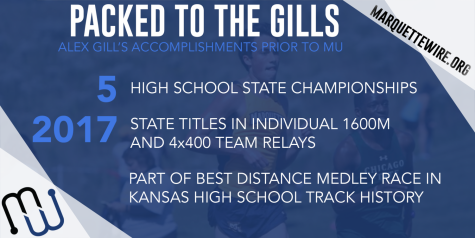 "I remember my dad always talking about the sport, and when I started track in seventh grade, I loved it right from the get-go," Gill said. "It's always fun looking back at his times and trying to beat what he set."
Perhaps the greatest moment in Gill's high school athletic career was during his junior year at the 2016 New Balance Nationals Outdoor event. That's where Gill was part of the four-man team that ran the distance medley in just over 10 minutes and 12 seconds, a mark good for seventh in the country and first all-time in Kansas state history.
"The DMR (distance medley relay) is probably one of my favorite achievements so far," Gill said. "After the race, Coach told us the time, and finding out that we broke the previous record was awesome."
The promise Gill flashed in high school has carried over to college. He has finished in the top seven among Marquette runners in each of his first three meets, all of which have had more than 15 Golden Eagle competitors. His best performance came in the Flames/Flyer Challenge in Romeoville, Illinois several weeks ago. He finished 12th overall among 72 runners.
Gill credits his early success to his teammates helping him transition to the next level. "The upperclassmen have been really insightful on racing strategies," Gill said. "They have helped make the transition smooth for me."
Nelson said he "isn't surprised" at Gill's early showings of promise.
"A lot of kids will tell you that they have great work ethic, but he shows it," Nelson said. "He's a hard worker and has great character, which are the two main things we look for here."
View Comments (1)