As the Marquette men's soccer team lined up for the national anthem last weekend, over nine flags were flying besides the stars and stripes.
Those were flags were flying for the five players who were born overseas and others who had family from around the globe. Two of those players were Steffen Bohm and and Manuel Cukaj, starting defenders and German-born footballers.
Bohm and Cukaj are the latest pair of international players to suit up in a Marquette jersey. Both grew up training in some of Germany's best youth club academies.
This is Bohm's second go-around in the NCAA. He transferred from Florida International last summer, and he has started every game for the Golden Eagles and played a key part in the back line. Having a teammate with comparable experiences helped ease the transition to Marquette.
"For me and (Manuel), obviously growing up in the same conditions, and to be from the same nation and speak the same language, experience the same things by going through a youth academy in Germany makes him familiar to me and ties us together," Bohm said.
Bohm started training when he was in grade school and by age 13 he was training four times a week with two professional coaches. By 19, he was training with MSV Duisburg U-19 team in Germany's second highest division.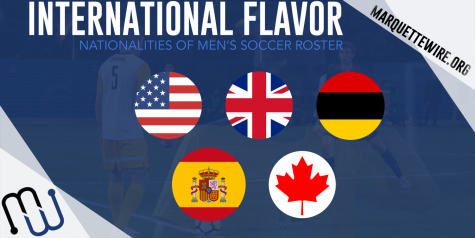 "The youth teams in Germany train more so from technical skills and tactics," Bohm said. "American soccer is much more physical, and it is a bit of an adjustment."
Cukaj came to Marquette as a freshman with four years of eligibility. He grew up training with a team in German soccer's third division, but he always wanted to come to the United States. When Bennett first talked to Cukaj via Skype, he knew Marquette wanted him.
"I was very excited to come here, and it was not a hard decision to leave home," Cukaj said. "For me, it is exciting to get to know a new culture, the people, the university and the soccer program."
Both Bohm and Cukaj said they have enjoyed Milwaukee thus far and are eager to get the chance to explore more of it. "Marquette was a program I was looking for because I like a very big city, very hectic," Bohm said. "Marquette is the perfect fit for me, and I really like Milwaukee."
Getting adjusted to a new city is not the only difficulty that an international player can face. Often times, simply communicating with players who speak a different language and are from a separate culture can be just as much of a challenge.
Sometimes, Bohm and Cukaj can't help but revert to German to get their point across. "On the field, maybe in a spontaneous, critical moment we will speak German to each other just to be clear (and) to get the message across because you don't want to cause any misunderstandings," Cukaj said.  "If other people are around, we want speak English and communicate the best we can."
The back line has been shaken up a bit; the German duo were not paired with each other in the starting 11 for the first time in Marquette's 1-0 loss against Saint Louis. Going forward, Bennett's back line can expect to have the three international players in it along with the American-born sophomore Patrick Seagrist.
The back line has been a struggle for head coach Louis Bennett this season; Marquette has yet to keep a clean sheet in any of its four matches. Despite this, Bennett is confident that it is only a matter of time before the defense, led in part by Cukaj and Bohm, figures it out.
"The clean sheet has to come from the goalkeeper and the two central defenders," Bennett said. "I think Manny and Steffen are both a very important part of it."
Despite the early difficulties, the German duo have already learned an invaluable lesson about American culture and the spirit of the game.
"The special thing about coming here to the United States, and being on a soccer team here, is that you have a lot of different players from a lot of different countries," Bohm said. "It gives you the bigger picture about the world and how the world works."
Story continues below advertisement