Summer update: Amplo stays put and date set for MU vs. Wisconsin
Amplo stays put after another job offer
Marquette lacrosse fans could be forgiven for feeling a bit of deja vu.
It was around mid-June last year that men's lacrosse coach Joe Amplo announced his decision to remain at Marquette after Princeton offered him its vacant head-coaching job. This time around, Inside Lacrosse reported that Michigan offered Amplo the top gig, only to be turned down when the two parties couldn't agree on terms.
"We win with people and I am so grateful for the team of people who believe in my vision for the program," Amplo tweeted Saturday, before details of the Michigan offer were reported.
"I am proud to be a small part of all the great things going on at Marquette," he continued. "We have a very bright future together."
Amplo is a popular name in college lacrosse because of Marquette's rapid ascent from a startup program to two-time BIG EAST champions in just four years. Marquette has a 40-37 record all-time under Amplo, who is the only head coach in program history.
Click here to read the full press release on Amplo's decision.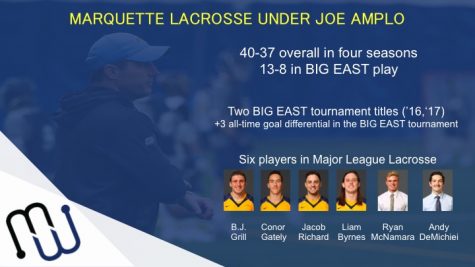 Duo of basketball players decline national team tryouts
One of the breakout stars of last year's under-17 national team was then-high school senior Markus Howard.
Biggest story from FIBA World U17 in Spain: Markus Howard will have a major impact for Marquette next season as a freshman. Shooter.

— Jon Rothstein (@JonRothstein) July 3, 2016
That's why it was surprising to see Howard left off the list of players trying out for the under-19 team this summer despite being one of the country's standout freshmen. He averaged over 13 points per game and was the most accurate three-point shooter in the country at just under 55 percent.
A few days later, Matt Velazquez of the Milwaukee Journal Sentinel cleared up the mystery, tweeting that Howard declined an invite to the event to focus on training for the upcoming season.
Recent women's basketball transfer Tori McCoy followed a similar path; she occupied one of 33 spots on the trial roster but dropped out after transferring to Marquette. It is not known whether she did so specifically to focus on training.
McCoy transferred to the Golden Eagles from Ohio State, where she averaged 8.1 points and 4.9 rebounds in under 17 minutes per game. The former top-10 recruit will have three years of eligibility left after her redshirt season.
Is there a date set for Marquette vs. Wisconsin?
That seems to be the case, if this article from Benjamin Worgull of Scout.com is correct.
Saturday, Dec. 9 is the date for the annual showdown, according to Worgull. This seems to fit in with Marquette's calendar — the Blue and Gold Fund auction is the evening before the game and final exams start the following Monday. The Marquette vs. Wisconsin game has occurred between those two events for the previous three years.
This year's contest will be in Madison, a place where Marquette won 57-55 in 2015. Wisconsin returned the favor in last year's game, overcoming a slight halftime deficit to come away with a 93-84 victory.
Quick hits
Ryan McNamara, men's lacrosse's all-time leading goal-scorer, notched his first goal as a member of the MLL's Rochester Rattlers over the weekend. The 49th overall pick also picked up two assists and a ground ball.
Liam Byrnes made sure McNamara wasn't the only Marquette lacrosse graduate in the headlines. The Georgia Swarm, Byrnes' NLL team, won the Champions Cup over Saskatchewan in overtime. The NLL, or National Lacrosse League, is a separate professional league from the MLL.
Butler coach Chris Holtmann left the Bulldogs to take the vacant head coaching job at Ohio State. Holtmann coached at Butler for three years and went 5-1 against Marquette. The Bulldogs made the NCAA Tournament in each of those years.
Leave a Comment