Summer update: Golden Eagles Alumni qualify for TBT
TEAM OF MARQUETTE BASKETBALL ALUMS BACK IN TBT
Golden Eagles Alumni general manager Daniel Fitzgerald said after last year's run he "could see no reason" the team would do anything other than try again.
That promise came to fruition Thursday, when the Alumni's status for 2017's The Basketball Tournament (TBT) changed from "eligible" to "accepted pending review."
In order to be accepted as an automatic qualifier to TBT, teams had to receive enough fan votes to place in the top nine of their region. The Alumni did so comfortably, earning over 1,300 votes and the second spot in the Midwest. It was a substantially less stressful process for Marquette fans than last year, when the team cleared the cutoff by only 17 votes.
The Basketball Tournament is an annual five-on-five event where 64 teams compete in a single elimination, March Madness style tournament for a $2 million grand prize. Each team has a general manager that is responsible for recruiting players, who are most often former college basketball players.
Last year's Golden Eagles Alumni team made the Elite 8 before losing to Always A Brave, a team comprised of Bradley University alums, 89-81. Because Always A Brave won last year's Midwest regional, this year's first and second round Midwest games will be held in Peoria, Illinois on Bradley's campus. Those games will take place on the weekend of July 15-16.
The Alumni's first round opponent has not been announced.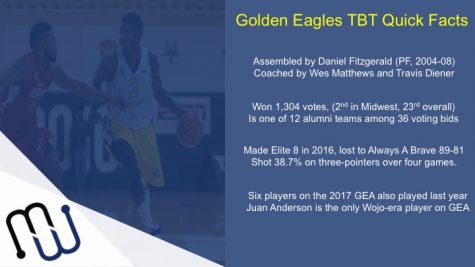 SHEARER SCORES IN LACROSSE ALL-STAR GAME
There might not be any Marquette women playing professional lacrosse, but there was a representative of Marquette in the IWLA Senior All-star Game.
Senior attackwoman Julianna Shearer scored two goals on five shots for the North All-Stars, which beat their counterparts from the south 16-11. (Click here for the full box score.)
Shearer's first goal came almost halfway through the first period to put the North up 4-2, roughly 40 seconds after picking up her first ground ball of the afternoon. The second goal came less than a minute into the latter half, which capped off a 4-0 North run that put the game away for good.
None of this was out of the usual for Shearer, who scored a league-best 55 goals this year. She was one of three Marquette players to make the BIG EAST all-conference team.
QUICK HITS 
Five-star 2018 basketball recruit Quentin Grimes plans to cut his list to eight schools soon, according to Eric Bossi of rivals.com. Marquette offered Grimes a scholarship in July of 2016 and Wojo has watched the top shooting guard play several times this year.
ESPN's Joe Lunardi released his first "Bracketology" for the 2017-'18 college basketball season. Although six of 10 BIG EAST teams are on Lunardi's early bracket, Marquette is not among them. This may not be a sign of things to come. The Golden Eagles missed Lunardi's first post-tournament bracket last summer too.
PrepVolleyball.com ranked Marquette volleyball's recruiting class 21st in the country. It's the second straight year the Golden Eagles have had a top-25 class. Only one other BIG EAST school made the top 25: defending conference champion Creighton.
Longtime Sports Illustrated writer Frank Deford passed away last weekend. His 1976 profile on Al McGuire is required reading for Marquette fans.
Leave a Comment