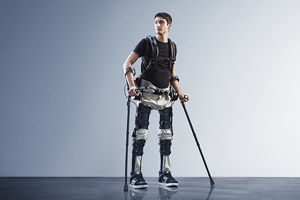 Matt Nevaranta feared he would never walk again after 3,000 pounds of aluminum fell on him while working at a construction site, leaving him paralyzed from the ribs down. Thanks to new technology and Marquette University's Physical Therapy Department, there was hope for Nevaranta.
He is one of 100 people in the world, and the only person in Wisconsin, to use a new exoskeleton technology called ReWalk to help him walk again.
The ReWalk is "a wearable robotic exoskeleton that provides powered hip and knee motion to enable individuals with spinal cord injuries to stand upright, walk, turn and climb and descend stairs," according to its website.
Because it is a unique and new technology, the ReWalk is not cheap, and Nevaranta had to fight for his workers' compensation to pay for it. He spent two years fighting in the courts and won his case on the condition that he cover the cost of the physical therapy to learn how to use the equipment. The therapy is costly, and Matt could not afford it, which is where Tina Stoeckmann and the Marquette University PT program came in to help.
When Stoeckmann learned about Nevaranta's situation from old colleagues, she volunteered the clinic to handle his therapy for free.
"I knew it would be a great learning opportunity, and also a chance to do something good," Stoeckmann said. "Matt goes beyond a typical client and exposed the students to something cutting edge."
Nevaranta came into the clinic three days a week for an hour-and-a-half starting in January 2017. Stoeckmann said the estimated number of visits required to learn to use the ReWalk is 40, but Nevaranta only required 26. April 3 was his last day.
Albojay Deacon, who graduated from the PT program in 2013 and now works for the clinic, attested to the impressive nature of Nevaranta's rapid progress.
"I helped Matt on Mondays and Fridays; and, I tell you, if I was not there on a Friday and came back on a Monday, the amount of growth was incredible," Deacon said.
Zach Vandenberg, in his sixth year in the PT program, said, "It was great to apply theories of motor learning and other concepts learned in class to help Matt gain independence and ultimately take the ReWalk home."
Stoeckmann specializes in neurology and said she wants to grow neurology opportunities at Marquette.
"We do a lot of sports physical therapy, but I want to expose the students to an experience that they may otherwise not have had and show them all the options of physical therapy," Stoeckmann said.
PT students said a spinal cord injury case was out of their normal realm and required extra training for everyone involved.
"Being able to see and work with an exoskeleton is something a lot of students and even licensed PTs can't say they have been able to do in their career," Franceska Wenninger, a fifth-year PT student who also worked with Nevaranta, said. "Matt's story is just so inspiring and every session he showed just how persistent he is."
Nevaranta said his experience working with Stoeckmann and her students was positive.
"I can't say enough about them," Nevaranta said. Without their tremendous support, guidance and motivation throughout the training process, I don't think I could've achieved the same success or gained the same confidence using the ReWalk device without their help. They've always pushed me that one step further and challenged me to achieve my full potential using the (ReWalk) device."
Stoeckmann said she is thankful to work for Marquette because not many universities would have allowed something like this.
"Other places would have pushed me to charge Matt for the sessions, but here, service is really valued beyond being a resume booster," Stoeckmann said. 
Wenninger, in regard to Stoeckmann, said, "Not many professors would take students into consideration like she did. She constantly advocates for students to be a part of real-life experiences like these."
Vandenberg also said it is cases like Nevaranta's that make Marquette PT so special.
"Watching some of the Marquette faculty in action confirms my choice to come to Marquette, as I was hoping to attend a school that focused on treating and working with the whole person and their family, not just a person's deficits," Vandenberg said.
Deacon said the most rewarding part of the experience was seeing Nevaranta succeed. "You get the chance to meet with someone and connect with them," Deacon said. "He's resilient, a great guy, with a great head on his shoulders."
Nevaranta said the experience has been life changing. "It's nearly impossible to put into words what it feels like to stand up and walk again to someone who hasn't experienced a spinal cord injury," Nevaranta said. "But I can say that I've regained a piece of my old self being able to do what so many others take for granted."
A Cardinal Stritch University graduate, Nevaranta was inspired by his experience in the courtroom fighting for the equipment that would get him on his feet again. He has applied to Marquette Law School, among others, and is awaiting the decision. 
"If Matt does get in, we'll get to see him walking around campus," Stoeckmann said.