Marquette law students give hope to evicted in Milwaukee County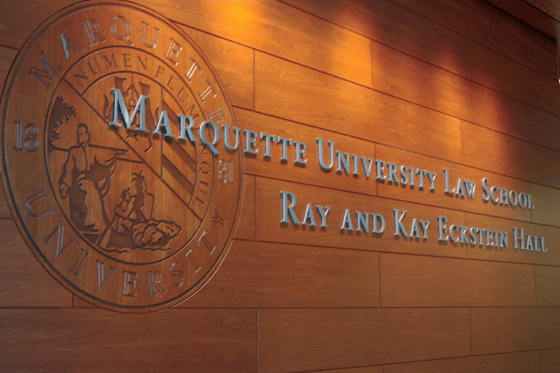 More than 12,000 eviction suits are filed in Milwaukee County every year. And some Marquette students are giving hope to those low-income tenants facing eviction.
Marquette law students volunteer for the Eviction Defense Project where they work alongside staff from Legal Action of Wisconsin and other volunteer attorneys from the Milwaukee area. As student volunteers, they work side-by-side supervising attorneys to understand a client's immediate housing situation and try to determine what options are available to them. Volunteers often go with their clients to their hearing with the Commissioner or try to negotiate a resolution with their landlord or opposing counsel.
The Eviction Defense Project, started in late December, aims to ensure that low-income residents don't lose their housing unfairly.
"Our main goal is to improve housing stability," Raphael Ramos, director of the Eviction Defense Project, said.
Frequently, landlords do not follow proper procedure with book keeping and allow tenants to live on month- to-month oral agreements.
"The condition of housing can be deplorable," Carolyn Garski, a Marquette law student who volunteers at the Eviction Defense Project, said.
Garski had a client who was renting an apartment with no heat, no hot water and the septic tank was backing up raw sewage into the basement of the apartment building.
When tenants complain or threaten to complain about these problems to the Department of Neighborhood Services, the tenants are frequently threatened with eviction or the landlord will begin the process to evict the tenant. Tenants generally aren't aware that this practice is prohibited by law.
"Many tenants can't afford to move or can't have an eviction on their record, at risk of not being able to find new housing," Garski said. "Tenants also find themselves with less power when trying to negotiate their housing."
In Wisconsin, little to no public dollars are allocated toward civil representation, creating a massive need in the Milwaukee community. The Wisconsin Bar, non-profits and attorneys are left to fill this gap. The Eviction Defense Project has become another way to help those in the Milwaukee community facing eviction.
Volunteer lawyers, like Garski, help tenants avoid an eviction or attempt to find alternatives to evictions through payment plans, time to find new housing or general negotiations between landlords and tenants. The help that the volunteer lawyers give to tenants gives hope.
The Eviction Defense Project peaked Garski's interest to volunteer for the program after previously interning with Legal Action of Wisconsin in the housing division where she handled similar cases.
"There I really learned about what it would mean for many of Milwaukee's families to be evicted from their home," Garski said.
For families with children, this often means their child's education would be disrupted and forced to transfer schools.
Many times, tenants cannot afford to move out of their current housing, and even if they could, renters are left with an eviction record that's easily accessible on Consolidated Court Automation Programs, which provides some of Wisconsin's circuit court records. This means tenants will have an increased difficulty finding a new place to live. This can directly contribute to someone becoming chronically homeless.
"Being involved with this project has allowed me to make a meaningful impact on people's lives," Garski said. "For many of our clients, it's their first interaction with the legal system, or it's the first time they've had someone advocate for them. You're giving someone hope that they aren't overlooked and someone cares about what happens to them and their family."
JJ Moore, a Marquette law student volunteering with the project, grew up in a low-income area in Massachusetts. Now that Moore has knowledge of the laws landlords need to follow, he is thankful he can provide help and assistance to those who need it.
"When a tenant thanks me at the end of a negotiation or after a stipulation to a move out date, I feel like I have given back," Moore said.
Those involved in the Eviction Defense Project hope it will continue to expand. The project has already increased from one day per week to two.
"We are giving a fighting chance to those who are often voiceless," Garski said.
Leave a Comment