Pride Week celebrates LGBTQ identities across campus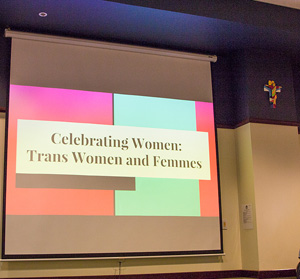 Marquette's first Pride Week saw events dedicated to the LGBTQ+ community through discussions, dances and dinners.
The week began with a fundraiser dance in the Alumni Memorial Union, which was sponsored by not only the LGBTQ+ Resource Center, but also the UW-Milwaukee LGBT Resource Center and the Milwaukee LGBT Community Center.
Pride Week was about bringing the campus and the community together. Here I Am, Out at Marquette, gave students the chance to acknowledge and share the identities. Dining in Drag gave students a chance to dine with drag queens. The film Milk, about gay rights activist and politician Harvey Milk, was screened with a discussion afterward.
Celebrating Women: Trans Women and Femmes, educated an audience about the history and struggles trans women face. Two women mentioned were Marsha P. Johnson and Silvia Rivera, who were trans women of color and major players in the Stonewall riots and Gay Liberation movement. Johnson is said to be one of the first to fight during the riots. Following the demonstrations, the two women dedicated their lives to helping LGBT youth and youth of color.
"Trans women have existed throughout history, and didn't pop up with Caitlyn Jenner or Laverne Cox," Enrique Tejada, Coordinator for LGBTQ+ Programs and Services, said, adding that LGBT history often goes untold.
"The LGBT community has a history," Sabrina Johnson said. Johnson is a 20-year-old trans woman from Milwaukee who officially began their transition at the age of 17. Johnson began taking hormones when they were 18. "I knew since I was five," they said. "I knew I was more than a boy who liked boys."
Johnson identifies as a woman and often refers to themselves as a girl, but prefers "they" pronouns. "You can call me anything actually," Johnson said, with a laugh. "Just don't call me sir."
Johnson said the LGBTQ and trans communities are closely related. "The LGBTQ community stands on the shoulders of the trans community," Johnson said. "When you find out about your history, it makes you love yourself a little bit more. It makes you have more confidence."
Kelsey Christensen, a freshmen at the Milwaukee Institute of Art and Design, was there with her friend, a trans girl who wished to remain anonymous. "LGBT history isn't as talked about in school, so I wanted to learn more about it," Christensen said. They both agreed education is important. "I didn't know about Marsha," Christensen said. Her friend said even as someone who is trans, she didn't know much of the history.
Johnson said this lack of education and awareness is what she's fighting against. "I want girls to look up to me," they said. "These girls think there's one way to be trans."
Johnson said they've been active in the LGBT community since they were 14. They said when they came out, they were immediately aiming to make a change. "I think I'm a walking testimony," Johnson said.
However, Johnson does't want to be a full-time advocate or an activist, but said they are never going to stop talking and helping the community.
"That's what pride is to me," Johnson said. "It's diminishing all stigmas, diminishing all stereotypes. I'm human first, then trans. I'm constantly evolving."
Leave a Comment