'Anything Goes' for musical's leading lady
Actress prepares for spotlight in her final college show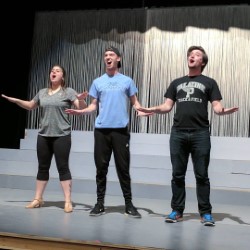 Aileen O'Carroll takes a long, deep breath and intensely stares into the full body dressing room mirror. There's a fluttering in her stomach, her hands shake and her senses are overwhelmed by the intense blackberry flavor of her traditional pre-show Grether's Pastille lozenge. Not only is this the final audition of the senior's Marquette Theatre career, but it's also her final callback for lead character, Reno Sweeney, in the upcoming musical, "Anything Goes."
The nerves are unavoidable, but after eight long months of blister-inducing tap dance lessons, vocal exercises and character research that might qualify as stalking if the person were real, they are irrelevant. It is time for O'Carroll to do what she loves: perform.
Nearly five months later, the show, now less than two weeks away from its April 6 premiere in Helfaer Theatre, is down to its final stages of preparation.
"She owned it. Homegirl belted her little heart out, and there was no doubt in my mind she would get the part," said Caroline Norton, a freshman in the College of Communication from Alabama whose sweet southern charm shone through while describing her sorority-style theater "big" and first official friend on campus.
"She wanted it, and went into those auditions and took it. She's perfect for this role," Norton said.
The show's director, Ray Jivoff, agreed. As the artistic director for the famed Skylight theatre in Milwaukee, a teacher and director at the high school level and a performer himself in his free time, he knows a perfect fit when he sees it. The moment O'Carroll walked on stage and sang, he thought, "She could be a Reno."
O'Carroll, after 13 total months of work, is ready to show off her version of Reno Sweeney. Sweeney is a character who, despite her dichotomous evangelization-by-day and clubbing-by-night background, O'Carroll has found many similarities with.
Set on an ocean liner, "Anything Goes" follows the antics of four misplaced lovers attempting to manipulate each others' lives, an overbearing mother trying to force a marriage for her own selfish purposes and, in the background, a pair of gangsters greedily disrupting the plot in a hysterically mediocre fashion.
"Reno and I are both very bold and outputting. She shows the brassy side but also the introverted and nervous side," O'Carroll said. "I identify with her working hard and being a leader, leading the pack for everyone. She always makes everything a good time."
She hopes those similarities help her reach her goal of putting her own unique spin on the role for this show, a challenge she said Jivoff has expertly aided. He had O'Carroll break down songs and focus on her Reno's character in the music.
"(He) had me talk out the songs, and when I sang them, they came easier. I learned it's important to break things down first," O'Carroll said. "Singing is telling a story, not just singing."
But, like any good actress, she realized she can't tell the story of Reno or "Anything Goes" by herself. It's her fellow cast members,  who she prefers calling her best friends, that make "Anything Goes" come to life.
Billy Crocker is a young Wall Street broker, played by sophomore Nick Parrott of the College of Communication. Thanks to the gangsters, he's also a master of disguise who's an old friend and underscored love interest of Reno.
While they never create a spark themselves, they utilize their past connections to generate new flames and dissolve an awkward marriage. In real life, Parrott and O'Carroll play similar roles: best friends.
"It makes everything we do on stage so much fun. It's a conversation in the moment. It comes naturally," O'Carroll said.
In their free time, O'Carroll and Parrott hang out in the theatre playing the piano, dancing and just having fun. They're always there for each other and have, what O'Carroll described as, the "musical theatre bug."
In fact, Parrott was the first one there when O'Carroll learned she would be Reno. They hugged, and O'Carroll cried.
"This whole process has been more exciting because I get to do it with him," she said. "He pushes me to do better."
When "Anything Goes" is over, Parrott and Norton won't be the only ones she'll miss. For O'Carroll, it won't be easy to graduate and leave her Marquette Theatre family behind.
But when she stares into the mirror for her first professional pre-show routine, she'll smile knowing there's a whole troop standing behind her as she mumbles her motto, "Stay humble, do your best and God will do the rest."