Upon arrival, I found a quiet table off to the side to enjoy my provided dinner thinking I would remain in solitary. However, I was soon approached by a friendly group of three students wanting to connect. A few minutes later another group of three joined and, finally, one visitor from the Milwaukee community. Before I knew it, my quiet, little table now consisted of two Muslims, five Christians, one Methodist and a plethora of engaging dialogue about race, religion and justice.
This is the goal of Ex Fabula: to bring individuals from all backgrounds together by telling stories, and surrounding tables were no different from my own. Regardless of age, race, sex or religion, everyone's story was welcome in this warm and friendly environment.
Speakers and listeners alike dropped their daily worries to attend Mission Week's storytelling event hosted  Wednesday night by Ex Fabula. Seven individuals were welcomed to share their experiences with incarceration.
Megan McGee, the events organizer and executive director of Ex Fabula, expressed the importance of listening to the stories of the marginalized. The Milwaukee based storytelling group is committed to the strengthening of community bonds through the art of sharing personal tales of struggle, triumph and discovery.
"It's hard to hear from the incarcerated population because of a lot of people are locked away. So, it becomes easy for us to ignore those stories," McGee said. "If Mission Week is about caring for each other, then we really have to care about the people who have the most barriers to success."
The first story came from Minister William Harrell, or as he introduced himself, inmate 387520.
He gave a harrowing indictment of the Milwaukee Secure Detention Facility (MSDF), its safety and the dangerous outcomes for some of the inmates. But, halfway through, his tone shifted to an uplifting story of hope regarding his formation of various bible study groups, renewed faith in God and planned petition to shut down MSDF for good.
Linda Pozen, a sophomore in the college of Arts & Sciences, labeled Harrell's speech as the most inspiring.
"It weighed heavily on me," Pozen said. "Getting the perspective of formerly incarcerated people (first hand), how it has effected them and how it is to live in the community was something I wanted to hear."
A later story came from a Marquette senior in the College of Arts and Sciences, Alex Krouth.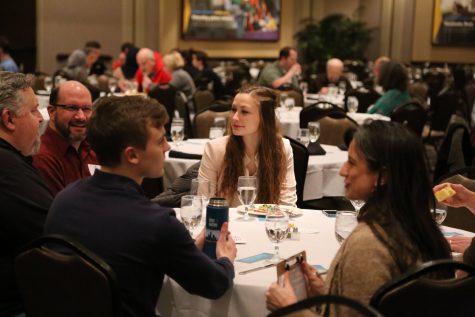 Though she has never been incarcerated, she has had an up close view of the injustices in the system. As an intern for Project RETURN, a nonprofit organization focused on allowing men and women leaving prison to make a positive impact on society, she has visited prisons, worked with clients and written grant proposals.
"I thought it was really cool to share my experience because it's not something I'd really ever gotten to do before," Krouth said. "Marquette can be a bubble, and sometimes you don't get to see what is a huge problem in Milwaukee. So, to venture out and see something new, it helped me grow as a person."
Sara Manjee, a freshman in the College of Business Administration, volunteered for the event. Beyond watching the seven stories scheduled in to the presentation, she learned this event was about communication.
"I came to Ex Fabula initially because I was really attracted to the theme of Mission Week, black, white and the calling of the social justice," Manjee said. "But, when I found out more about it, I realized it's more about us talking, coming together and creating a dialogue."
Dialogue was encouraged by audience written "ultra shorts." Delivered between the main presentations, these one-to-two sentence blurbs allowed inclusion of everyone's journey and pushed previously quiet listeners to be storytellers.
Manjee said these stories showed the interconnectedness of people and stressed the importance of the ultra shorts, citing one as the most impactful thing she heard all night.
"'They go out as human beings, and they come out as animals,' that's what struck me," she said. "How do we change the views and values of the common people who are here?"
A good question and one that, for some, is hard to answer. However, getting involved may not be as hard as it seems. Krouth encouraged students who are interested by anything they hear in class to put aside fear and go experience it for themselves through volunteering, even if it is only once.
"Mission week is about loving people who others wouldn't normally jump to and it's about bringing awareness to an issue to students who might not usually see it," she said. "To see people all come together tonight and support people who don't normally get support really tied into [the theme of Mission Week.]"