Movies animate holiday festivities
When winter hits and snow begins to coat the streets, it becomes increasingly difficult to leave the warmth of the house. One of the highlights of being trapped inside during this cold season is getting to watch holiday movies.
Freeform, previously known as ABC Family, decided to keep up the network's tradition of 25 Days of Christmas. During the 25 Days of Christmas, constantly plays holiday movie favorites on the network.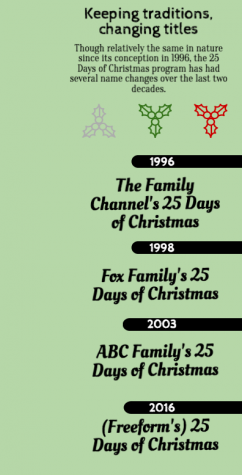 Classics such as "A Christmas Story," or more modern movies, like "The Polar Express," contribute to the 20th 25 Days line up that almost
everyone can enjoy. The entire schedule can be found on Freeform's official site for the event.Beginning in 1996, 25 Days of Christmas originally aired as The Family Channel's 25 Days of Christmas. Two years later, it aired as Fox Family's 25 Days of Christmas. The name was changed two years later to ABC Family's 25 Days of Christmas, and shortened to 25 Days of Christmas after ABC Family became Freeform.
Since its start in 1996, the network filmed its own holiday movies and premiered those among the other Christmas classics showings. The network also airs specials such as "A Flintstone Christmas."
While the network has created consistent customs in what it airs, the special also creates customs for families — whether it be watching movies together or drawing inspiration from them.
Lynn Turner, professor in the College of Communication, said that people can develop their own holiday traditions based on what they have seen from some movies and television specials.
"You could see a family decorating a tree or opening a gift on Christmas and that could strike you as a good idea to do with your family," Turner said. "Usually, this is something you think about before you have your own family, so you might see something in the media you like (and do that)."
Some traditions that can develop around the holiday season are just watching the movies themselves, and Freeform gives people that option.
Sarah Finn, a sophomore in the College of Education, said she religiously watches the 25 Days of Christmas alone, with friends and with family. Her favorite Christmas memories involve watching holiday movies with her family during the event.
"Being an only child, my parents and I always watch 'Christmas with the Kranks' because Blair was an only child in the movie," Finn said. "The movie reminds us of our family and we always watch it when it's on."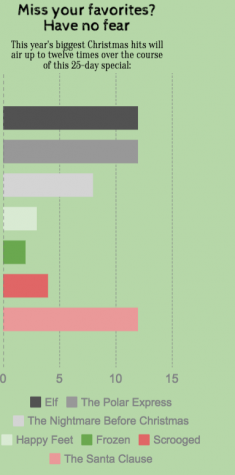 Angela Masajo, a senior in the College of Health Sciences, said she believes Christmas movies are special because they are all about appreciating family during the holiday season.
"To me, family is a priority and that's what really matters," Masajo said. "Christmas movies (signify) that."
Freeform's 25 Days of Christmas put a running list of Christmas films in one place during the "most wonderful time of the year."
"Christmas only co
mes one time a year, and this is the only time we can watch these movies, so it feels really special," Finn said.
Leave a Comment