Office of Community Engagement establishes location, continues to grow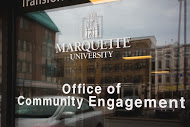 The Office of Community Engagement continues to emphasize collaboration between Marquette and Milwaukee community partners through the creation of a new brick-and-mortar location.
The office was first announced in University President Michael Lovell's January presidential address. In the address, Lovell said the office would consolidate campus community engagement efforts and unify the work between Marquette and Milwaukee community partners.
Since January, OCE has established its location at 1618 W. Wells St. in the Institute for the Transformation of Learning. External signage was installed last week.
Dan Bergen, planning director for OCE, said he has had 50 one-on-one meetings with faculty, staff, students and community partners to discuss community engagement.
"Since January, substantial progress has been made in the areas of strengthening community partnerships, and identifying and supporting faculty community engaged research," Bergen said in an email.
Heather Aschoff, partnership and volunteer associate for the Department of Business, Community and Family Partnerships at Milwaukee Public Schools, said the Milwaukee community has displayed a positive response to OCE.
"(MPS schools) are excited to hear that Marquette is interested in reevaluating and reinvigorating their partnership with the schools in lots of different ways–in donations, volunteer opportunities," Aschoff said.
Cailin Hostad, assistant director of communications strategy and enrollment in the College of Education, said community engagement is important for Marquette students because it often leads to potential career development opportunities.
"(It is important to) have an opportunity for our students to talk to people doing the kind of work that they want to do, and to find out how those people got to their roles, and of course if they have any jobs for those that are graduating," Hostad said.
Bergen said the largest challenge OCE encountered since January is explaining what community engagement means to both Marquette and Milwaukee community partners.
"(Community Engagement) is a broader term that encompasses community service, service-learning, experiential learning and faculty engaged research and scholarship, and emphasizes the mutually beneficial and collaborative nature of activities–both parties must benefit from the outcome," Bergen said.
Hostad said it also might be difficult for Marquette and the Milwaukee community to approach each other.
"I just think that Marquette has a lot to offer to the community and I also think that for the community it is hard to know how to access it," Hostad said. "I think it is intimidating if you don't know your way around campus."
Two events are planned for the fall to enhance the conversation about community engagement. The Inaugural Community Engagement Symposium will highlight community partnerships through an awards luncheon and provide further networking for faculty and community partners. Imagining America Conference will work to strengthen the relationship with UW-Milwaukee through workshops, seminars and performances with a focus on crucial decision making.
"These events will not only promote the excellent community engaged work of students, faculty, staff, and community partners, but also, they will shed light on some of the most pressing issues facing the local, national, and global communities of which Marquette University is a part," Bergen said.
Although there have been challenges in the formation of OCE, Hostad said some of them have been positive.
"There are so many opportunities," Aschoff said. "The challenge here is figuring out where to start, what the very first step is, what direction we want to go and what scale."
The Inaugural Community Engagement Symposium will take place Nov. 15 and the Imagining America Conference will take place Oct. 6-8.
Leave a Comment