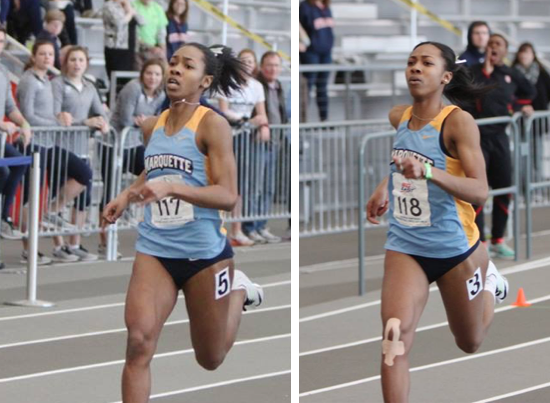 Searching for an athlete on the men's and women's track and field roster is akin to looking for a needle in a haystack. Scrolling through all 94 athletes makes for an overwhelming experience. But once your eyes focus on the page, there's something that stands out: there are two Millers, two Strongs, three McDonalds and three Parkers.
Yes, they're related.
"In my time here it seems like we've always had one set of brothers or sisters, but in the last couple years we've had several sets, which I think is definitely unusual," head coach Bert Rogers said.
It's not only uncommon to Marquette, but the entire conference. Of the eight other BIG EAST schools with track and field teams, only Providence and St. John's have siblings on their rosters with one set each.
Rogers said Marquette's four sets of siblings bring natural chemistry and positive energy to the team.
"By the time they get to college age, maybe some of the sibling rivalries you have as you're growing up start to fade away," he explained. "You become more (than) just friends, so having that can help team chemistry. It really helps with the idea of family because you actually do have family members here."
These family bonds transfer to success on the track. Junior sprinter Arra Strong said she relies on her twin sister Anna to be forward with her in races and training, and vice versa.
"Other people try to motivate you, but nobody knows you like your sister knows you," Arra said. "She knows what to say even when you don't want to necessarily hear something. She's like, 'You need to hear this to do better.'"
"When I run the 400, she asks me, 'Where do you want me to stand?'" Anna explained. "She knows I can't really hear people when I'm running, but she stands in a particular spot and yells at me. Even if there's nobody close to me she'll tell me, 'They're coming, they're on your back!' and I'm like, 'Oh man, I need to start moving.'"
Redshirt senior D.T. McDonald came to Marquette in 2011 after being recruited by distance coach Mike Nelson. He enjoyed the program and convinced his younger sister Maeve to follow. A semester later, their other sister Clare transferred from Wisconsin to run for Marquette as well.
"It was easier to talk to (Nelson) after D.T. had been on the team," Maeve said of the recruiting process. "Instead of going up blindly to a coach and introducing yourself, I said, 'Hi, I'm Maeve McDonald,' and he was like, 'I know who you are.'"
At different ages, the McDonalds keep close by going out to dinner and cooking for each other. By D.T.'s admittance, it's usually Maeve using her guest meal swipes at dining halls and cooking for her older siblings. Maeve is roommates with Jennifer Parker, while Clare is roommates with her older sister Alison. Jennifer's twin Jessica often joins for Parker-McDonald dinner dates.
Sophomore twins Alec and Aric Miller also spend much of their time together when they're not on the track cracking top-10 all-time middle distance marks at Marquette.
"It seems like the twins are sometimes on the same wavelength," D.T. McDonald said. "It's kind of funny looking at the Miller twins because they're always doing stuff together. They even walk in step a lot of times, which is kind of strange."
Rogers wasn't entirely correct about the sibling rivalries subsiding. The Strong sisters still have competitions for who can jump higher in the weight room, while the McDonald sisters always make sure to stick with one another during training. At the end of the day, it's the kinship that forms the greatest bond.
"You're running with somebody who's known you longer than anybody else on the team," Clare McDonald said. "They know more of what you're capable of and what's good for you."
Story continues below advertisement