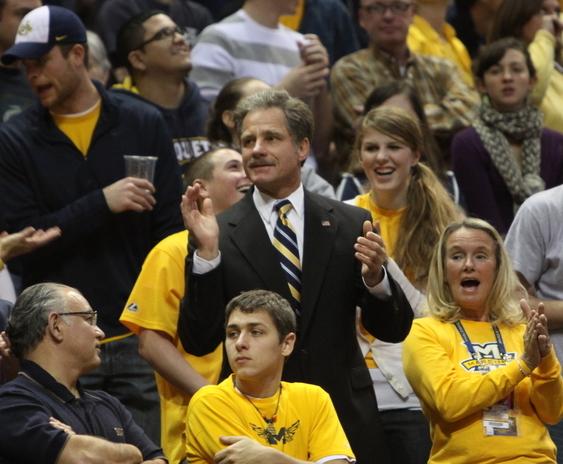 You might not think much of an environmental engineer who spends most of his day in a three-story office in Brookfield. What you don't know is once or twice a week for about four months, he helps bring tens of thousands of fans to their feet at the BMO Harris Bradley Center.
His name is Rick Smith, but you probably know him by his nickname, the "Jump Around Guy." Smith, 65, has had season tickets to Marquette basketball games since 1971, his sophomore year at Marquette. He had no clue he would later become an icon of the fan base.
"It's humorous to a certain extent," Smith said. "Of course, at the time, no one had any idea or even would fathom that this would happen." 
In the second half of every Marquette home game since 2007, Smith has risen to his feet and jumped with the students to House of Pain's 1992 hit "Jump Around." The first time Smith jumped was February 2007 in a game against Villanova. 
"They were playing the song, and the students were jumping up and down," Smith explained. "I was sitting next to friends, and we were in business suits. I'm looking at the students and kind of rocking my head (to the beat). This had been going on for years at the time, and so I said, you know, 'Why are the students the only ones who get up and cheer?' Finally, one of the individuals next to me says, 'Well, Rick, what's holding you back?'"
Smith stood up and joined the students. Both ESPN and the Bradley Center cameras focused on Smith for his first of many cameos. The crowd and the students were ecstatic, and Smith proudly sat down at the end of the song, having conquered the friendly challenge.
"We went home, we had a good time and Marquette ended up winning against Villanova," he said. "The next home game, the song's playing, and the people around me are telling me, 'Hey, you gotta get up!' And I said 'get up for what?'"
The Marquette student body was pointing their fingers at Smith, clamoring for more jumping.
"As soon as I got up and started jumping, the camera got on me and the students went wild," Smith said. "It's been going on for nine years ever since. I don't know why."
Smith isn't just a popular guy around at the arena, though.
"I'm recognized frequently wherever I go," he said. "Chicago, New York, Florida … it's a little bit embarrassing because I'll be at a restaurant and people will be looking at me, and I'm wondering why because of course I don't know them. Some people continue to look, but eventually most of them will come up to me and say 'I'm sorry, I don't want to bother you, but you look familiar, do you do anything with Marquette University?'"
Smith has lived in Wisconsin his whole life. He grew up in Greenfield and attended St. Mary's Parish School in Hales Corners before graduating from Marquette University High School in 1969. He then enrolled at Marquette University, where he graduated with an undergraduate degree in engineering, followed by a graduate degree in environmental engineering in 1982.
"I was at the time designing waste-water treatment plants," Smith said. "It was a very exciting time for me to graduate from Marquette. There was a great opportunity, and Marquette had a good opportunity for their environmental services."
To earn money to help pay for his education, Smith cleaned the campus bars at Marquette, coming in to work in the early hours of the morning.
"I came in after the bars were closed, so I had to start cleaning bars at four in the morning and for a long time never wanted to go to a bar because I had to clean them," he said.
He moved closer to campus during his junior year and lived in a house on 27th Street with seven of his friends, but the stay didn't last very long.
"That lasted for a limited period of time, because it was just too many parties and not enough emphasis on academics," Smith said.
The focus on academics has paid off for Smith, who now sits on Marquette's Civil Engineering Alumni Advisory Board. Marquette didn't just provide him a wealth of academic knowledge, it also allowed him to meet his wife Joan, who is now a math teacher in the Milwaukee Public School system.
"She was born and raised in Milwaukee as well, and she attended Pius (XI) High School, which is a very strong rival of (Marquette High)," Smith said. "I didn't start dating her until college, and I ran into her at (Marquette)."
She and Smith were both basketball fans, and a mutual friend told Joan that Rick had tickets to the upcoming Marquette vs. Notre Dame game in South Bend – except he didn't.
"Every time she would be looking for me, I would see her coming, and I would run away, because I didn't have the tickets," Smith said.
The two fell out of contact for the next few years before Smith decided to try asking her out one more time.
"I called her up just on a whim and invited her out to Summerfest, which I did have tickets for," Smith said jokingly. "That was our first date. We went to Summerfest, and we watched Sly and the Family Stone."
Two years later, they were married on campus at the Church of the Gesu. Even 42 years later, Joan continues to support him – especially at home games.
"People always approach my wife and say, 'You must be embarrassed,' and she says, 'No, I actually like to see him jump!'" Smith said. "And if I'm not in the mood, having a bad day or aching or whatever it is, she usually prods me, and I say, 'I don't feel like it!' She says, 'You got to get up!' The only time it gets to be overwhelming and exhausting is when they play the song during a TV timeout. That's four minutes (of jumping)."
Today, Smith is the president and owner of the engineering consulting firm R.A. Smith National, which has three offices in Wisconsin, and one in Illinois, Pennsylvania and California. He takes great pride in his employees and the company, which was awarded one of the Milwaukee Journal-Sentinel's 2015 Top 100 Workplaces.
R.A. Smith National is responsible for building projects such as the Marquette Law School, Titletown District in Green Bay, Pabst Farms in Oconomowoc and Marcus Majestic Cinema in Brookfield. Even with all the accolades and accomplishments, though, Smith values his education and time much more.
"The university embraced the students," he said. "It wasn't enough just to go to school, it was a lot of discussion of, 'What do you want to be?' And not only what you want to be, but, 'How can you help society?' It isn't about you; it's about how you can impact the world."