Rockwell Automation design challenge draws students to downtown Fifth Ward
Business students competed in the second annual Marquette ROKs Design Challenge at Rockwell Automation Inc.'s world headquarters in downtown Fifth Ward on Feb. 13.
Twelve teams of three students received a theoretical scenario in which they had to devise a solution for an imaginary client and pitch their plan as if they were employees at Rockwell, an industrial automation and information products company.
"The goal of the whole day is to get students to understand what we do at a very high level," said Josh Matson, regional manager of architecture and software at Rockwell.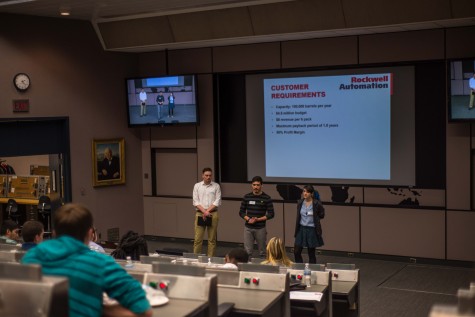 This year's scenario was a microbrewer looking to enhance operations.
Michelle Frederick, a sophomore in the College of Business Administration, explained some setbacks that can be thrown in to challenge students. At some point during the design process, the students were given a limiting "monkey wrench," causing them to adapt their model or selling pitch.
"We initially thought that the building was $15.5 million and the building went up to be $19 million dollars, which is a big difference in a building," Frederick said. "So now, going into the selling pitch, (we have to convince) them to pay that extra money."
Since last year's challenge, Rockwell designers made the size of competing teams smaller and the challenge shorter due to the time crunch. The contestants had two hours for research and an hour after that to create the presentation.
"(The challenge) just seemed to be too long last year for them to really think through everything," said Ali Haischer, project specialist and talent management at Rockwell.
Though Matson said there was plenty of space to host the competition at Marquette, the decision to compete in the Fifth Ward was made so students could get acquainted with the company on a more personal level.
"We wanted this year to get the students to come out to Rockwell and see what the building is like," Matson said. "People drive by it all the time. It's kind of a landmark."
"I can see the clock tower from my apartment," said Patrick McKenna, a junior in the College of Business Administration. "You can see (the headquarters) from pretty much anywhere, so it's definitely cool being inside."
Matson said the challenge is a Marquette-exclusive event so recruitment teams can get to know the students better. 
William Meindl, customer experience manager at Rockwell, helped out at last year's competition. He said the competition is a great opportunity for Marquette students to get to know Rockwell better. 
"The community atmosphere that's here is a really cool thing to experience and also super important going forward when we're picking the environment that we want to work in," Frederick said. "Seeing how (Rockwell and Marquette) work together and are so passionate about what they do is super cool."
Leave a Comment