Speedy Desalvo producing despite battling for position
Freshman had to fight for roster spot in training camp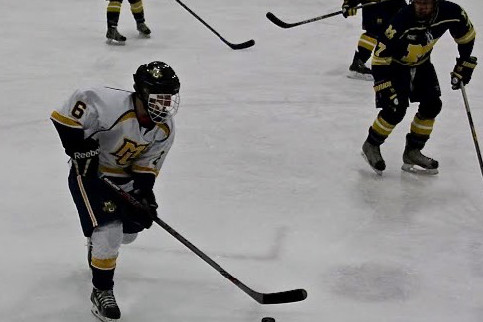 Michael Desalvo was hardly on head coach Will Jurgensen's radar at hockey tryouts in September. The team had a record turnout for players trying to make one of the best teams in the Midwest and Desalvo, in his 5-foot-6 frame, struggled to separate himself from the pack.
"I was one of the players that was selected to come back for the second day and I really wasn't expecting to make the team," Desalvo said.
Now with two games left in the regular season, the freshman from Arlington Heights, Illinois, is third on the team in points with 14 goals and 15 assists. In his last four games, he's tallied four goals and five assists.
"I don't think anyone wanted to make the team more than he did," said freshman defenseman Colin Redman. "I barely knew Mike or what kind of player he would be, but he quickly proved to all of the players that he deserved to be on the team as much as anyone did."
He played three and a half years of varsity hockey at Buffalo Grove High School. He earned the role of captain his senior year, was an All-State selection and made the Team Illinois showcase.
He eventually chose Marquette and decided to try out for the club hockey team. Going from being the team captain to fighting for survival at tryouts is difficult for any athlete, but Desalvo gave it his all.
His game style is fast-paced, both on his skates and with his hands. Despite his small stature, his speed ended up being one of the biggest reasons why he earned a spot on the team.
"Being quick is a big part of Mike's game and our thought was that he would bring a lot of speed to our offense," said head coach Will Jurgensen.
To earn a spot on an already talented offense, Desalvo had to work harder than he ever had before. He placed added emphasis on practice and workouts off the ice.
"High school was competitive, but not like this is," Desalvo said. "(It's hard) being a little bit on the smaller side. Some of these guys are pretty big."
The added effort finally paid off when he had his first breakout performance of the year against Northwestern in October. He scored two goals and added four assists in a 12-0 rout of the Wildcats. In January, he had his first hat trick against Bradley.
"He's one of those guys you trust being out there in critical situations," graduate student Christian Leathley said. "He's the fastest skater on the team, and he has a knack for the net that puts him and his linemates in great positions to score."
He credits some of his offensive production to his strong puck possession, but also to being put on the same line as Brian Kennedy, Lee Barnes and Johnny Stillman.
"Having such good players to work with really helps to get me the puck and get me better opportunities," Desalvo said. "Since they're the leading scorers people tend to go to them, so it gives me better opportunities."
The tallest player on the team, Stillman, has almost an entire foot on Desalvo at 6-foot-5. Redman, who has become one of Desalvo's closest friends, is the second tallest player at 6-foot-4. Desalvo doesn't let the disparities stand in the way of his ambitions.
"A lot of my hockey career, people said I wasn't going to go anywhere," Desalvo said. "That I was a good hockey player, but my height was going to restrict me. What's important is not letting anything restrict what you can do, and not to letting anyone tell you that you can't do something."
Leave a Comment