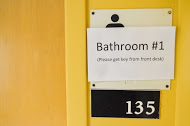 The Office of Residence Life is implementing gender-neutral bathrooms on the ground floor of all university-owned housing structures.
Mary Janz, executive director of housing and residence life, said ORL aims to recognize all Marquette students and their guests with this decision. She noted how gender-neutral bathrooms are a discussion topic across the university and country because more transgender persons are advocating for their rights.
Once ORL receives new signage for the restroom doors and keys, ground floor bathrooms will be labeled "All Gender." McCormick's lobby bathrooms were given temporary gender-neutral signs before Thanksgiving break. Roll out of the permanent signs will happen over winter break.
Marquette is the eighth Jesuit college or university to offer gender-neutral bathrooms, according to a Nov. 23 report from Catholic Education Daily. The other seven are Boston College, Fairfield University, Fordham University, Georgetown University, Santa Clara University, University of San Francisco and University of Scranton.
Story continues below advertisement
"We want all students to feel like they belong," Janz said, noting the "Dignity, Resiliency, Solidarity: A Trans*pectrum Conference" hosted by Marquette's Center for Gender and Sexualities Studies in November.
In addition, four other Jesuit schools are considering the gender-neutral option. They are Creighton University, Gonzaga University, Loyola University New Orleans and St. Joseph's University, according to Catholic Education Daily.
Amanda Smith, a senior in the College of Arts & Sciences and LGBT Resource Center program assistant, said she has been aware of other schools making this transition.
"Gender-neutral restrooms will certainly make people feel more inclusive, especially allies and the LGBTQ community," Smith said. "But I also think it makes sense to still have the 'Men or Women' option so people have a choice."
Some students are showing support for the change.
Allie Arnston, a sophomore in the College of Health Sciences, said the change is positive because it promotes inclusivity. Andrea Blomquist, a freshman in the College of Business Administration, agreed and said it is an encouraging change.
Janz said the process of using the bathroom facilities will not change. Marquette residents and their guests must checkout a bathroom key from the front desk. The new keys will be labeled "Bathroom 1, Bathroom 2, Bathroom A or Bathroom B," instead of "Men or Women."
"Although I don't have a problem with this change, I could see how some people might feel uncomfortable with it," said Maggie Ryan, a freshman in the College of Nursing. "It is just so different than what people are used to."
Christian Cooper and Hugh Bernhagen, freshmen in the Colleges of Communication and Business Administration, respectively, said they do not have a problem with the modification, noting that it seems more convenient.