Pivotal weekend against Butler, Xavier to decide volleyball seeding
MU needs two wins and Xavier and Villanova losses to No. 1 Creighton.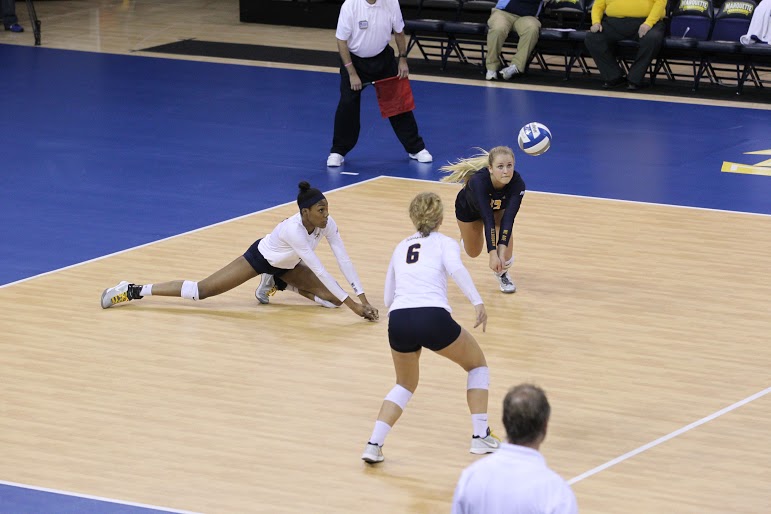 Andrew Goldstein, andrew.goldstein@mu.edu
November 19, 2015
Marquette volleyball head coach Ryan Theis' credo of "one match at a time" will take on a whole new significance this weekend.
Even though his team clinched its spot in the BIG EAST tournament last weekend, this weekend's results still matter a great deal. Marquette currently holds the fourth seed in the BIG EAST with an 11-5 conference record, which places them in fourth behind Creighton, Villanova and Xavier. The Golden Eagles will take on Butler Friday before a decisive clash with Xavier Saturday.
Creighton has already wrapped up the top spot with a 14-1 BIG EAST mark, but seeds two through four are still up for negotiation.
This means that Marquette has an opportunity to improve its BIG EAST standing with wins this weekend, although they will need some help to do it. Villanova holds the tiebreaker with Marquette because of games won in head-to-head matchups, and Xavier knocked off Marquette in straight sets when the two teams met in September. In other words, the Golden Eagles will most likely need two victories this weekend and two losses by either Xavier or Villanova to improve their seeding and avoid Creighton in the first round of the conference tournament.
All of this complex calculus is irrelevant to Theis, who says that the road to a potential BIG EAST title will be difficult no matter how things turn out.
"We look at it as 'you've got to beat two good teams in a row,'" he said. "Nobody in our world is tanking games or trying extra hard to change seeds."
Before any of that even comes into consideration, Marquette must first procure two difficult road victories. Butler is up first, and playing them can be a tricky proposition. The Bulldogs notched a marquee win over Villanova two weeks ago and own the BIG EAST lead in blocks per set with 2.49. The Golden Eagles and the Bulldogs are the only two teams in the conference to have two players averaging over a block per set: redshirt freshman Jenna Rosenthal and redshirt junior Meghan Niemann for Marquette, and freshmen Briana Lilly and Makaila Jarema for Butler.
"Butler is a young team that has gotten better and better all year," Theis said. "We'll have our hands full."
Xavier comes into its final weekend with some confidence as well, having won six of its last seven matches. The Musketeers also hold the mental edge of having already defeated Marquette 25-23, 25-16, 25-19. Marquette hit only .147 as a team in that match, and vaunted freshman outside hitter Taylor Louis had perhaps her least productive performance of the season, notching only nine kills and committing six errors on 41 swings.
"Xavier's offense is very fast," Theis remarked. "Abbey Bessler, their outside hitter, is a strong candidate for Player of the Year in the conference, too."
The Butler match gets underway at 5 p.m. on Friday, and the final regular season fixture against Xavier tips off at 6 p.m. The Xavier match will be televised on the BIG EAST Digital Network.