"Homelessness is not a description of a human being" – Meet Milwaukee panel works to change dialogue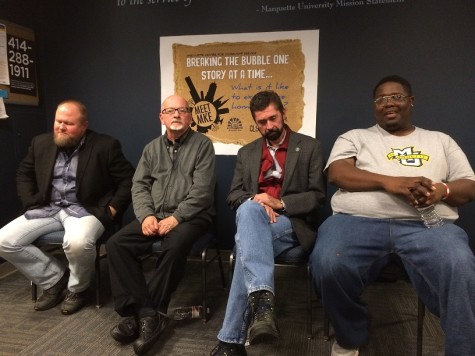 Thursday's Meet Milwaukee panel discussed ways to change dialogue and perceptions about homelessness.
The panel, hosted by the Center for Community Service, was the third of its kind. It was held to educate students about the nature of homelessness and to promote community advocacy.
On the panel were Tim Flanigan and Jonathan Smith, two community members who previously struggled with homelessness. Sophia Torrijos, a senior in the College of Arts & Sciences, was the assistant programmer for the event. She said she was inspired to become an advocate for homelessness awareness after an immersion trip in Spain.
"I think it was through that experience that I came to terms with biases that I didn't even know I had," Torrijos said. "I learned a lot about the issue (of homelessness) and realized that I thought I knew more than I actually did."
Also on the panel was David Nelson, an associate professor of family and community medicine at the Medical College of Wisconsin. Along with Max Ramsey, a pastor at St. Benedict the Moor Parish and supervisor of Despensa de la Paz food pantry, they tackled misconceptions about homelessness and offered advice on creating community through volunteer work.
"When we talk of homelessness, I cringe at the thought of saying, 'those homeless people,'" Nelson said. "Homelessness is not a description of a human being."
The panelists are all affiliated with Friedens Community Ministries, a nonprofit food pantry that serves the Milwaukee community. A number of Marquette students serve there, including Torrijos.
Kelly Walker, coordinator for student community service programs, said this event had the best student turnout compared to the first two, with an estimated 30 to 40 attendees.
With an emphasis on community, the panelists offered advice to students that may have a hard time confronting homelessness.
"Just respect," Flanigan said. "If you see someone at the bus stop, say hi. That's the very start."
"By hearing different people's stories you realize that there's really a variety of ways it can happen to you," said Siena Morrissey, a junior in the College of Arts & Sciences.
Morrissey is a tour guide and has had encounters with homeless individuas while taking groups around campus. She said families sometimes find it strange when that happens, especially if they are not from a city.
"Treating (homeless individuals) with respect reflects Marquette well, reflects the community well and the families usually really appreciate that," Morrissey said.