How four students balance school and their own business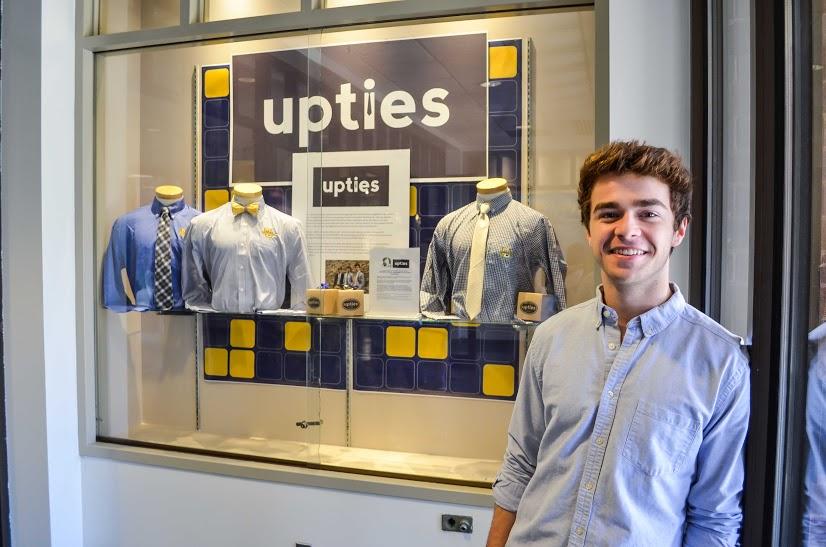 Brittany Carloni, General News Reporter
November 5, 2015
Undergraduate entrepreneurs share the stories behind their product ideas and how they balance running a small business as full-time students.
Upties
Kevin Brauer, a freshman in the College of Business Administration, started Upties about a year ago after he saw one of his old shirts in a pile for Goodwill.​
"It was a matter of probably two or three seconds, if that, and it was, oh, how could I use that shirt? How could I use the material?" Brauer said. "The idea of a tie popped into my head in that split second."
Brauer started the business in his parents' basement, hand-sewing recycled fabric into ties with his friends. Now he works with a skilled seamstress who makes all of the ties.
Brauer said time management is important for balancing his roles as a full-time student and an entrepreneur.
"My mind is always running and trying to figure things out and get things done," he said. "It's very easy to get preoccupied. I'm passionate about the business and I'm passionate about academics."
In addition to neckties, customers can purchase paracord bracelets on the Upties website. Brauer's products can also be found at the university Spirit Shop until Christmas. He said 100 percent of those proceeds will go toward Marquette's IMAP program.
"I saw the Spirit Shop as a place where I could make a statement and make a bold move," Brauer said.
This semester, Brauer  partnered with Alpha Xi Delta to create an autism awareness bracelet as a fundraiser for Autism Speaks.
Bracelets for Bridges
Jess Thayer, a sophomore in the College of Engineering, created the Bracelets for Bridges Etsy shop after making bracelets for children on a high school service trip to the Northern Cheyenne reservation in Montana.
After the trip, she sold approximately $500 worth of bracelets at a craft fair and realized she could use her crafting skills for something more. This led Thayer to open her online shop in Dec. 2014.
"I had never made anything and sold it before," Thayer said. "I just didn't do that kind of thing."
A portion of her profits goes toward Engineers Without Borders to fundraise its projects.
"I don't want to sell bracelets solely for profit," she said. "For me that seems like a waste."
Thayer sells three types of bracelets on her website: bead loom, macramé and roll-on bead crochet. She said it can take her three to five hours to make one bracelet.
"I just don't ever stop," she said.  "If I'm watching TV, I'm still technically working because I'm making bracelets whenever I have free time. Making bracelets for me, it is fun, it is enjoyable, so that is kind of my downtime."
Thayer said she has learned a lot through Bracelets for Bridges and Etsy.
"I have no business background, so this was a really big learning experience," she said. "I definitely recommend (starting a business) to anybody."
Vozilo
John O'Connell, a freshman in the College of Arts & Sciences, created Vozilo, an application that builds relationships between auto dealerships and their customers.
O'Connell said the app puts customers in direct contact with the dealership to book services online and discuss costs. The app will also provide data to dealerships to show the most effective marketing methods.
O'Connell built the application's prototype and works with The Commons and the Kohler Center for Entrepreneurship to improve it. He said some of his responsibilities include scheduling meetings with potential customers, gathering market research and finding the right technical talent.
"Communication and relationship building is a big part of the job," O'Connell said, "not only with customers, but with the people that work with me as well."
Vozilo is O'Connell's second technology venture. He also started a moving business with a friend, and that sparked his interest in entrepreneurship. He encourages others interested in starting their own business to take the initiative and surround themselves with the right team.
"There isn't anything more liberating than starting your own business," he said. "It's almost like having your own child. It's something that you're working on 24/7, and you are always doing something with it."​
Seiva Technologies
Seiva Technologies makes athletic apparel equipped with sensors that measure muscle activation and range motion. Sam Wesley, a junior in the College of Business Administration, co-founded the business.
Wesley said he worked with Marquette Alumnus Andrew Hampel to start the business. The idea for Seiva Technologies originally started as a class project that developed into a business.
"Eventually we both decided, instead of being a project and looking at it as a project, really turn it into a business," Wesley said. "That's where my role came in taking (Hampel's) ideas as a project and turning it into a business."
The Seiva Technologies office is located on 27th Street and Capitol drive, and includes five full-time employees. Wesley said the organization develops the sensors in-house, but the garments are manufactured through a Wisconsin manufacturer.
Wesley is co-oping with Seiva Technologies this semester, which allows him to get credit for working with the startup. He said the ability to co-op gives him more time to network with potential investors.
"It's crucial," he said. "A lot of what I've been able to do wouldn't be possible if I didn't have business hours free. Trying to juggle it as a student, there are a lot of meetings and opportunities I would have to miss."
Wesley said Seiva Technologies has also had the opportunity to travel and participate in competitions where they present their product and get feedback from judges.