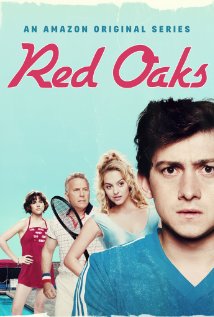 Amazon's original TV content has had its fair share of accomplishments this past year. "Transparent" is coming off a successful Emmy's season and with its critical success, along with more under-the-radar shows like "Catastrophe," the streaming service is starting to become a serious contender in the TV world.
Among their tiny field of fall shows, including "Hand of God" and "The Man in the High Castle" (premiering on Nov. 20), the most recent release from the network is "Red Oaks."
Unfortunately, like "Hand of God," "Red Oaks" falls well short of the exceptional standard that "Transparent" set for the network. Where "Transparent" is innovative and progressive, "Red Oaks" is stale and one-noted. Furthermore, where "Transparent" displays a deft balance of life's sadness and comical moments, "Red Oaks" is unnecessarily heavy with too few laugh-out-loud funny moments for a show labeled as a comedy.
Set at Red Oaks country club in 1985, the show features Craig Roberts ("Submarine") as David, a teenage tennis pro who is working at the club during his summer before going back to college. The show is ripe with nostalgic nods to the culture during that time, both for the college kids like David, and the parents and older members of the club. Almost to the point of cliché, the '80s vibe is strong. There is smoking, drinking, drug use and gambling in almost every scene, a story line about a ridiculously awful garage rock band, an alarming amount of men wearing short-shorts and the disturbing image of an old white man with a much younger, hotter wife hanging on his arm so pervasive that I am really hoping it is a running joke on the part of the writers. Throughout the season, David has to deal with overbearing parents; a confusing love triangle with his girlfriend and Skye (Alexandra Socha), daughter of his boss Mr. Getty (Paul Reiser); and uncertainty about his future.
The show's major flaw is that it has a serious identity issue that permeates every aspect of the show. In an attempt to hanker back to an earlier time, the show struggles with differentiating itself from every other '80s nostalgia-driven, teen angst period piece. Even when there is a poignant scene between David and Skye or David and his father, the story doesn't feel like it's about these characters. The scattered and disparate storytelling is too jumbled to create a coherent thread throughout the season.
Where a show can bomb most spectacularly is in its failure to connect its viewers with its characters. TV has the unique ability to spend a significant amount of quality time with the intricacies of its characters. A good show is intimate, creating a bond between its viewers and its characters, a bond the show literally survives on. "Red Oaks" never quite gets to this point. We never spend enough time with David to really feel for him when his relationship ends at the end of the season or when he connects with his parents or has triumphs in his tennis goals. There is a surface-level recognition of these things happening in David's life, but we've spent so little time with him, that there are no emotional stakes in what happens to him.
Karen, David's girlfriend, gives a speech to him in episode nine that essentially summarizes the issues that were supposed to create a through line for David's character throughout the season. The problem is that it seemed like an effort on the writers' part to put into words what exactly they were trying to do with David throughout the season, rather than an organic conversation between the two characters. This is even more telling, not only that it occurs in the second to last episode, but that the next time David and Karen talk, he immediately admits that she was right and that he does need to grow up.
Yet throughout the season, I came to believe that David's problem was not that he wasn't responsible or didn't understand what was required of him as an adult, it was just that his view of his life differed from his father's or Karen's or Mr. Getty's. In that way, he felt out of place, not because he was a child in a sea of adults. In fact, the show seems to characterize even the adult characters as people repeatedly engaging in childish behavior. In one episode David walks in on his parents as they are high on ecstasy and about to have sex, and he has to act as the "adult" in that situation.  Growing up isn't David's problem, it's finding out what his version of adulthood actually looks like.
The show has a difficult time balancing its desire to show the culture of Red Oaks Country Club and having a consistent tone and story tying the season together. Every episode feels disjointed and disconnected. Even the movement between scenes connecting characters' stories in each episode is jarring. And, as the scene switches, there is the prevailing sense that you just spent too little time with the previous character.
There are hints, though, that "Red Oaks" has potential. There are great scenes between David and his father (excluding a particularly awful "Freaky Friday" episode. Yes, that happened.) that hint at a theme of the importance of family and the misunderstandings and lack of communication that keeps families apart, a theme that the show never fully committed to. Also, David's relationship with Skye, while not a spectacular re-imagining of the boy-meets-girl story, is sporadically compelling throughout the season. Skye is one of the more-developed characters in the show, and could benefit from a deeper exploration into her character.
Ultimately the show's issue with identity is too much for it to overcome. There are too many threads that get dropped and picked up at the wrong times, just to get wrapped up too quickly and neatly at the end of the season. By the time the tenth episode comes around, it barely feels like we've spent a whole month with these characters, let alone an entire summer. In the end, "Red Oaks" suffers from an excess of potentially good things. There are themes, characters and ideas that are certainly there, but if they were focused on and explored more, they could develop into a much more compelling and coherent story.
As it exists right now, "Red Oaks" is an unfortunate misstep for Amazon. The next show on the docket is "The Man in the High Castle," which is also stepping into the scene with high hopes hanging on it. If Amazon wants to stay competitive in the original content streaming game against giants like Netflix and cable outlets like HBO, their content needs to learn and grow from the mistakes seen in "Red Oaks."