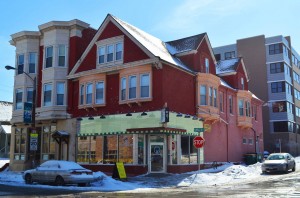 Craig Brahten sits in his empty espresso bar and cafe, Ruby G's, on the corner of 20th and Wells street.
It's a restaurant fitted with all the amenities a college student might need for a serious study session: Wi-Fi, large tables and, of course, the necessary doses of caffeine required to grind out a paper or studying for a test.
And yet, week after week, the majority of Marquette students living mere blocks away don't venture into the joint.
"If you look at Wisconsin Avenue, there are people and students walking around all over the place," Brahten said. "Then you look at Wells, and it's just a ghost town – and that's only one block."
On Saturday, Ruby G's sells breakfast all day just to appeal to the hung-over college student in need of an afternoon omelet, or their all-you-can-eat pancakes.
"We wish more students would discover us and take advantage of us," Brahten said.
Ruby G's is not alone. The lack of business in the area west of campus has been viewed as such a serious problem that a number of organizations like the Avenues West Association, or the closely-related Near West Side Partners Inc., have come together to address the issue of re-branding for economic development.
"The most important problem facing Avenues West is its image," said Keith Stanley, the executive director of the Avenues West Association. "We need to re-brand ourselves to keep consumers in the community.
Stanley works closely with many of the local businesses in the area to help them retain consumers and revitalize their community. These consumers include community members, employees from several major stakeholders in the area, like MillerCoors and Harley-Davidson, and Marquette students. Without these key consumers, the Avenues West area is experiencing what Stanley refers to as a "retail leakage," amounting to roughly $17 million lost from the community each year.
A major consumer-base driving part of that leakage is the Marquette community. Students live in Avenues West, but they shop in the east. This is the case with Ruby G's, which Brahten describes as "a little off the beaten path" for most Marquette students.
"We've got great resources for students, and once they find out about us, they keep coming back," Brahten said. "But once they leave, the word doesn't get out to the incoming classes."
There are several reasons students tend to stray from the west into the trendier districts nearer the lake. Most importantly, students tend to feel safer the farther east they go.
"I remember my tour guide saying that as long as the street numbers are getting smaller, you're getting safer," said Sarah Hartman, a senior in the College of Arts & Sciences.
And there's a reason for that. When compared to Milwaukee as a whole, crime statistics show the Westside neighborhood has a 30 percent higher assault offense rate, a 47 percent higher robbery rate and a 28 percent higher homicide rate.
A STRATEGIC PLAN
Economic development and re-branding are only two of the four main goals outlined by the Near West Side Partners Inc. The other focus areas were to promote safety for community members and employees that work in the area, and to improve housing units in the neighborhoods.
These were decided upon at the first meeting, which was hosted by Harley-Davidson CEO Keith Wandell, and convened by Marquette President Michael Lovell shortly after the two met privately to discuss a mutual interest in safety programs, according to an article by the Milwaukee Journal Sentinel.
After that first meeting between the key stakeholders in the Near West Side that make up the partnership – including Harley-Davidson, MillerCoors, Marquette, Aurora Health Care and the Potawatomi Business Development Corp. – Stanley said the immediate goal was to soon create some "specific plans" for the partnership.
The goal has shifted slightly since the plan was first written to emphasize researching and identifying the exact issues needing to be addressed in the community.
"Right now we're gathering research – kind of the academic side of things – before we can really work on some specific initiatives," Stanley said. "A lot of people want to see what we're working on, what we're proposing, but I think to do that so quickly would be to risk losing our momentum."
The plan so far includes several major recommendations, including increasing green space, adding taxable housing units, redeveloping underutilized land and, perhaps most importantly, vying for more businesses to open in the community.
"We need coffee shops, book stores, grocery stores and other amenities that will draw people in," Stanley said, a sentiment later echoed by Brahten.
"I think the number one thing that would drive people outside of the Marquette campus would be another draw, like a grocery store," Brahten said, "or somewhere people could shop like a Kohl's or even a Kmart."
To go along with that, the U.S. Department of Agriculture considers Avenues West a food desert: an area where access to fresh, healthy food is seriously inhibited.
"The only thing you have here is a corner convenience store, so if you want a can of corn, you can probably find that," Brahten said.
But fresh meat, dairy products and produce are noticeably absent from the neighborhood. Those wishing to purchase many of these products are often forced to take the bus to surrounding communities to buy something as simple as a carton of milk.
SOLVING THE FOOD PROBLEM
This is where a couple of Marquette students have made some interesting progress. Rosanna De Luca and Andrew Terenzio, both seniors in the College of Business Administration, were inspired to use retired buses from the city and turn them into mobile grocery vendors for the residents of the underserved community.
"I think it's really easy to push away Avenues West and the needs that they have, and make up reasons why we don't want to help – you know, they did this to themselves, they're poor for a reason," De Luca said. "But until you really live it and you experience it, you have no idea what it feels like to be marginalized."
De Luca and Terenzio decided to develop this plan not only to help the community with their food problem, but also to get Marquette students more involved with the Avenues West neighborhood.
"We're just trying to give people what they deserve, while also making Marquette students start to think about the place that they live in a little differently," De Luca said.
Originally, the duo was intent on a brick-and-mortar location on Wisconsin Avenue – specifically where the old Campus Dollar used to be. This proved to be a major challenge, however, after they received resistance from the university. Instead, after winning second place at a social innovation design contest, they were able to gain enough recognition by Whole Foods and Harley-Davidson to begin work on a new plan.
The mobile idea they came up with – which they named the "Public Marquette" – allowed them to work more independently from the university.
"I find that Marquette, in terms of the administration, is very slow moving," De Luca said. "They don't really just jump on things."
Things started to change with President Lovell's leadership, and with Kelsey Otero as the new coordinator of Social Innovation initiatives on campus. The two noticed a marked rejuvenation in interest from the university.
Still, there is a long way to go before the idea becomes a reality, and in the meantime, community members are forced to find other ways to deal with the food shortage.
A MARQUETTE MISSION
Walking through the entrance to Zilber Hall, adjacent to the lobby's elevators there hangs a map of the Marquette campus. The university buildings are central in the map colored in, and in the background to the east, you can make out the buildings downtown outlined against the blue of Lake Michigan. To the right of the mural are the words "Be the Difference," Marquette's slogan.
Missing from the map is everything west of the Dental school; the Avenue's West neighborhood – the community Marquette University is technically a part of – is seemingly forgotten in this artistic rendition of campus.
De Luca, who is also a Marquette tour guide, said this focus on the east – and the ignoring of the west – revealed itself to incoming students from their very first experiences on campus.
"I was on orientation staff, and I'm a tour guide, so I talk to kids before they even get here," De Luca said, "and there's this hugely positive energy about bringing people in and teaching them about Milwaukee, but during orientation when we go into the city, we go into the Third Ward."
Marquette has a vested interest in the Avenues West community. Students live and work in the community – their need for healthy food, a safe environment and the community's need for economic redevelopment are only a few of the reasons Marquette has to partner with Near West Side and the Avenues West Association.
Another reason Terenzio gives is more ingrained with Marquette's Jesuit mission to "Be the Difference."
"Jesuit schools are placed in certain areas for two reasons: one, to educate the population, and two, they're placed in cities to help fight poverty," Terenzio said. "Marquette's been here for 130 years, and I don't like bashing Marquette, but poverty is pretty bad right now."
Many, including Stanley, De Luca and Brahten, are hopeful President Lovell's enthusiastic attitude toward social innovation will help reverse this problem.
"I think Lovell is outstanding," Stanley said when asked whether the change in leadership could bring about a renewal in economic initiatives for Avenues West. "He's got so much energy, he's an absolutely essential asset to our program."
The irony of this situation is years ago, it was the west who people would turn to for all of their consumer needs. Stanley said he is hopeful that the neighborhood can return to its former glory.
"What I like to tell people is that when you're in Avenues West, you're sort of at the center of the universe when it comes to Wisconsin," Stanley said.
Maybe soon the map in Zilber Hall will reflect that.