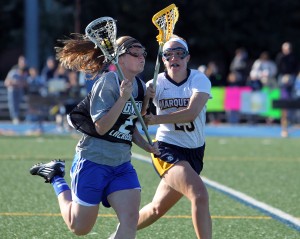 Just Biz-ness
"Fifty-seven!"
Elizabeth "Biz" Goslee's heart stopped. She thought this could not be so. Is this real life? It was, yet she still did not believe what she had just heard.
Of the 81 players in attendance to tryout for the U.S. Women's National Lacrosse Team, only 38 would be selected to represent their country.
When Goslee's number was called, she was taken aback. Not only was she surprised, she did not believe it. Literally, she didn't believe it.
"I wasn't expecting to hear my number, but at the same time hoping to hear my number," Goslee said. "I heard it in the back of my head and I thought I had made it up."
Goslee approached the coach and asked if her number had been called. The coach told her it had and Goslee still did not believe it. She knew it was real, but the feeling was surreal.
"Everyone filed out of the room and she went up to the selection chair and she said, 'did you call my number,'" said U.S. National Women's lacrosse coach, Ricky Fried. "The selection chair said (Biz) was on the team and she just stood there kind of, like, in shock."
Playing on the national team and even playing lacrosse has not been part of Biz's life for long. Growing up in Cincinnati, Ohio and playing traditional sports like soccer and basketball, lacrosse was not always on her list of possible futures.
Goslee was first introduced to the sport in seventh grade, when her friend's dad started a team. But she was not a member of the team, only a substitute for when she was needed.
In high school, she really started to pick up the game. Inspired by her older sister, who played lacrosse in high school, she decided to follow in her sister's footsteps. Growing up as a two-way player in soccer and basketball, Goslee's hustle payed off as she quickly grasped the game and made a name for herself.
By the end of her senior year she had lettered three times, was named the lacrosse athlete of the year for the Girls Greater Catholic League and held the record for most goals for Mount Notre Dame High School, two solid items to add to her resume as a midfielder for the recruiting process. However, playing in Ohio does not garner much attention to a lacrosse player, even one of the best.
A hotbed of lacrosse players is fixated in the northeastern U.S., where the sport is most popular. Though it is the fastest growing sport in the country, college coaches still focus on these areas because of the advanced level of competition. Players like Goslee, who was the best player at her high school, and even her area, would go unnoticed by colleges.
So she tried a more proactive approach. Goslee reached out to coaches and showed how good of a player she was, but she was still overlooked and did not receive an offer.
Then she had a stroke of luck. While at a Jesuit college fair at her high school, she was stopped by one of Marquette's representatives. He noticed her lacrosse sweatshirt and told her  Marquette was starting a Division I team. Goslee went home that night and emailed coach Meredith Black, who responded right away.
It was smooth sailing from there. The two met in person at a camp at Black's alma mater, Notre Dame. Goslee was part of Black's night team at the camp and Biz impressed Black right away.
"I was like, 'Wow this girl hustles so much,'" Black said. "I recruited her kind of as a defensive middie, but I didn't have a whole lot of expectations for her for a couple days."
In the fall of 2012, Goslee arrived at Marquette to be a part of the program's inaugural season. Black moved Goslee to defense, despite Biz being a big scorer in high school.
"She is defensive-minded all the way. Her hustle makes a really good fit for defense," Black said. "We just kind of put her there and it was like a fit. It was like, this is what is going to make (her) best."
Starting the program was not easy. The team started out 2-2, but finished the season with 13 consecutive losses, many of which were lopsided. Not an easy pill for a defender to swallow.
But the team rebounded in year two. The Golden Eagles went 5-12 and improved across the board. Not to the point where they were in contention, but it was a step in the right direction. Now in the third year, the team is no longer the new kid on the block and plans to break out this season.
"We aren't new anymore, so it's tough to get in that mindset that we are three years in," Goslee said. "Hopefully this season we'll be ready to play with the big teams and win games."
Goslee has not competed internationally for the team. She competed with the team Jan. 17-18 at the 10th annual Champion's Challenge in Naples, Fla. There she competed against defending national champion Maryland and Syracuse.
Before the next competition, Goslee will have to try out for the team again, as tryouts are completed annually and happen this summer. As one of the youngest players, she has a long career ahead of her, but must continue to work hard.
As a young athlete, she has the potential to play in the 2017 FIL Women's World Championships in England. However, her focus now is on the 2015 season for Marquette women's lacrosse and improving the program in Milwaukee.
Goslee was showered with preseason accolades. She was named a preseason all-American honorable mention by Inside Lacrosse, named preseason Defensive Player of the Year for the Big East and was a unanimous pick for the preseason All-Big East team.
Life in the spotlight is not something Biz takes to heart. Her focus is to use her experiences to make the team better.
"I'm hoping Marquette lacrosse grows into a national championship team," Goslee said. "I hope to take these acknowledgments and help my team get better."
Black is confident that she has a bright future on the national team ahead of her.
"She's one of those players that she's going to have to continue to work for her success right now," Black said. "But no one else would be more willing to do it than her."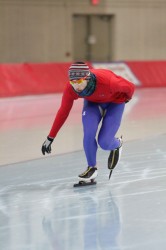 On the Fast Track
Before Emery Lehman could walk, his parents wanted him on the ice. Not so he could become the Olympian speed skater he eventually became, but to impress the ladies.
"I wanted both my boys to learn how to skate so they wouldn't embarrass themselves if they took their dates out for skating," Emery's mother, Marcia Lehman, said.
Nothing drives the ladies crazy like a freshman in college in a skin-tight, hooded racing suit, though he at least won't fall repeatedly like so many do on a skating date.
Nevertheless, young Emery was on board with the idea of skating, but to play hockey rather than impress girls. Before his parents would let him play hockey though, he had to learn how to skate.
They signed Emery up for figure skating lessons when he was around four years old. A couple years later, he was finally ready to suit up for hockey.
It was not just hockey, though. There was something about the ice that Emery loved. His mother noticed this early in his life and when she saw a flyer for speed skating when Emery was in fourth grade, she thought it would be a great way to improve his skating skills. For Emery, he just wanted to go fast.
"I just loved any type of skating," Emery said. "Going fast really appealed to me."
So Emery played hockey and speed skated every winter. Both took up a lot of time, but he loved it. However, he excelled at speed skating, winning the short track and long track national titles for the 2008-09 season.
In 2010, he tried out for a speed skating team a couple hours north of his hometown of Oak Park, Ill., at the Pettit National Ice Center, home of the U.S. National Speed Skating team, in Milwaukee. There, he impressed his now coach, Jeff Klaiber, who liked Emery right away.
"Honestly, when I first looked at him, he had really good ice feel, which is an intangible that people have and he seemed to have it," Klaiber said. "He was raw, but a couple key things looked pretty good, so I said I'd coach him."
From then on, speed skating dominated his life. He competed in two junior world championships and a junior world cup before the age of 16, when he made the senior U.S. world cup team.
For his first race on the senior team, he was paired against Bob de Jong, who was 20 years older than Emery and a former Olympic Gold medalist from the Netherlands. It was quite the experience for someone who was barely allowed to drive.
"He killed me, but it was still pretty cool to be paired with him," Emery said.
The pieces fell into place after that. The international competition brought attention to him just in time for the Olympic year, which fell during his senior year of high school.
He trained hard and his worked paid off when he got the news.
"(Hearing Emery made the Olympic team) was a huge relief because we trained for that all that season," Klaiber said. "When he made the team, he was so elated. Your first Olympic team only happens once, so when he knew (he was going), you could see it on his face."
Emery missed three weeks of school for the Sochi games. He stayed in the Olympic Village and was starstruck seeing professional hockey players walking around and received a lot of free stuff.
What separated him from the rest of the competitors was that he was the youngest athlete at the Olympics, but it did not phase him. He felt mentally prepared, despite the nerves settling in. What helped was not thinking he was going to medal. Not that he did not want to, but because he used Sochi to get a foot in the door and get comfortable on the Olympic stage.
"I had expectations to do really well, but not to medal," Emery said. "Based off the way the season was going, it would have been pretty far fetched."
In his two races, he finished 16th and 10th on the short track–not a bad way to finish out high school with one of the greatest moments of his young life. He proved himself as one of the best in the sport, which Emery has mixed feelings about.
"I was always the younger kid and I was looking up to people trying to beat them," Emery said. "Now, I'm still not on top yet, but I'm making my way up there and the young kids are looking at me and want to tear me down as they climb up the ladder."
After the Olympics, Emery chose to pursue a college education at Marquette. He chose Marquette mainly because of its location.
"I thought if I wanted to continue skating and stay with the coach that I have and train for Olympics, then I had to go to Salt Lake City or Milwaukee," Emery said. "Of all the Wisconsin schools in the area, Marquette was the best."
Emery, a freshman, had a tough time transitioning to college life last semester. Given that Emery is also training for the next Olympics, his daily routine is pretty busy. Add that he's an engineering student and life becomes that much harder.
He trains and does homework every day after classes. He also trains on the weekends. He even missed a week of classes to compete in the 2015 World Juniors Speed Skating Chmpionships in Warsaw, Poland where he won the bronze on Feb. 20. Juggling all of this is not easy for anyone, let alone a freshman, and it has made his college experience difficult at times, but he is getting the hang of it.
"College is a lot more time management than in high school," Emery said. "I only take two days a month where I do absolutely nothing."
For now, he plans on completing his freshman and sophomore years as a full time student and then plans on taking two years to prepare and hopefully compete in the 2018 Winter Olympics in Pyeongchang, South Korea. After that, he will return and finish his degree.
It does not stop there, though. He plans to follow in his old partner de Jong's footsteps and skate as long as he can. De Jong was 37 years old and won bronze at Sochi. If he can, he hopes to reach the professional level in Europe next year and hopefully a few more Olympics.
"My career will end when I don't think I can get any better," Emery said. "But until then, I'll skate."
Going Up
More than 3,000 people attended Marquette Madness and boy was the crowd treated to a show. The fan favorite slam-dunk contest had some high profile names – at least in terms of Marquette players.
The players impressed, strutted their stuff and threw down, but in the end it was the favorite versus the newcomer in the finals. Deonte Burton was known for his highlight reel dunks. Little was known about the challenger Wally Ellenson other than he was a transfer from the University of Minnesota.
This was Ellenson's debut. The first time he had performed in a Marquette uniform. He was ineligible for the basketball season, so this would be the only time the public would see him play basketball. He would not even take part in the inter-squad scrimmage.
He stepped up for the first of his two dunks in the finals. He took two big steps towards the hoop, threw the basketball behind his back, over his head, leapt toward the basket, caught the ball and threw down a two-handed reverse. The crowd went nuts and he received a perfect score of 30.
Deonte responded with an equally impressive dunk. Ellenson stepped up again. He walked to the score table and put on a Travis Diener jersey. Diener, an assistant coach, took the ball and stood under the basketball, extending his arm to the side, holding the ball. Wally again ran toward the basket. He jumped, grabbed the ball from Diener's hand and put the ball between his legs and threw down a mean slam.
Again, the crowd erupted into a frenzy. Deonte would eventually win by jumping over Luke Fischer, but Ellenson's career was definitely going up from there.
"I was able to show off my jumping ability in front of the fans, so that got me pretty excited,"Ellenson said. "I just can't wait until it's a real game for me to do it."
Two months later, Ellenson made his debut for Marquette athletics. However, not as guard for the men's basketball team, but as high jumper for the track and field team. At his first event, he cleared 2.28 meter (7-ft., 5.75 in.) to crush the Marquette record, was tied with the national record and earned the third highest jump in the world for this season. He also jumped just greater than six inches over Fischer.
A very impressive start to his Marquette career. There was no frenzy in the crowd, but he was happy to have competed in his Marquette debut in stellar fashion.
"To finally compete for Marquette at the first meet was great to have a good first showing and put on that Marquette uniform," Ellenson said. "Initially, I missed 2.14, but after I got over that bar, I started clearing higher and higher bars. It was really good to get the Marquette record and now I'm looking to push higher."
The transfer has always been a basketball player who can jump. He started basketball in kindergarten and did not discover high jump until eighth grade. Though he loved basketball, he enjoyed the simple things in life.
"I just had fun jumping on the mat," Ellenson said. "So I thought the high jump would be a fun event."
He competed and shined throughout high school in both sports. He was recruited for basketball and ended up at Minnesota, where he was also a two-sport athlete. As a Golden Gopher, he was a two-time NCAA first team All-American and a runner-up in both NCAA National Championship competitions.
Entering his sophomore year, Ellenson qualified for his first U.S. National team for the 2013 Pan American Junior Championships in Medellin, Colombia. In his first international competition, he won the gold by clearing the bar in 2.16 m (7 ft., 1 in.).
Less than a year later, he announced he was transferring to Marquette. Ellenson mainly came to Marquette for coach Steve Wojciechowski. When he came for his official visit, Wojciechowski was not the only coach interested in him.
Rick Bellford, assistant track and field coach, caught wind of Ellenson's visit and tracked him down.
"I got a call that he was coming in for a visit," Bellford said. "I was pretty excited to say the least and I met him on his official visit and got to chat with him about his goals and aspirations and how he kind of pictured himself at Marquette and I think the transition has been a pretty smooth."
He is ineligible for the 2014-15 basketball season but he has practiced with the team and sits on the bench during home games.
He can compete with the track and field team when the basketball team is away. In his three competitions, he has recorded the third-highest jump in the world and cleared 7 ft. each time. He cleared 7 ft. at the Jack Jackson Classic and at the Big East Championships where he set the meet record with a jump of 7 ft., 3.25 in. and won Big East Most Outstanding Field Performer.
Being a student-athlete is tough, but being a two-sport athlete makes scheduling more difficult than scheduling classes when CheckMarq is down. Once basketball season is in the books, he'll head right into outdoor track season, but at least he'll only have to worry about one sport in addition to his school work.
"(Being a two-sport athlete) is pretty busy," Ellenson said. "It is hard to balance all the schedules, especially when I'm able to do both this year. I have to talk to coach to figure out when I can and can't practice. It's just ramped up a little bit having two different sports to train for on top of school."
Ellenson is an Olympic hopeful. His 2.28 mark is Olympic B standard and he hopes to get to 2.31 for Olympic A standard. He qualified for NCAA Nationals and hopes to compete at the International Association of Athletics Federations World Championships this summer. His end goal, however, is to go to the Olympics and wear the U.S. jersey once again.
"I'm definitely looking forward to the next Olympics," Ellenson said. "It's just coming down to becoming one of the top two jumpers in the nation on the day to go out and compete for team USA again."
Next year, Ellenson will not compete in the indoor season because he will be eligible to play for the basketball team. Wojciechowski is excited with Ellenson's work ethic so far, despite being ineligible. Not to mention that his high jump skills are transferable to his basketball skills.
"He's a heck of an athlete, especially if you give him a running start," Wojciechowski said. "We're talking about a kid who's got a chance to be a world champion in track and field. He knows the pressure of competition. He takes pride in taking care of himself and making the most in each day and those lessons are not lost on our staff or with the guys he plays with."
Though he won't compete indoor, he has full intention to compete outdoors again because he wants to reach the highest level in the high jump, which ideally is the Olympics. With the work Ellenson puts in for both sports, Bellford thinks he will reach his goals.
"He's a workhorse and always wants to put in the extra work," Bellford said. "I don't think he's peaked yet as an athlete. I know he wants to win a national championship and compete at worlds this summer and then, big picture, he wants to be jumping in 2016 in Rio."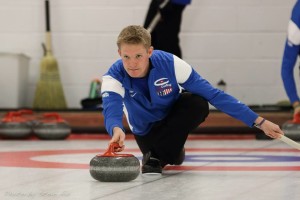 A Gentleman and a Curler
At first glance, curling is not the most exciting sport. Yet every time the Winter Olympics roll around, viewers just can't get enough of it. However, there may be something to this relatively underground sport that brought a potential Olympic athlete to Marquette.
In the 1990's, the sport caught the attention of a Massachusetts couple. They lived in Boston and were on a corporate outing. On the outing, they were introduced to curling and they were hooked. They joined a curling social league at a curling club shortly after the outing, not only to get to know people, but to learn the game.
A few years later, the couple had its first child, Tom Howell. It was only natural to put him on the ice as soon as possible. Before he could even walk, baby Howell was hanging out in the curling club. While his parents played, he mingled with the other toddlers.
When he was finally able to walk, his parents got him curling as soon as possible. They signed him up for a youth league called Little Rockers, where he learned how to slide on the ice. That was all the kids cared about, but there was also some curling done.
As he increased the amount of competition, the less people there were around him who played. So he joined a team, but the team had a catch: a lot of travel.
The east coast is a hotbed for curling, despite there only being a few clubs and only one in Howell's now home state of New Jersey. At the time, he was in Massachusetts, though his team consisted of players all the way from Maryland.
Practice consisted of the players traveling to whoever could host. Competitions consisted of traveling to the Midwest and even Canada at times. By eighth grade, Howell was traveling by himself to play and practice with his team many weekends out of the year.
"Traveling so much was a maturing experience at a very young age," Howell said. "We tried to practice two weekends out of every month. It was kind of a give and take. Someone had to drive far one weekend and next weekends others would have to drive far or stay home."
The travel was brutal, but the results were priceless. Howell describes curling as a "gentleman's sport," meaning that most curlers are friends off the ice even as competitors and that there is a sense of respect for the game.
"The game is bigger than we (curlers) are," Howell says. "Some of my closest friends are through the sport. They may not live near me at all. They may live in another country or the other side of the country, but I can travel around and see those people and be enemies on the ice, but we can be friends off the ice."
The gentleman's sport allowed Howell to make friendships from all over the country. For someone who was not home a lot, it helped to have friends when he traveled on the weekends.
One of these friendships came in 2012 when he asked Mark Fenner, a curler from Minnesota, to join his team. Howell and his teammate at the time and to this day, Korey Dropkin, needed another teammate because their current one was out of junior status. So they found Fenner, who they had competed against in the past.
The team has stuck together because they were the same age and formed a tight bond as players and as friends.
"I got to know him pretty well these past few years," said Fenner, a sophomore at Bemidji State University. "I consider him one of my better friends. Obviously I don't see him a lot, probably nine weekends out of the year, but when I'm with him we have a great time and get along great."
The traveling was worth it for him and his teammates when they qualified for the 2012 Winter Youth Olympics in Innsbruck, Austria.
This was the first time Howell faced international competition outside of North America. Not only was he happy to miss three weeks of school for the event, but he was more excited to live out a lifelong dream.
"I wore the American colors through the opening and closing ceremonies. There were 2,000 athletes there in an Olympic village," Howell said. "It was just like the Olympics and it was unreal."
His team performed well. It was undefeated through the round robin play and seeded first in the playoffs. However, the team was upset in the quarterfinals and placed fifth. A disheartening finish, but the team's performance led to a snowball effect of moves that resulted in Howell and his team playing top-tier competition. The culmination of which, his team was selected to the first ever U.S. Youth High Performance.
Since being on the high performance team, Howell has competed in two world championships in Sweden and Sochi, Russia. He is also on track to potentially compete with his team in the 2018 Winter Olympics in Pyeongchang, South Korea–not bad for a sophomore in college. At Marquette, Howell is a full time student, but has to travel a lot to train with his team. There is a facility 30 minutes away, but his team is spread out all over the country.
This makes the college experience a little tougher for him. For Fall 2014 semester he was on campus for only three weekends. This gives him time to watch 'Curling Night in America' on NBCSN, but puts a damper on the college experience.
"(Traveling) has affected my school work," Howell says. "There are extra-curriculars I don't have time to do."
Curling club is the only extra-curricular he is able to do, which he joined as soon as he arrived on campus. He mainly played the role of a teacher for the new players, but also competed in the College Nationals for curling with the team.
Ryan Johnston, president of the curling club, discovered him and was excited to have him teach many of the curlers, most of whom have never curled in their life. He is not around much due to his training schedule, but he has enjoyed having Howell on the team.
"He really was willing to take our current curlers that we've taught the fundamentals and fine tune them," Johnston says. "His presence helps a lot."
This year however, he has been traveling too much, but hopes to get back to practices soon. However, he still stops by when he can.
"He was around a little bit more last year," Johnston says. "But this year he has been out of town a lot, curling."
All the traveling and practices work toward Howell's goal of representing the U.S. in a Winter Olympics. For post-college, the most interesting boring sport might even pay off for Howell based on its tremendous growth.
"Professional" leagues have sprouted up in the U.S. and Canada. Competition is similar to that of a PGA Tour in that there are "Grand Slams," in which teams compete for prize money. The money is never a guarantee, though, so regular curlers usually have jobs.
Howell is undecided in business at the moment. He may not know what he wants to do in school, but he knows what he is passionate about.
"I don't think I've played with anyone who takes the game with such heart and passion as Tom," Fenner says. "He's an all-around great guy."
Curling has driven him to greatness and hopefully one day to the pinnacle of international sports.
"The hope is the Olympic games, whether that be in 2018 or 2022 or 2026," Howell says. "Hopefully one day it happens."
Fighting to the Top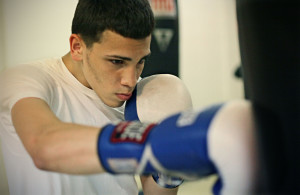 Luis Feliciano Sr. wanted to be a professional boxer. He lived in Puerto Rico and trained, but never realized his dream.
His son, Luis Feliciano Jr., currently strives for the same dream his father attempted and he has almost achieved it.
"My dad wanted to be a boxer himself, but he never got that opportunity," Feliciano Jr. said. "He got me to love the sport. Coming from a Puerto Rican family, boxing is a big part of the culture."
Feliciano Jr. started boxing at an early age. Growing up in a family of boxing fanatics, he was introduced to the sport at age two and it was love at first sight. He watched boxing throughout his childhood and when he turned seven, he gave it to his dad straight: "I want to box."
"I walked in the gym and never left," he said.
His career was born. He wanted to be a champion, but he still enjoyed his childhood in Milwaukee. He played baseball and basketball, but boxing was the sport he loved. When he turned 14, he decided to dedicate his life to the sport. He went on to greatness, but not without two big wake up calls.
The first came when he entered Marquette. Staying close to home in Milwaukee was appealing to Feliciano Jr. because he could stay near his family and near his gym, United Community Center, on the east side of Milwaukee. Having everything so near actually made things more difficult.
Freshman and sophomore year were tough because he was new to the workload. He did not know how to balance school and training. He beat himself up physically and mentally, but managed to earn the No. 1 seed at the 2013 USA Boxing National Championships.
He was upset in the first round that year. He knew he had to fix his schedule and now he has a daily routine down. Currently, his schedule consists of waking up at five or six in the morning, training, going to class until five, going back to the gym until seven and then doing homework.
"It is a very tight schedule," Feliciano Jr. said. "It is very, very tough, but it is all about adjusting. I want to graduate, but I want to do well in the sport to become an Olympian. This is what it takes and this is what I got to do."
Once he figured that out, though, trouble struck again soon after. While sparring at practice, he took a shot to the shoulder. What seemed like a normal shot ended up being a torn rotator cuff and a partially torn bicep in his right arm that would sideline him for nine months. His surgery took place in November 2013.
There was a lot of time to think during the recovery period. It could have been the end for him. He was on track to graduate on time with a criminology and law studies degree. He could make a life out of that, but he wanted to continue boxing. Nine months after the injury, he competed in the Ringside National Championship in Kansas City, Mo.
Entering the tournament, he was nervous about using his right hand, which was his strong hand. He was unsure whether it would have the same power it had before the injury. He put those nerves to rest in his first fight of the tournament, knocking his opponent out with a nasty right hand.
"I knocked a guy out with my right hand and put the guy to sleep, so I think my arm is alright," Felciano Jr. said. "What's great is now I have a good left hook too because I worked on it a lot."
That initiated a 12-1 run in his amateur career. The only loss came in December at the World Series of Boxing National Championships, when he fought the eventual winner of the event in the semifinals. The fight went the distance and went to the judges. One judge was for Feliciano Jr, another for Tyrek Irby and the third judge called it a tie.
There are no ties in boxing, as there are no ties in life, so it came down to essentially a coin toss. In amateur boxing, in the event of a tie, the tie breaker is decided by the picking of a color, blue or red in this case. The colors the boxers wear. The color chosen, red, gave Irby the 2-1 decision.
A tough way to lose, it knocked him out of the world championships spot this summer. He is not out of contention yet because he is the No. 2 seed in the U.S. Whether he goes or not depends on how Irby performs leading up to the world championships. He will however, go to the Pan American games in Toronto this summer.
"The judges had to pick a color and (Irby) was picked," Feliciano Jr. said. "I'll get him in Olympic Trials when it matters most."
Through these awakenings, he has flourished. He is on track to be at the Olympic trials in January. Following that, a professional career awaits.
Alberto Mercedes, Feliciano Jr.'s strength and conditioning coach, believes he is going to be the next big star in boxing.
"He has great dedication and hard work. Feliciano is one of the best amateur boxers in the world," Mercedes said. "Feliciano gonna be one of the biggest stars in boxing. You gonna see him on every TV show you can imagine. He's going to be huge. Huge."
A pro career could have happened a while ago. He has put off this to pursue his degree.
"I decided to stay in school and graduate and now that I'm graduating, everything's coming in perfectly," Feliciano Jr. said. "I'll get my degree and hopefully I'll be an Olympian. Then I can turn pro and start my career and the sky is the limit after that."
Feliciano has a long career ahead of him, but he has made it as a boxer, fulfilling his father's dream of being a boxer. Feliciano Sr. is proud to see his son succeed in the sport they love. Seeing him live out a dream he never could is priceless.
"I am so proud of (Feliciano Jr.) and I feel so happy that he is doing great," Feliciano Sr. said. "I see my dream come true through my son."