What's in a name?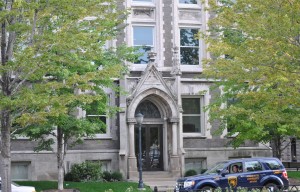 Johnston
Johnston Hall, named after Robert Johnston, opened in 1907 solely to Jesuits of the university. Other than the medical department, this building used to host all departments within the university before the 1970s. Johnston is also registered under the National Register of Historic Places, occurring in 1986. In 1975, the College of Journalism emerged after the collaboration of the Performing Arts school and Johnston Hall. It currently plays host to the entire J. William and Mary Diederich College of Communication and all student media.
Eckstein
Eckstein Hall, Marquette University's Law School building, was built in 2010. The new building, located on the eastern side of the Marquette campus, is four stories tall and includes a library, two mock courtrooms, a four-story atrium, a cafeteria, a workout facility, a conference center, smart classrooms and many faculty offices. The building was largely funded by donations of Raymond and Kathryn Eckstein, who donated $51 million toward the construction of the building. The gift was the largest ever made by individuals to the university.
Ray and Kay Eckstein were college sweethearts. They met at Marquette, fell in love and married three years later. After finding love, their family grew as eight children came along. Ray brought his family unimaginable success after building one of the nation's largest line-haul towboat companies in 1978. Ray and Kay then thought about the place where their life together began: Marquette. Ray and Kay Eckstein Hall now immortalizes their story within the Marquette community.
Walter Schroeder (1878-1967)
Walter Schroeder, the namesake of both Schroeder Hall and Schroeder Complex, bought and operated a chain of hotels spreading throughout Wisconsin, with a couple located in Michigan and Minnesota. Ending his education after eighth grade, Schroeder got involved in the community by working for a Milwaukee newspaper and deeds office.
After creating his own paper, The Daily Abstractor, he joined his father's real estate insurance business. The company, Chris. Schroeder & Sons, got a refinancing job for the Wisconsin Hotel. This project inspired Schroeder to enter the hotel business.
The Schroeder hotel chain operated nine hotels at once, most notably the Schroeder Hotel, which is now Milwaukee's Hilton Hotel, located on 5th St. and Wisconsin Ave. Schroeder is known for his success in the hotel industry and for his philanthropy. The Walter Schroeder Foundation continued to operate after Schroeder's passing, donating $20 million from Schroeder's estate to charity.
Todd Wehr (1889-1965)
The multiple Wehr buildings on campus are thanks to the posthumous generosity of Todd Wehr, a man who was a noted industrialist and philanthropist. After attending West Division High School in Milwaukee and Cornell University, Wehr co-founded the Wehr Steel Company and founded the Todd Wehr Foundation.
Todd and his brothers were the executive board of the Wehr Steel Company, which was founded by their father, Henry. In 1958, when the company was reorganized under the name the Wehr Corporation, Todd became chairman of the board.
After his death in 1965, Wehr left most of his estate to a trust that was set up to benefit religious, scientific and educational organizations. Many other Wisconsin universities have Wehr to thank for their buildings, including Carthage College, Concordia University, The Medical College of Wisconsin and the Milwaukee School of Engineering. Wehr also has a nature center named after him in the Milwaukee County Parks system.
Joseph and Vera Zilber 
Finished in 2009, Zilber Hall is one of Marquette's newest buildings, and its namesake was one of Milwaukee's oldest contributors. Joseph J. Zilber was born in Milwaukee in 1918. His parents emigrated from Russian in 1898. Zilber attended Milwaukee Public Schools and earned a business degree from Marquette in 1939. He continued his studies at Marquette's Law School, graduating first in the class of 1941. While at Marquette, he met his future wife, Vera Feldman. They married in 1942 and had three children: James, Marcy and Marilyn.
When Zilber started Towne Reality in 1949, he unknowingly began a single-handed reconstruction of Milwaukee. The company built homes for World War II veterans, housing projects for universities, churches, movie theaters and countless other buildings. It also brought about renovations to the Riverside Theater and the former Pabst Brewery.
Vera passed away in 2003 after a 61-year marriage. Her death inspired her husband to put his property development profits to a different use. Shortly before turning 90, he donated millions to Wisconsin universities, including $30 million to Marquette Law School, and began the Zilber Neighborhood Initiative. The $50 million commitment will distribute grants over 10 years to improve the city's poorest neighborhoods and better support their residents. Zilber died in 2010 at 92 years old.
Zilber Hall is home to the offices of the Bursar, Registrar, Student Financial Aid and Undergraduate Admissions, as well as administrative offices, including the Office of the President.
Leave a Comment