Grant to create new pastoral leadership program for Christian faiths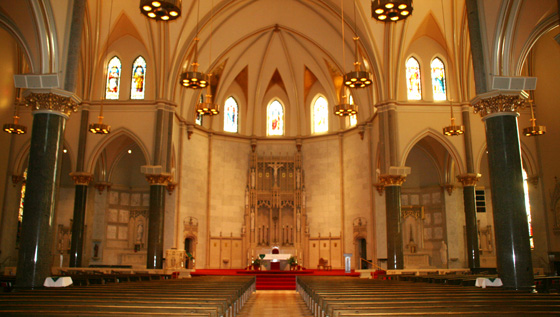 Marquette received a $500,000 grant that will create a pastoral leadership program for early career clergy, the university said last week .
Susan Mountin, director of the Manresa for Faculty development program for the spiritual and professional development of faculty, will direct the project. She said the grant was awarded by Lilly Endowment Inc. and will last five years.
"The new program is designed to equally address the personal faith formation of ministers and their vocations as leaders in the wider community where faith and culture often collide," according to a university news brief.
Mountin said the program will focus on young pastors of Christian faiths that are five to 10 years past their ordination. It will also include women in comparable leadership roles since they cannot be ordained. Participants will be drawn from southeastern Wisconsin, but Mountin said she wouldn't reject people who live farther away, as long as they're willing to travel.
There will be 10 participants, who Mountin refers to as a "cohort," selected for the two-year program. At the conclusion of the program, a new cohort will be selected. The program consists of quarterly meetings and all but one will be hosted at Marquette.
"What (Lilly Endowment Inc.) is concerned about is building confidence in young clergy so that they'll want to continue in ministry," Mountin said. "So how do we support these young clergy and give them skills and abilities to address complex topics that people in congregations face?"
Mountin said she is not sure if any Jesuits at Marquette can be a part of the cohorts, but she thinks she will draw from Jesuit faculty experts when making faculty teams who will develop topics for the meetings. She also said the meetings will include talks from local business and community leaders.
The Rev. Daniel Hendrickson, associate provost and Jesuit, said in an email that he's excited about the grant.
"This grant fits right in with (Marquette's strategic plan) because it will be the bridge between university leaders, community and faith tradition," Mountin said.
Mountin said the goal of the program is to help pastors become better leaders and better supporters of others in their congregation.
"It is our privilege to work with pastors who are proven leaders, and we hope Marquette's launch of this program will strengthen churches and clergy from many Christian traditions," said Stephanie Russell, vice president for mission and ministry at Marquette, in a statement. "Dr. Mountin has successfully led partnerships between Marquette and Lilly Endowment in the past, and she comes well prepared to make a strong and positive impact on the experience of the participants."
Participants nominations will begin mid-February and the first cohort is slated to start in June.
Leave a Comment