Club hockey's success has lead to more and better recruits
Sterling Silver
February 5, 2015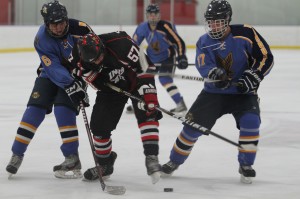 With Marquette club hockey (25-7-1) on pace to have one of its best seasons in history, the number and quality of players applying for the team has steadily been increasing during the last 10 years.
Coach Will Jurgensen said there has been a massive influx of people wanting to try out compared to when he first became a captain four years ago.
"When I first started at Marquette, no one got cut from the hockey team because there weren't enough guys trying out," Jurgensen said. "That has drastically changed with our tryout sizes getting larger each year. It makes my job a lot harder, but it has also made us so much more competitive with more skill coming out for the team."
While there is no specific process, prospects initially reach out to the team through the team's webpage. After learning a little about the program, most prospects send high school information, statistics and how they want to pursue hockey in college. Occasionally, some will go the extra step and send their coach's contacts, the styles they play (two-way defenseman, aggressive goaltender, etc.) and even highlight videos.
Most prospects that contact the team are upperclassmen in high school, but all levels of player send requests. Jurgensen recounted his most intriguing program interest came from a prospect not even in high school.
"This year, I had a parent whose kid is going to be a freshman in high school next fall and wanted to know what their kid should be working on to potentially play at Marquette in the future," Jurgensen said. "That was by far the strangest because it's four-and-a-half years away until he gets to Marquette, but at the same time I love the enthusiasm."
Once added to the recruitment list, Jurgensen will send information about how the team is doing and what the hockey environment is like at Marquette. Most recruits will also be invited to team summer skates and from there, learn the skills they need to improve on before the fall semester. From there, tryouts usually start the first week of September with players guaranteed at least two chances to show their talent.
Jurgensen said since the team made the ACHA National Tournament his senior year, the admissions office has received numerous requests from prospective students outside of the Midwest wanting to learn about the hockey program. He believes the program's next step in expansion is to take advantage of the interest and start recruiting nationally.
"We are playing against teams that have guys recruited from the States and Canada to come play, and we have beaten a lot of those teams with the talent of the guys who chose Marquette for education but are great hockey players," Jurgensen explained. "I do believe continuing to grow our recruitment is a very important aspect of taking this program to the next level."