Lori Bergen 'a long way from leaving Marquette'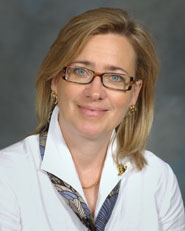 Lori Bergen, dean of the College of Communication, said in an email that she did not seek out a position at University of Colorado-Boulder's College of Media, Communication and Information, despite being one of five candidates to lead the newly added college on Boulder's campus.
Bergen also added that she is "a long way from leaving Marquette."
"This position would be an opportunity to help start and build a premier media, communication and information college from the ground up, like the excellent program we have at Marquette," Bergen said.
Anne Heinz, head of the Boulder dean search committee, said in an email that she cannot comment on the individual qualities of Bergen that led to her selection at this stage of the search.
"The university wants a dean who can help each discipline within the college grow individually, while also fostering an environment where interdisciplinary collaboration thrives," Heinz said. "We want to find someone who is really excited about the College of Media, Communication and Information's vision and the unique opportunity to build programs, foster partnerships and the recruitment of new faculty, staff and students."
The responsibilities for the position are 20 percent administration and management; 20 percent human resource management; 20 percent budget management; 30 percent fundraising and development and 10 percent service, Heinz said.
"The head of the search committee contacted me to ask if I'd talk with them about the challenges and opportunities of helping their team build a new College of Media, Communication and Information," Bergen said.
The other four finalists vying for the Boulder position include Thomas Finholt, of the University of Michigan; Eric Freedman, of Queens University of Charlotte in North Carolina; Caroline Haythornthwaite, of the University of British Columbia; and Jonathan Potter, of Loughborough University.
The selected candidate will be the first dean for the new College of Media, Communication and Information.
"All preparations are on track to welcome the first class into the new College of Media, Communication and Information next fall and hiring a visionary dean marks the next critical step," Boulder Provost Russell L. Moore said. "I thank the committee and its chair, Dean Anne Heinz, for forwarding five excellent candidates to visit campus."
Bergen will be at Boulder Feb. 17 for a public session. Heinz said the finalists will meet with various Boulder community members over a three day period including faculty, staff, students, administrators, alumni and representatives from the broader campus and community.
He also said the search committee will solicit written feedback from these representatives that will be shared with Moore.
Bergen joined Marquette in 2009 after serving as director for the School of Journalism and Mass Communication at Texas States University. She spearheaded the O'Brien Fellowship in Public Service Journalism and the Milwaukee Neighborhood News Service and received over $20 million in support for student scholarships and other initiatives.
Additionally, Bergen received the 2014 Scripps Howard Foundation's Journalism and Mass Communication Administrator of the Year Award, which honors the best work in the communications industry and journalism education, and Bergen said she was recently accepted for membership in the Arthur W. Page Society.
"It's an honor to be considered to lead a program like the new college at Colorado, as it's still an honor to be the dean of the Diederich College of Communication," Bergen said.
View Comments (1)