Jesuit Residence on track for completion this fall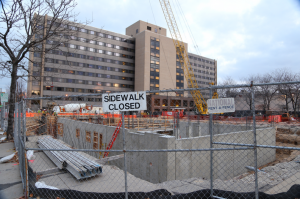 Due to mild December weather, the construction project for Marquette's new Jesuit Residence between Schroeder Hall and the Alumni Memorial Union is on track to open by fall 2015, according to project manager Kathy Kugi.
Still, Kugi cautioned that unpredictable weather could stall construction, contracted through KBS Construction, in coming months.
"We are targeting a time, but not finalizing it until we get through winter conditions," she said.
Construction for the new residence began August 2014 with $15 million from anonymous and alumni donations supporting the project.
The current Jesuit Residence, on the 1400 block of W. Wisconsin Ave., is more than 99 years old and costly to maintain.
The Rev. Jeffery LaBelle, head client for this project, explained that heating, air conditioning, plumbing and structural issues are currently the norm.
"The new Jesuit Residence will not necessitate these high maintenance costs, will be a LEED green building and be a safer, healthier environment for Jesuits to live in," LaBelle said.
The new residence is anticipated to be more welcoming to the Marquette community, as it will include a public chapel.
"I hope that the Jesuit community chapel can provide an additional sacred space for personal prayer and devotion during the weekdays when students, faculty and staff are most often on campus," LaBelle said.
The current Jesuit Residence is expected to be torn down during summer 2016, and there are plans to reserve the lot as green space for the community.
"Students, faculty and staff will benefit from this project since it also entails creating more new green space as well as safer and more beautiful pedestrian walkways north of Wisconsin Avenue," LaBelle said.
Kugi explained that if this project gets behind, it will be a little different than usual.
"This is a different building project on campus with no ties to being ready for classes, new people arriving or  (having a) domino effect," he said.
Overall, LaBelle said the campus has been supportive of the project, calling the benefactors "overwhelmingly generous."
"The Jesuit community is extremely grateful for this support which will enable us to live in the center of the Marquette University campus for years to come," LaBelle said.
The entire residence project was funded by "generous donors who have expressed their love and support of the Jesuits by underwriting the entire cost of this special project," LaBelle said.
Fundraising was completed after two separate $1 million donations were announced by the university in August, one from the Bernice Shanke Greiveldinger Charitable Trust and another from an anonymous alumnus and his wife.
Two other large donations came from the alumni couple Ray and Kay Eckstein, who donated $5 million in March, and another anonymous benefactor who earmarked $7.5 million to the project from a $10 million gift in January.
Leave a Comment