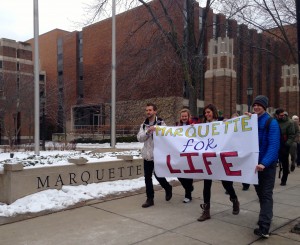 A group of Marquette students, staff and administration congregated Thursday morning for a March for Life on campus, at the same time that thousands of protesters took a stand against abortion in Washington, D.C.
About 30 people met in front of the Joan of Arc chapel. The group proceeded from the central mall to Wisconsin Ave. and around the Marquette Mile, which is once around the academic side of campus then back to the chapel.
University President Michael Lovell attended the event. Not only did he participate, but he helped organize the march. This is the first time there has been an on-campus event to compliment the protest in the District.
"We started this in solidarity with our students that are marching in Washington, knowing that not everyone on the campus can make the trip," Lovell said. "I think it's an important statement of who we are as a Catholic Jesuit institution."
Ben Zellmer, a freshman in the College of Health Sciences, said that though he was not at the District's March for Life, he was happy to show support from Milwaukee.
"I think it's important to show a presence and an action in anything in life, and when the opportunity arises, the good things that come of it come of it because you're acting upon it," Zellmer said.
The other group that contributed to organizing the march was Marquette's Students for Life. Kate Schuering, a junior in the College of Nursing and member of Students for Life, said "I am definitely passionate about pro-life matters, and joining the club here was an easy way for me to show my support."
Robert Houle, a junior in the College of Business Administration, said he is not as active in Students for Life as he would like to be, but his inspiration for participating in the march is similar.
"I think life begins at conception, so it's an important cause to stand up for," Houle said.
Student opinions fall everywhere on the spectrum of opinions about abortion. Gina Di Vittorio, a sophomore in the College of Arts and Sciences, said she appreciated the March for Life participants' right to express themselves, but thinks that pushing beliefs on people through policy is immoral, "harming women and violating the separation between church and state."
Although the pro-life position is associated with the Catholic church, Di Vittorio said she and others interpret the implications of faith differently by having a pro-choice perspective. Di Vittorio said other social justice issues including immigration and access to healthcare deserve more attention from the Catholic Church than abortion does.
"The Jesuit tradition values the dignity of every person, and attempting to dictate what women can and cannot do with their bodies violates that," Di Vittorio said.
Gerry Fischer, associate director of Campus Ministry, said an event like March for Life can carry significance that stretches beyond a single issue.
"My perspective on March for Life is really the broad spectrum of supporting life in all forms, not just the abortion issue, but really for me, more deeply, how we treat people who are with us right now," Fischer said.
Fischer said he was slightly wary of an overemphasis on abortion policy and instead expressed a wider understanding of pro-life.
"I think we forget that we need to make sure we're taking care of the rights and human dignity of human beings throughout their whole course of life," Fischer said. "We aren't whole until we take care of everyone."