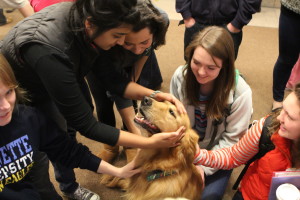 With finals just around the corner, the glow of Thanksgiving break is long gone and the stress of exams and papers begins to build. There's no escaping finals week, but there are special offerings and events students can take advantage of to have a less stressful last week before the winter break.
Counseling Center and MUSG bring in pet therapy
Looking for a quick smile aided by a fluffy friend? Head to the Alumni Memorial Union Tuesday and Thursday of this week to hang out with the therapy dogs to take a much needed break from studying.
Tuesday, Dec. 2 from 12-1:30 p.m. on the AMU 1st floor lobby
Thursday, Dec. 4 from 4-5:30 p.m. on the AMU 2nd floor lobby
Also on Thursday, the counseling center will host a photo booth and other fun activities from 2:30-5:30 p.m.
Extended Hours at Starbucks
The popular coffee shop knows how much college students love coffee (and need it to stay awake to study), so they have extended their business hours Monday through Friday until 1 a.m. On the weekends it closes at midnight.
Memorial Library Hours extended to 2 a.m.
Since the end of the semester is upon us, the library will be extra packed. Good thing Memorial library is extending its hours to 2 a.m. to give students a nice place to study. Remember, Raynor is for group project work, where talking is permitted, and Memorial is for quiet personal study. If you mix them up, prepare for angry glares from other students.
Free Games and Pool All Week
Tucked in the corner near the Union Station in the Alumni Memorial Union is the Brooks Lounge, a gaming and billiard hall. With your student ID, you can check out games such as Monopoly for free when you need a study break, or you can play some pool (usually for $1) for a half hour. With its big tables and chairs, the lounge also makes a comfortable place to study.
Hot Cookie Night at Cobeen
Even with the stress of cramming for tests, it's important to treat yourself once in awhile. Take a break from the books and wind down with a warm hot cookie from Cobeen Tuesday night.
Gentle Yoga in 707 Building in Suite 130
Studying all day stretches the mind, but remembering to stretch the body can help relieve anxiety. Never done yoga before? No problem. This free class is designed especially for newcomers. The class is offered:
Mondays 5-6 p.m.
Tuesdays 4-5 p.m.
Thursdays 7-8 a.m.
Meditation in 707 Building in Suite 130
On Thursdays from 4:30-5:30 p.m., join the free mediation class to put your mind and worries at ease. Breathe in, and breathe out, finals week is almost over.
Free showing of "Elf" at Varsity Theater
Reward yourself with a movie night with friends after a hard week of studying by going to see "Elf" Friday at 8 p.m. Tickets are free to any student and non-Marquette student (if accompanied by Marquette student) with a student ID.
Holiday A Cappella Concert
Before the movie, watch The Naturals, The Meladies and The Gold 'N Blues perform Friday at 7 p.m. in Weasler Auditorium. The singing groups will sing classic holiday songs to put you in the Christmas mood, and it will make a nice study break for the evening.