"MilRAWkee Alt" depicts unique twist on MKE landmarks
By Eva Schons Rodrigues
Photographer Ryan Laessig and painter Amanda Iglinski brought Milwaukee to life with their project "MilRAWkee Alt."
Their collaboration features images of monsters and creatures all over downtown Milwaukee and is one of the first projects to portray Milwaukee in such a unique and playful way.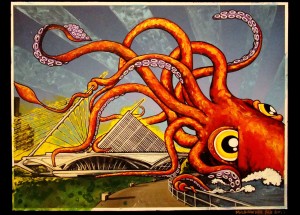 Laessig is known for his professional photographic work for several magazines and websites. He is also involved in a project which showcases local tattoo artists and tattoo models. Iglinski works mostly with acrylics, airbrush and spray paint and does a lot of commissions for geek-themed artwork and portraits of pets and family. She is also working on a collaboration with Thaison Nguyen.
Laessig and Iglinski's vision for "MilRAWkee Alt" stemmed from their mutual love for the city of Milwaukee and their appreciation of old sci-fi horror movies.  As two artists with similar interests, their collaboration "seemed like the natural next step," Laessig said, and it "feels like we work really well together."
"You always see cities like New York or Chicago being attacked by creatures, so why not use Milwaukee?" the artists asked in an email, explaining their motivation for the project.
As for the title of this project, the artists explained how "Amanda runs 'MilRAWkee,' and Ryan owns 'Milwaukee Alt,' so we combined our names to present our collaborative work."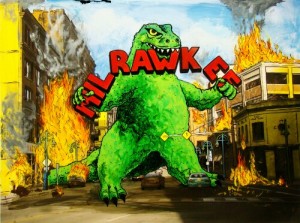 The colorful pieces, which resulted from "MilRAWkee Alt," were produced through a complex multi-step process, where Laessig would photograph landscapes of Milwaukee and Iglinski would use airbrush and acrylics to add the monsters and alter the photographs. The artists also said that they "were both involved with every step of every piece and we each contributed input into what the other person was working on at the time. We wanted to assure that the finished product looked like it was done by a single person."
As a whole, the artists said the project is meant to show their love for Milwaukee and give the city's landscape a "fun art flavor."
Both Laessig and Iglinski are already working on their own separate projects, but are still showing the series in a variety of establishments around Milwaukee.
Leave a Comment