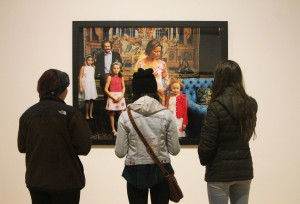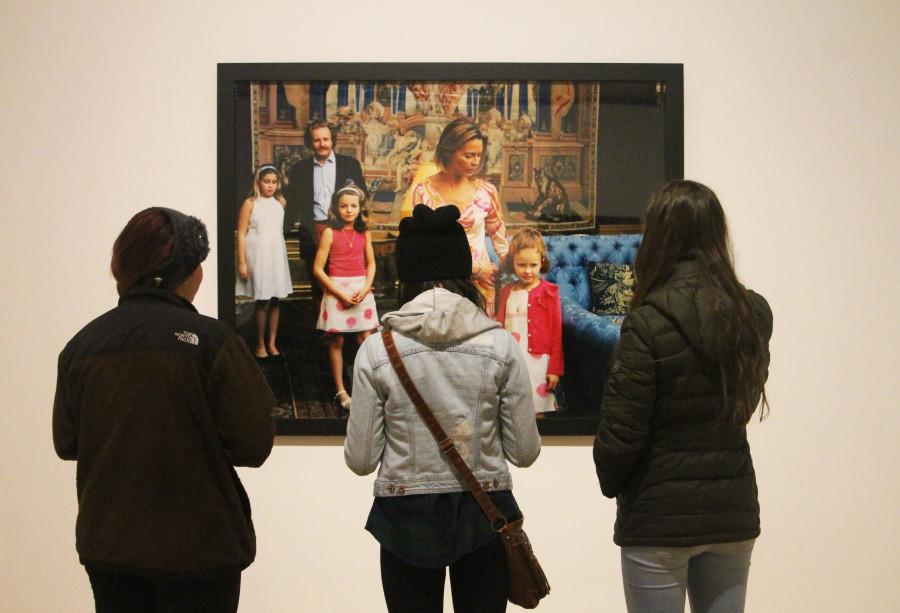 Behind David A. Straz, Jr. Hall and just right of Helfaer Theatre sits The Haggerty Museum of Art. Each year the on-campus museum brings in exciting new pieces of artwork — from sculptures, to paintings and photography — and unveils the work of talented artists across the globe. The exhibit Clear Picture is no different from previous features in terms of creativity and lives up to the high expectations the museum sets for itself. However, what sets it apart from past exhibits is that it is the first display managed by students.
A Spanish class about grammar and writing for heritage speakers may seem completely opposite to a journalism class about critically writing for the arts. But, with the help of the Way Klingler Teaching Enhancement Award, instructors Dr. Eugenia Afinoguénova, associate professor of Spanish, and Dr. Pamela Nettleton, associate professor of journalism and media studies, collaborated with their classes, and the Haggerty Museum of Art to create the exhibition.
Both classes contributed to creating the exhibit and choosing what art they would display. However, each class had a certain learning objective to focus on as well. For the Spanish students, the focus was more about using the Spanish language to analyze the art and give student led tours in Spanish. The journalism students were responsible for critiquing the art pieces, witnessing the behind-the-scenes look at what it takes to create an artistic display and address the question of what is considered art.
For Dr. Afinoguénova, the project became what she calls a cultural translation endeavor.
"I even put 'tolerance to confusion' as one of my class requirements for students," Dr. Afinoguénova said. "Everyone had to accept Spanish and English, accommodate the needs of the Spanish curriculum, on the one hand, and what Journalism students were doing, on the other."
Because of the joint collaboration, skeptics might say two classes with two separate learning objectives could hurt students, but both professors and students agreed it enhanced their experience.
Sophomore student in the College of Health Sciences Victor Magana, a student in Dr. Afinoguénova's class, said he enjoyed teaming up with the journalism students for the project.
"Working with the journalism students was awesome," Magana said. "Being able to have an educated and diverse discussion with other students about artwork and their meaning was a stimulating experience."
For writers, Dr. Nettleton said it is important to expand their cultural awareness so they do not shut out potential readers.
"When you start out writing for publications, you kind of assume everyone is you. You speak from a particular set of experiences," Dr. Nettleton said. "Once you do a little bit of publication, you realize, 'Wow, I'm talking to all kinds of people who know things that I don't know a thing about. I need to gauge the way I'm addressing my audience, and I need to realize that it isn't just me.'"
Dr. Afinoguénova said she also learned something from the experience.
"I learned how to ask different questions in class, discovered tricks that made everyone enjoy looking at a painting for 30 minutes straight and, most importantly, found a way to connect contemplation, self-awareness and critical thinking in a way that seems to have very positive impacts on how students are performing and presenting themselves now," Afinoguénova said.
The exhibit debuted Nov. 12, and included student-led tours, both in Spanish and English. Among those who attended were Gary Meyer, vice provost for Undergraduate Programs and Teaching, Rick Holz, dean of the College of Arts & Sciences and Lori Bergen, dean of the College of Communication.
"Students may not know how proud and excited professors can be about seeing how far they've come," Dr. Nettleton said. "Dr. Afinoguénova and I were following them around, beaming at each other like very proud teachers."
According to Magana, his favorite part of the exhibition artwork that he saw was untraditional such as Walking the Line by Nicholas Herrera and The Ghost of Liberty by Enrique Chagoya—"That is what one would normally think when it comes to art–when in reality, there is huge diversity within what is considered art," Magana said.
With the arrangement of the academic buildings on campus — the sciences and languages are on one side; the communications and histories are on the other — it's difficult to interact with other faculty and students from different colleges within Marquette once one has chosen a specific field of study. That is why Dr. Nettleton said she enjoyed working with Dr. Afinoguénova and her students throughout the semester.
"Marquette has this wide wonderful community of many different approaches to academics and to learning," Dr. Nettleton said. "Once you commit to one major and one college, you don't always get outside."
The project does not stop after the gallery opening. The second phase of the exhibit will debut spring 2015. This time Dr. Julia Paulk, assistant professor of Spanish, Department of Foreign Languages and Literatures, will teach the Spanish part of the course, and Dr. Nettleton's magazine capstone class.
Based on the positive experience of merging two classes together, Magana said he would take a joint class in the future.
"I would definitely consider doing another class like this," Magana said. "However, I have to admit that I am more science oriented, so I would probably choose to do another class that involved group collaboration on a health project or science project rather than an artsy project such as this one."
Dr. Afinoguénova and Dr. Nettleton said they too would like to collaborate with other classes again in the future.
"After this experience, it would be so boring not to collaborate," Afinoguénova said. "Projects such as this change one's outlook so drastically that I wonder if there will ever be for me a way back into a uni-disciplinary classroom."
Dr. Nettleton agrees, and would like multidisciplinary learning to continue to be an option for students. "It's kind of like traveling," Dr. Nettleton said. "You get to learn the customs of different people. 'Oh, so that's what you get to do in Arts & Sciences, that's pretty cool."'