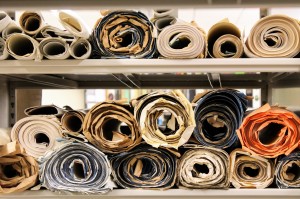 At first glance, the archives look like a standard Raynor Library study room. The space is for reading, but reading materials from the archive's vast collection of Marquette history and scholarly collections such as the J.R.R. Tolkien collection.
"For most students, it's a hidden gem," said Amy Cary, head of special collections and university archives. "Most don't recognize what we have here and it's really compelling."
This hidden gem has been on campus since 1961 and holds all things Marquette-related including photos, newspapers, magazines and yearbooks. It also holds the transcripts of J.R.R. Tolkien as well as curated collections for Dorothy Day, Native American authors and rare books.
This massive collection cannot be seen in the reading room. It resides behind the offices of the archivists in a large storage space with seemingly endless rows of bookcases. The shelves are filled with boxes of everything from film of football games – back when Marquette had football until 1960 – to a telegraph sent to General William Westmoreland from 1965 that students used to support the troops during the Vietnam War.
Despite debuting 80 years after the university's establishment, the archives have items dating back as far as 1881 thanks to work of university historians. The collection of works from the early years of the university is weak according to Michelle Sweetser, a university archivist, but still tells a tale of tradition.
"In terms of the university's history, our collection is somewhat weak in the early years," she said. "We have some critical things like board of trustees minutes and we have ledgers and journals and diaries from early Jesuits, but photographic evidence from the time is very limited."
These handwritten journals, diaries and ledgers present enough evidence to show the uniqueness of the university at its infancy. Ledgers show that bartering was once a form of paying tuition. One student paid tuition with beer. The diaries, which were primarily written by contemporary Jesuits, kept track of happenings across campus. In one diary from 1881, the first log states that two German classes opened.
The aerial photographs of Marquette are one the archive's most viewed items. They date back to 1962 and serve as a way for students to watch campus change across the years. It is like watching a slideshow of campus growing into what it is today.
There are collections devoted entirely to Real Chili. There is a collection of correspondence between Fr. Edward O'Donnell and General Douglas MacArthur from when MacArthur received his honorary degree. There are so many fascinating items and it would take years to view all of them.
"We have letters from alumni to the president that say 'I'm so mad Marquette doesn't have football,'" Sweetser said.
Students are allowed to access almost all archive items. Restricted materials consist of senior level records, which are not released to public until 25 years after the sitting president leaves office. The next set of restricted records to release are from the presidency of Fr. John Raynor. These will be released next year marking the 25th anniversary of his retirement as president.
"We do have some restricted materials," Sweetser said, "Our goal is not to have material that is restricted forever because why would we keep items we can't show?"
Nothing is too boring or dull for the archivists. They are like organized hoarders, collecting just about anything they can get their hands on.
Looking at the archivist profession at a glance, they appear to be hunter-gatherers–hunters in search of gathering historical pieces and scholarly collections–but they are far more than that.
"Someone who seeks to protect, preserve, describe and make accessible historic materials," Cary said. "Think of the archives as a visual record and a documentary record."
They do all of this to maintain the archives that occupy three buildings: Raynor Library, Memorial Library and Schroeder Complex. Not the entirety of the buildings, but large spaces in each are filled to the rafters.
For events on campus, or simply special occasions, the archivists put together collections. For alumni events, the aerial maps come out. If the nursing school hosts an event, scrapbooks of the nursing school from the 1930s and 1940s can be put on display for attendees to view.
"Faculty and staff on campus approach us about presenting materials at events," Sweetser said. "Other times we put up displays around campus."
Like many jobs, the archives have changed with the time. The archivists have adapted to the Internet age with relative ease. Certain items have been digitized for people to view online. However, not everything can or will be put online. The resources and time to accomplish this feat would take decades. It took years to put every issue of the old Marquette yearbook, The Hilltop, online, and are in the process of posting all issues of the Marquette Tribune as well.
"We make many of our things accessible online," Sweetser said. "Not all of them, in fact a small portion of them, are made accessible online. So we do a lot of digitization and descriptions of those things. We also do a lot reference work for a lot of people who can't come here."
Researchers often use the archives for primary resources and other materials. Some reach out from other countries, others from right here in Milwaukee. Not all of the archives are available online but materials can be gathered and sent to those who desire certain information.
Not many students venture to the mysterious third floor of Raynor. Most that do are usually assigned to visit by a professor. The archivists that work in this hoarder's attic of Marquette history and numerous collections believe students can use the archives as a resource for projects, assignments and even leisure. The only drawback is that it is not as accessible as a library in terms of independently finding things.
"It's a different kind of service model, you can't just walk up to a shelf and grab things," Sweetser said. "It's more mediated. We are happy to talk about your interests and it just takes a bit longer to go in the back and grab it."
"We're so much more than students think we are," Cary said. "There's research possibility here, there's engagement with the university, engagement with the community, with the broader trends of the nation over the course of the history of the entire university."
One of the new features that the archivists hope to improve is documenting present campus life with the help of students.
The archivists want everything that represents student life, such as pictures of life in the dorms or flyers for events. Even taking screenshots of websites like the Marquette Involvement Link or other student or university websites. No matter how foolish it may seem to keep an old flyer of a freshman running for a floor delegate position or a picture of students partying in the dorms, they want to document it all so that future generations can see all aspects of student life.
"We're looking for new avenues of collecting the student experience, so we're looking at a lot of places like Facebook and Twitter," Sweetser said. "We look for how to document student experience through the voice of students in a way that the official photographers don't document."
"There's a history here with these items that needs to be preserved." Cary said.
So the next time you're in the library and walk up the staircase next to the turnstiles, procrastinate studying on the second floor, go up to the third floor, make a right at the top and explore the mysteries of the Marquette Archives.
"We're here, come check us out," Sweetser said. "We can talk about what you want and what you can add to the collection."