"Liberace!" makes a triumphant return to the Rep
Hang on for a minute...we're trying to find some more stories you might like.
Local performer Jack Forbes Wilson and Milwaukee Repertory Theater's artistic director Brent Hazelton teamed up to bring the captivating production of "Liberace!" back to the Rep.
Hazelton wrote and directed the show's world premiere production, which ran during the Rep's 2010-2011 season. Wilson reprises his role as the trend-setting musical genius and holds the audience's attention throughout the entire production with his non-stop energy and artistry.
Although "Liberace!" is a one-man production, Wilson's musical gift and genuine storytelling make him as engaging as a cast of dozens. The show opens with all spotlights on Wilson, who shouts, "I'm baaack!" with a playful smirk. Wilson portrays the ghost of Liberace, returning for one last performance and chance to share his story. After getting acquainted with the audience, Wilson moves to the piano to play Liberace's hit "The Boogie Woogie," encouraging audience members to dance along in their seats and shout "Hey!" when he points at them.
The production contains several recollections on Liberace's life including growing up in Milwaukee, performing lavish shows in Las Vegas and reaching the success that made him "cry all the way to the bank." Act two is dedicated to stories of hardships Liberace had to face and criticisms he received his homosexuality and flamboyant costumes.
Wilson's stellar piano playing and singing break up the stories to ensure the audience is not overwhelmed with the amount of dialogue. Audiences will be amazed to see how effortlessly his fingers fly across the piano, and even the most serious of guests will find themselves singing a long to the classic "Three Little Fishies" song.
There is even an instance where Wilson brings a guest on stage with him, much like Liberace used to do during his performances. The guest sat at the piano with Liberace and learned to play a duet with him, as if learning how to be a musical sensation only takes two minutes. Wilson's connection with the audience was undeniable as he responded to every gasp in the front row, making guests feel like they were having a conversation with a close friend.
The costume designs by Alexander B. Tecoma allowed guests to see how Liberace achieved the title of "Mr. Showmanship." Tecoma revamped the costumes from the 2010 production by adding even more feathers and rhinestones. During the first act, Liberace simply sports a clean-cut black suit but spices it up during act two as he reveals a purple sequined ensemble underneath his bathrobe. Since it would be impossible to experience the full array of Liberace's style through two costume changes, Wilson refers to mannequins on stage to show off his most memorable fashion statements. The unforgettable patriotic hot pants and his humongous pink-feathered jacket are unveiled behind curtains in the back of the stage like prized possessions.
Since the real Liberace was born less than 10 miles from where the Rep now stands, the show is packed with jokes Wisconsin natives will appreciate. The beer anthem "Roll Out The Barrel" closes out act one, since even Liberace knows how much Milwaukeeans can appreciate a good drink. Wilson also makes La Crosse, Wis., sound more magical than Disneyland. La Crosse happens to be where Liberace discovered his passion for combining pop and classical music and where the "love of his life" Scott Thorson was born.
Wilson portrays the full spectrum of Liberace's personality through frequent sexual innuendos paired with reflection on the harsh criticisms he faced for his flamboyant performances. The sincerity that Wilson uses communicate to the stories of how Liberace overcame the public's backlash and the lawsuit from Thorson moved several audience members to tears. The fact that Wilson was able to have guests cackling with laughter one minute to crying the next shows his wide range as a performer.
The intimate dinner theatre set-up of the show provides a unique viewing experience guests will not want to miss. "Liberace!" will be at the Milwaukee Repertory Theater's Stackner Cabaret until Jan. 11. Tickets can be purchased by visiting www.milwaukeerep.com. 

About the Writer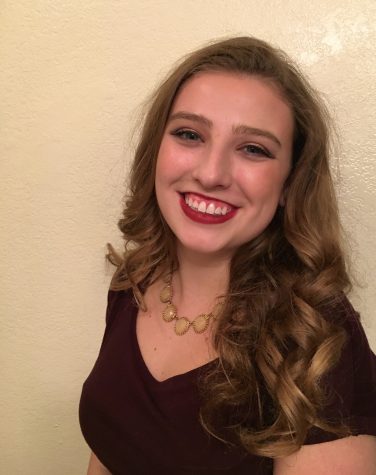 Stephanie Harte, Marquette Journal Editor
Stephanie is a senior majoring in journalism and minoring in digital media. She is from Darien, Illinois and previously served as executive arts and entertainment...