The Milwaukee Public Museum drew in another large crowd to its Sci-Fi Film Fest Saturday, showing Stanley Kubrick's "2001: A Space Odyssey."
Moviegoers came out to watch the 1968 film in the museum's Dome Theater. The curved screen stands six stories tall and is equipped with digital surround sound. The Dome's effects made for a spectacular viewing experience for the audience.
Liz Serewicz, a sophomore student in the College of Health Sciences and an avid moviegoer, said the large-scale wraparound screen enhanced the movie's picture.
"The most impressive part (of the night) was the visuals," Serewicz said. "With such a large screen, there is so much more detail that is visible."
"2001: A Space Odyssey" consists of little dialogue, relying heavily on its visuals to tell the story. Director Stanley Kubrick crafts his pictures around symmetrical sets, popping colors and intense visuals. The Dome Theater at MPM brings these scenes to life, significantly enhancing the picture's quality.
A specific scene in "2001: A Space Odyssey" involves a space pod getting sucked into a vortex, creating a stimulating light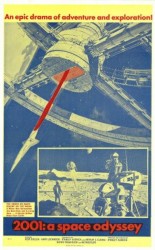 show on the screen. The scene depicts a colorful astronomical light show with all sorts of shapes, colors and sounds blasting into the audience. The theater truly amplified this particular visual experience.
During the establishing shots of outer space, the screen's curvature made everything feel as if the audience was seeing the film through their own eyes. The screen created a sense of peripheral vision. The film often used a first-person perspective, which made for an incredible feeling of involvement in the film's action. It was as if the audience members themselves were the characters in the movie – whatever the character saw on-screen, the audience saw through their own eyes. Everything on the sides of the frame filled viewers' peripheral vision.
Alongside the picture and sound enhancements, the theater gave off a great cinematic atmosphere. Nothing beats watching a film in a room full of hundreds of other moviegoers as reactions to the movie are always amplified when there are plenty of other people who share that same reaction. Plot twists become more shocking, and action scenes become more stunning.
The MPM's Dome Theater is truly a unique cinematic experience. Serewicz described the environment as an "overall experience that (an audience) cannot get in a normal theater." The Dome Theater exceeds the viewing experience of anything on Netflix, home video and even the typical theater chains.
MPM's Sci-Fi Film Fest continues through the end of November, showing films every Thursday and Saturday until Nov. 29. Admission is $5, and the concession stand is open before, during and after the film.
Sci-Fi Film Fest Schedule
Doors open at 5:30 p.m.
All films begin at 6:30 p.m.
Planet of the Apes (1968)
Thursday, November 13
Saturday, November 15
Back to the Future (1985)
Thursday, November 20
Saturday, November 22
Attack of the Killer Tomatoes (1978)
Saturday, November 29
(No showing on Thanksgiving Day)