Classic Netflix Picks: "The Usual Suspects"
THE USUAL SUSPECTS (1995)   ★★★★
Let us start off by covering the movie's plot holes; it has quite a few. It is hard to find a movie without them. Plot holes usually make up the formula for a mediocre film, but this is a different case. "The Usual Suspects" is told in such an intricate, yet highly clever manner that it blows our minds anyway.
The story is an engaging one, shown through a series of flashbacks narrated by Kevin Spacey's character, crippled con artist Roger "Verbal" Kint. Verbal comes off as a naive, emotionless character during his interrogation scenes, often referencing his own ignorance and case of cerebral palsy.
US Customs Agent Dave Kujan (Chazz Palminteri) brings in Verbal for questioning after the DEA finds him on a crime scene. Only two men make it out of a bloody gunfight on a dock, and Verbal is one of the survivors. The movie opens up with what appears to be the tail-end of a climatic scene. All we see is a man shot and killed by a mysterious figure who proceeds to light the dock on fire.
Agent Kujan is determined to find out who that man was and why the gunfight happened. Although Verbal initially chooses not to cooperate, investigators are able to come up with a name from the other survivor. The name is Keyser Soze, an enigmatic mob boss whose legend strikes fear in the minds of any criminal. Kujan makes it his own responsibility to find out whether or not Soze exists through Verbal's recollections.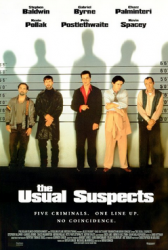 This story begins with Verbal joining forces with four other con men to carry out a large-scale, multi-million dollar jewelry heist. One thing leads to another as the group follows the money all the way from New York City to California. After a few set-ups, the con artists find themselves in a deep hole overlooked by Keyser Soze.
Kevin Spacey spends the first half of the film outsmarting the cop, cleverly refusing to give any information, often denying Kujan's angry accusations with a calm demeanor. Once the name Keyser Soze is mentioned, however, Spacey's character takes a significant turn.
Verbal suddenly becomes extremely tense and rather frightened. The only thing that strikes emotion in this character is the mention of Keyser Soze, causing Verbal to become rather devastated. This Soze character is built up to be an indestructible, god-like power in the mob industry. When asked why he did not try to kill Soze, Verbal tells Kujan, "How do you shoot the devil in the back? What if you miss?"
The hype surrounding this Soze character is enough to drive the plot alone. Yet the thing that makes this movie special is each character brings a different personality to the table. The entire Christopher McQuarrie script consists of head-to-head dialogue that translates extremely well to the screen. Even within the assembled team of criminals, heads clash, causing melodramatic relationships as the crimes intensify.
Just when the movie seems to wrap up, director Bryan Singer delivers an ending that tops any surprise twist we have seen before. A powerful movie leads the audience in one direction for the entire film only to yank them away during the climax, thus letting everyone's guard down. Bryan Singer creatively does this with "The Usual Suspects." We spend the movie piecing together elements of the puzzle only to discover all of our hard work go to waste. Every good movie has a twist here and there, but "The Usual Suspects" delivers it when it counts, and it's delivered with a hard punch.
Kevin Spacey won his first Academy Award in "The Usual Suspects" for his role as Verbal (Best Supporting Actor). The movie consists of other famous actors alongside Spacey, Benicio del Toro and Stephen Baldwin to mention a few. With only an estimated $6 million budget, the producers were able to assemble quite the cast.
"The Usual Suspects" holds significant replay value. In fact, the film will surely be even better the second time around. The movie has a highly artistic way of telling a typical crime story, firing on all cylinders and even adding a few laughs here and there. Kevin Spacey's brilliance is only one of the many contributions to the ingenious film that is "The Usual Suspects," and the movie is definitely one to check out as soon as you can. And maybe once again after that. Or even twice.
View Comments (1)