Club hockey looks to right ship against Northern Illinois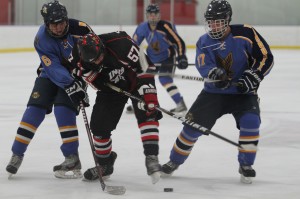 The Marquette club hockey team answered last weekend's drubbing with a special captain's practice Monday night. In order to get Marquette (9-5-1) back on track, coach Will Jurgensen thought the best way to handle getting swept in three games was to let the players work out their errors on their own.
"I thought this was necessary coming off of the tough weekend because I wanted the guys to be able to enjoy themselves a little bit for a night and remember that hockey is supposed to be fun and enjoyable, something that's easy to do when you're just out with your teammates," Jurgensen said. "I also wanted to use it as an opportunity for our leaders to step up and be able to demonstrate they can lead and work hard without the coaches looking on. It's a great way for the guys to continue to bond together."
The format of the practice allowed the captains – sophomore Brendon Natwora and seniors Tyler Schwichtenberg, David Fabris and Matt Vuoncino – to come up with drills to get the team working on its fundamentals. It was the first time in Jurgensen's head coaching career when he allowed the players to organize a practice in their own fashion. Schwichtenberg said the practice was to let their captains demonstrate their leadership skills.
"The purpose of this practice was to show that the leaders of the team can set an example even when the coach was not in attendance," Schwichtenberg said. "I feel that the practice went well and our team was able to still work hard and take it back a notch at the same time. We have a great group of guys who are all focused on getting back to the national tournament and by working hard at each practice, we will get back to that level of play."
The practice was also an opportunity for Jurgensen to step back and analyze his first negative experience as a coach. Following a weekend during which the team was outscored 18-6, the Golden Eagles knew the importance of quelling the internal and technical issues before their four-game home stand, the longest of the season.
"What I have learned, though, is that one bad weekend can easily become two bad weekends if we don't stay focused and get back to the basics," Jurgensen said. "We want to remember how it felt to lose because it is a very bad feeling which only motivates me to become better as a coach, and try to help my guys get better, so that we are an improved team come this weekend instead of a team that is still down after some bad loses."
Northern Illinois enters the weekend after getting swept by Northwestern in a two-game series. The Huskies (3-5-0) are led by junior Tyler Hilton and senior Brian Staffeldt, who scored a combined 33 points on the season, including 15 goals. But despite their brilliance in front of the net, the Huskies struggled defensively throughout the season, giving up more than four goals a game. According to Jurgensen, the weaker competition could be a great opportunity to start another Golden Eagle winning streak.
"Under no circumstances are we going to take them lightly, and we will start each game with the same plan we do every game," Jurgensen said. "However, I would imagine this is going to be a great weekend to really work on the areas that need to be improved. Against weaker teams it is easy to find yourself playing down to their level, so one thing we need to reiterate is that we need to play an entire sixty minutes game at our highest level."
The Golden Eagles will take on Northern Illinios Friday and Saturday at the Ponds of Brookfield.